Cody Robertson wrote in about Bosch new ProCore batteries being spotted in extra large capacities with battery capacities of 4.0 ah, 8.0 ah and 12.0 ah! All credit goes to Instagram user Travis Collins ( @toolsbydesign )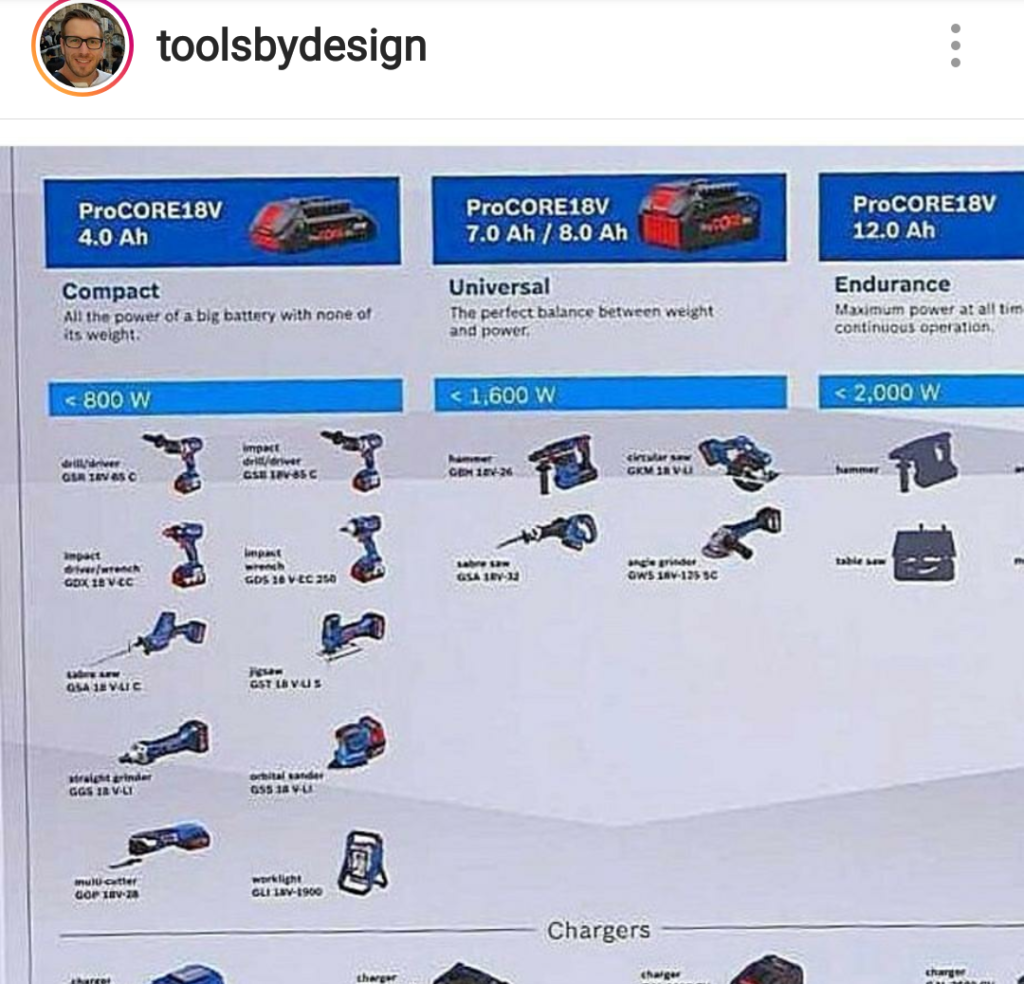 It wasn't even that long ago that we learned about Bosch's new ProCore series with a large 10 cell fatpack battery with 7.0 ah which is larger than anything else at the moment with 10 cells. They also previewed a large 15 cell battery pack that was speculated to have about 10.5 ah, and also had a compact 5 cell battery speculated to have 3.5 ah. But today's Bosch battery news far surpases it's previously announced batteries.
Starting off with the new 4.0 ah ProCore battery, it probably doesn't sound impressive at all since we've had 4.0 ah batteries for several years now, but those were 10 cell batteries. The Bosch ProCore 4.0 ah battery only has 5 cells inside making it very compact and the highest capacity compact 18V battery on the market today. The ProCore 8.0 ah battery as you may have already guessed houses 10 cells making it the largest capacity 10 cell pack on the market today. What's strange about this pack is that it will be sold alongside the previously announced 7.0 ah ProCore battery, so we'll have two Bosch ProCore 10 cell batteries to choose from. Lastly the 12.0 ah battery is the one that probably interests you the most and it gets it's super high capacity by utilizing 15 cells.
All batteries are confirmed to use the newest 21700 battery cells that are a tiny smidge larger than the still new 20700 cells. Initially I assumed the first Bosch ProCore battery was using 20700 cells because their newest battery before that the Bosch Core 18V 6.3 ah used them. But several sources have suggested the new Bosch ProCore 18V batteries use the slightly larger and newer 21700 cells.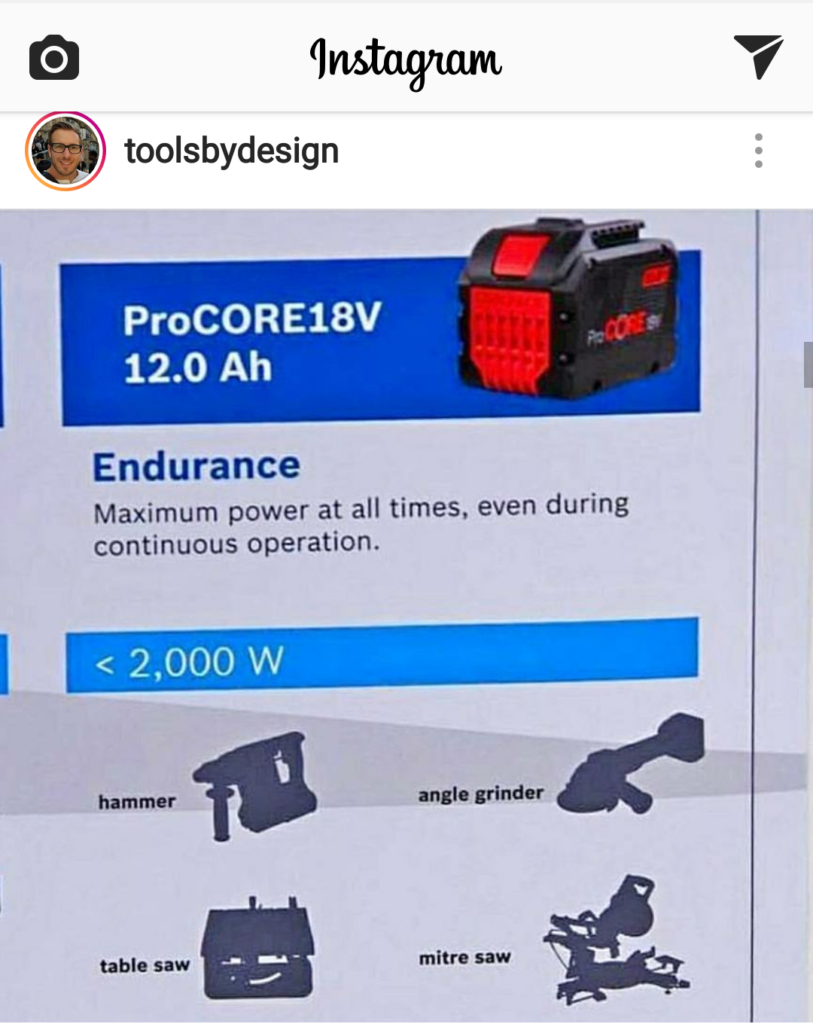 I could end it there and the news would still be amazing but there's yet another shocker that can be dug from the new ProCore battery announcement. If you look at the picture for the 12.0 battery, you can see that it has been designed to power high performance power tools such as a rotary hammer, grinder, along with a table saw and a sliding miter saw. As of now Bosch currently has 18V rotary hammers and angle grinders so no news here, but they don't have a cordless table saw and they don't have a cordless sliding miter saw, yes they have 18V miter saws but not sliders. So I believe Bosch is teasing us by unofficially telling us they'll be coming out with a cordless table saw and new cordless sliding miter saw, both using 18V batteries. I wonder if the table saw will use a single 18V battery or if it will require two 18V batteries? What do you think?


Free 2 day shipping – Try Amazon Prime 30-Day Free Trial

DISCLOSURE:
Tool Craze does not sell this product or any product on the Tool Craze website. Tool Craze does not handle the sale of any item in any way. If you purchase something through a post on the Tool Craze site, Tool Craze may get a small share of the sale. Please refer to the About section for more info.