The next evolution in battery tech is here, brought to you by Bosch with their newest 18V battery series called ProCore. The new lineup consists of 3 new ProCore batteries with a compact model which houses one row of 5 cells, a universal model which is similar in shape and size to their Fatpack batteries and has two rows of 5 cells (10 cells total), and an endurance model which is considerably taller than the other two models. It features 3 rows of 5 cells for a total of 15 cells.
87% more power (performance)
100% compatible with Bosch 18V Pro Power Tools
7ah model is 28% more compact than Dewalt Flexvolt 6ah and Milwaukee M18 9ah batteries
We gather the news from the above video which is from Bosch New Zealand and theres also a similar video in German from Bosch Germany.
At the outset it shows all three batteries although only the universal "fatpack" model is given an amp hour capacity rating (Remember amp hour is a measurement of runtime not power or performance). It has a 7ah rating which is the highest ever so far for a 10 cell 18V battery. Sure it's less than Dewalt's and Milwaukee's 9ah batteries but those use 15 cells to achieve a higher capacity. So for a 10 cell battery, Bosch will reign as king for the moment in a sea of 6ah 10 cell batteries.
In the video Bosch doesn't mention amp hour ratings for the other batteries but using some simple math, we can safely assume that the compact model will be a 3.5ah model and the large endurance model will be a 10.5ah model. How did I come to this conclusion? Simple, remember that the universal model has two rows of 10 cells and those rows are in parallel to achieve 7ah. This means that each row is putting out a total of 3.5 amp hours of runtime capacity. Since the compact model only has one row that makes that a 3.5ah battery, and since the endurance battery has 3 rows: 3.5ah x 3 = 10.5 ah.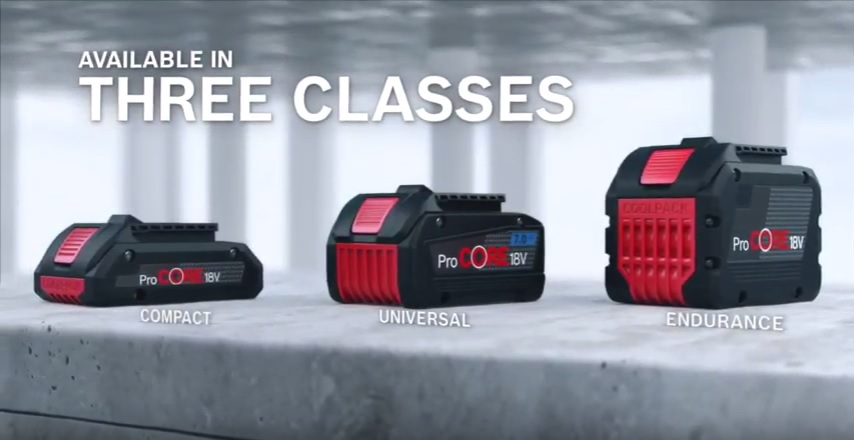 Those specs would mean Bosch has the largest capacity compact, fatpack, and 15 cell battery yet. I'm not sure what the industry will call the extra large 15 cell batteries. 5 cell batteries have been universally called compact, and the 10 cell batteries have been called extra capacity (XC) and fatpack batteries. So far Milwaukee calls their 15 cell battery a (HD) high demand battery. What do you suggest they call the large 15 cell batteries?
I almost forgot to mention that I'm not sure if they'll still be called ProCore in the USA when they arrive since Bosch has a habit of naming some of their tools as Pro or professional models because outside of the USA they have a green diy line and a blue professional line. Since the green tools don't exist here in the USA, all their tools are known as professional grade so they don't need to make that distinction here in North America. They probably will be called their Core batteries here in the USA which are their newer batteries using 20700 cells.
Big thanks to Chris Gkikas and Cody Robertson for sharing this news with us!
DISCLOSURE:
Tool Craze does not sell this product or any product on the Tool Craze website. Tool Craze does not handle the sale of any item in any way. If you purchase something through a post on the Tool Craze site, Tool Craze may get a small share of the sale. Please refer to the About section for more info.



Free 2 day shipping – Try Amazon Prime 30-Day Free Trial