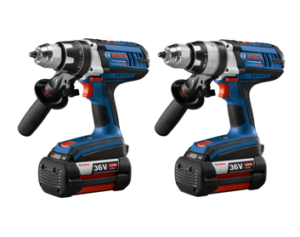 While most power tool brands have higher voltage cordless tool platforms above 18V, most are overlooked and are rarely updated with new tools but Bosch is breathing new life into their 36V cordless power tool line with the addition of two new 36V drills with the 1/2″ brute tough drill/driver DDH361 and the 1/2″ brute tough hammer drill HDH361 .
While I do get excited about new tools from any brand I don't see the point of these new 36V tools in 2017 and I'll tell you why. First of all 36V batteries are huge! Pair a 36V battery to a compact tool like a drill and you have something bulky and unwieldy to use and not to mention heavy for such a tool. Although 36V batteries are fine on larger tools like saws and rotary hammers because the tools themselves are large. However those of you that have 36V tools would appreciate a 36V drill so that you wouldn't be forced to purchase 18V tools just so you'd have a cordless drill although I feel most have already done this.
Bosch's new Brute Tough 36V drills are strong at 885 in-lbs however this is not class leading performance. In fact you can actually get much more torque out of a powerful high torque 18V drill from brands such as Hitachi, Makita, Metabo, Milwaukee and even AEG. That's not to say 885 in-lbs of torque isn't bad, that's very strong performance, it's just that I would expect more from a 36V drill especially when you consider that 18V high torque drills put out up to 1300 in-lbs of torque. The reason people go for higher voltage power tools to begin with is for more power than what's available than 18V but that just isn't the case with these new 36V drills.
What's also interesting to note is that Bosch's new 36V drills aren't even using brushless motors. Doesn't make much sense in late 2017 not to have included a brushless motor. The good news is that these new 36V brute tough drills do pack Bosch's awesome safety feature of Kickback control which uses an integrated acceleration sensor that limits tool rotation by detecting sudden movement and shutting down the motor. The feature mitigates injury risk in bind-up situations. I've tested this feature on their newer compact tough 18V brushless drills and is a great safety feature that really works.
Anyways if you find these new 36V tools interesting, you probably might lose interest when you find out that they are worth $499 for a baretool! That means $500 for a cordless tool without battery and charger. That's based on the price Bosch advertises in the box below. I'm hoping that's a typo and $500 is the kit price with two batteries and charger but even then it's still not a good value when you can get a more powerful 18V drill for less.
These 36V tools would have made headlines if released in 2013 or earlier but today's best 18V tools offer much more. Honestly I feel that their product research and development would have better been used on creating something else like a strong right angle drill similar to a holehawg, or a large and powerful SDS Max cordless rotary hammer, or even a cordless table saw or 10-12″ miter saw.
Bosch DDH361 36V Cordless Drill/Driver and HDH361 36V Cordless Hammer Drill/Driver Fact Box
Product

Max rpm

Weight

Kit Includes

Rating

bpm

Price

Bosch DDH361 36V Brute Tough™ Cordless Drill/Driver

0-1,800

4 lbs.

Bare Tool

Two 36V 4.0 Ah FatPack batteries, 36V charger, side-assist handle, double-ended driver bit, case

36V

N/A

Bare tool

US: $499

Canada: $629

Bosch HDH361 36V Brute Tough™ Cordless Hammer Drill/Driver

0-1,800

4.25 lbs.

Bare Tool

Two 36V 4.0 Ah FatPack batteries, 36V charger, side-assist handle, double-ended driver bit, case

36V

0-27,000

Bare tool

US: $529

Canada: $659


Free 2 day shipping – Try Amazon Prime 30-Day Free Trial

DISCLOSURE:
Tool Craze does not sell this product or any product on the Tool Craze website. Tool Craze does not handle the sale of any item in any way. If you purchase something through a post on the Tool Craze site, Tool Craze may get a small share of the sale. Please refer to the About section for more info.