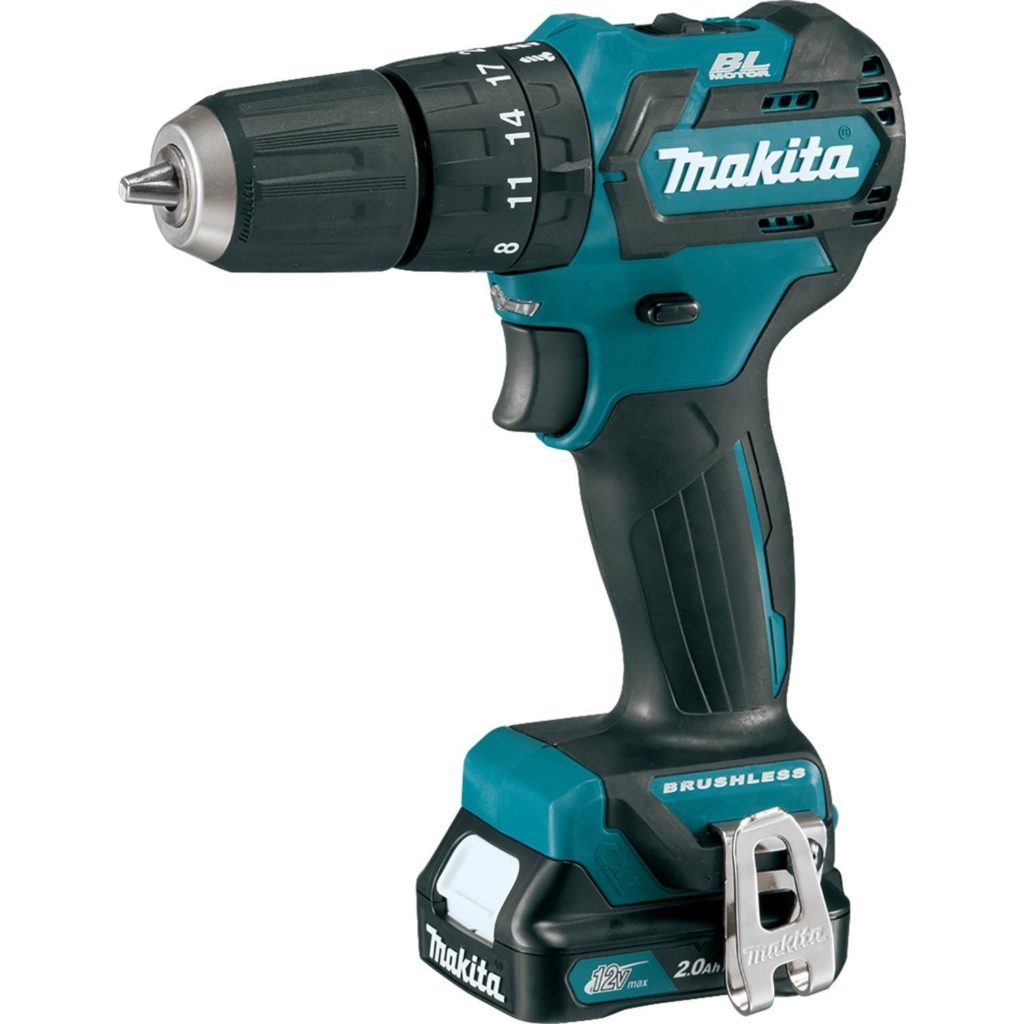 Makita with the recent re-release of their 12V power tool line, is at it again with a new set of drills to add to their new CXT 12V power tool line with slide pack batteries with fuel gauges. They came out with a couple of puny 12V drills that pack a punch, a 3/8″ drill/driver and a 3/8″ hammer drill. Besides the fact that these are in under 7″ in length with an extremely short 6-1/8″ length for the drill/driver and 6-5/8″ for the hammer drill variant, these arealso both sporting brushless motors. They join the 12V brushless gang that includes Milwaukee and Bosch with their own brushless 12V power tools.
Their extremely compact form factor bests even the current compact champ Bosch. Bosch's brushless 12V drill measures in at 6.5″ in length which is also extremely compact, but Makita aimed to best that with their brushless drills.
Besides the fact that these tiny 12V power tools are well, puny, they also pack a punch at 280 in-lbs of max torque. While this may not be best in class power (when many current pro 12V drills have 265-275 in-lbs torque for current brushed drill top dogs) and may seem a bit lacking compared to Milwaukee's M12 fuel drills with 325-350 in-lbs torque, when you compare Makita's new brushless offerings to that of Bosch's 12V drill with only 180 in-lbs torque, then 280 in-lbs sounds very respectable, especially considering it's puny size. Milwaukee's M12 Fuel drills may pack in a few more in-lbs of torque, but they are pretty big in comparison, even when put side by side with "normal" sized 12V drills.
So it seems that Makita may have the perfect blend and balance of compact size with plenty of power in such a small size.
Also worth noting is that these new brushless 12V drills feature a 3/8″ chuck instead of the 1/2″ chuck found on Milwaukee's brushless 12V drills. While this may seem like a let down, I don't find it to be when you factor in that it has 280 in-lbs torque. It does not have enough torque to warrant a larger chuck, and it would be misleading if it did offer a larger chuck.
Although these new Makita brushless drills appear to be more compact than anything 12V at the moment, their weight is about average at 2.3 lbs for the drill and 2.4 lbs for the hammer drill. These aren't class leading numbers but well within the 12V class and still pretty lightweight nontheless, especially when compared to 18V drills.
Dissecting these new brushless drills even further, I didn't see any mention of a ratcheting chuck, which their previous pod style 12V drills also did not have. And I did not see any mention of a metal chuck. Ratcheting metal chucks are quickly becoming the norm on 18V drills and it would be nice to see these features on 12V drills as well such as what is being done on Milwaukee 12V drills. It is hard to see if they are plastic or metal chucks based on pictures alone so I will update what I know when the info comes up.
As of right of time of writing this article, Amazon has these on their website although they are currently out of stock. Pricing for the drill driver is $209.99 and $219.99 for the hammer drill model. Both come sold as kits with 2x 2.0 ah batteries with fuel gauge, charger, and hard plastic case.
Specifications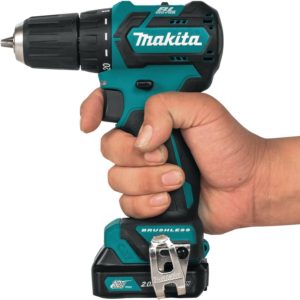 Makita FD07R1 3/8″ Drill / Driver
Torque 280 in-lbs
Length 6-1/16″
2.3 lbs weight
0 – 450 / 0 – 1,500 RPM
capacity steel: 3/8″
capacity wood: 1-1/8″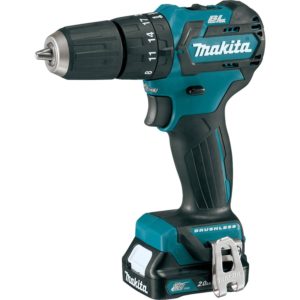 Makita PH05R1 3/8″ Hammer Drill
Torque 280 in-lbs
Length 6-5/8″
2.4 lbs weight
0 – 450 / 0 – 1,500 RPM
0 – 6,750 / 0 – 22,500 BPM
capacity masonry: 5/16″
capacity steel: 3/8″
capacity wood: 1-1/8″