Anyone who's ever used a compressor knows how loud they are and in my short use with them in the past, the loudness is certainly a nuisance. Good news is that there are quiet compressors out there, or should I say quieter, such as the Campbell Hausfeld quiet air compressors.
Campbell Hausfeld has a couple of quiet air compressors in 6 and 8 gallon models and both offer a low 68 decibels operating operating sound output and are claimed to be up to 50% quieter than other compressors. Both Feature 125 Max PSI while the 6 gallon model has a pancake style tank and is lighter and smaller while the 8 gallon model has the advantage of the larger tank which can run tools longer before the motor kicks in and thus can take advantage of more demanding air tools.
Specifications/Warranty/Price
Model DC080500
tank capacity 8 gallon
120V
1 HP 7 amp motor
Oil Free Pump and Induction Motor
125 Max PSI
Sound Output 68 dBA listed (68 dBA tested)
2.4 CFM @ 90 PSI
3.5 CFM @ 40 PSI
1 year limited warranty/ Commercial 90 days
Price: $199
There's also a 6 gallon model with same stats for the same price $199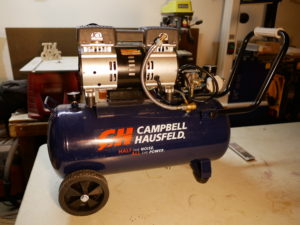 I was sent the 8 gallon model for review testing and found the claims to be right on the spot as my decibel meter measured exactly 68 decibels. Usually manufacturers give claims but in the best case scenario but I got exactly 68 measured decibel loudness. I'd be lying to you guys if I said this compressor was quiet as it does give off a good amount of noise BUT from my short experience with previous compressors, the difference is HUGE! The Campbell Hausfeld is definitely much quieter and after doing some research I found out that most compressors are rated between 78-82 decibels so the Campbell Hausfeld compressor is indeed 50% or half as quiet as most compressors out there.
Likes and Dislikes:
Obviously I much like the reduced operating noise as it's quiet enough that I can carry a conversation while the compressor is running. One of the things I dislike about compressors in general is that they're very loud so it's a nice contrast that this model is not as obnoxiously loud as other models.
And as far as negatives are concerned, other than the quieter operation, there's not many bells and whistles for the $199 price point. The max PSI is about average at 125 PSI, while there's a lot of compressors out there that have higher max PSI's. Also there's only one hose hook up, meaning you can only power one air tool at a time. I've seen several compressors for less that give you two hose hookups so you can power 2 air tools at once. But then again you're really paying for low operating sound and in many cases I'd say it's definitely worth it. As that's one of the main things I didn't like about using compressors in the past and is something I'd be willing to pay a bit more to get a quieter operating compressor if I was in the market for one.
But after doing some research I found out that even though it is priced higher than most compressors in similar size, there's still some good value going on with this model. For example, I found the Rolair AB5 Air Buddy which has the same sound output at 68 decibels and it's about 3/4 of the price of this model, but you only get a 1 gallon tank and with the same max PSI of 125, there's also the Rolair JC10 which is quieter than this model at 60 decibels but it's also more expensive at around $240, it has the same 125 max psi and has a smaller 2.5 gallon tank, which means you should be able to get more work done with the Campbell Hausfeld before the motor kicks in. Atleast that's from my understanding but correct me if I'm wrong in the comments section below.
Conclusion
All in all the Campbell Hausfeld Quiet Air compressors are indeed 50% quieter than the average compressor and is the main attraction of these models. I find this to be a big selling point if I was in the market for a compressor as the average compressor's sound is a nuisance to say the least. As far as bang for the buck, you can get more elsewhere but if you value lower operating noise, this is where it's at. A quick comparison with other quiet compressors from the likes of Rolair show's that there's good value for the Campbell Hausfeld "quiet" compressors as you get much larger tanks than similar quiet compressors in the price range.