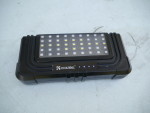 Lately I've noticed many portable car jump starters pop up at brick and mortar and online stores. One was supplied to me by a company called CoolReall and they sell these online over at amazon. These are great because they are very small compared to older large and heavy car jump starters. I had a Craftsman Diehard a while back but that thing was about the size of a car batter and just as heavy. Actually it was just as big and heavy as a car battery because essentially it was a large 12v car battery with a few extra features. These new car jump starters from CoolReall are much smaller and fit the term "portable" as they are about the size of a brick, a thin brick. It's much smaller and that's due to the fact that it uses high tech lithium ion batteries.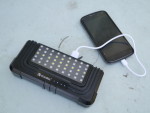 The main feature is it's ability to jump start a vehicle when the battery dies. Although I wasn't able to test the main feature I have no doubt in it's ability to jump start vehicles. Looking through the manual, it's rated to be able to jump start vehicles up to 20 times on a full charge and is said to be able to jump start most gasoline engine vehicles up to 6.0L or diesel engines up to 3.0L displacement. If you constantly have trouble with your vehicle's battery or have a bad habit of leaving your lights on in your vehicle this just might be the solution for you.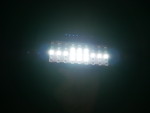 Just like the diehard jump starter it also has other abilities such as built in lights and can charge a variety of devices (more on that in a moment). On the top face of the jump starter there is an array of 45 LED lights with 2 modes, a solid white flood light and flashing red and orange emergency light. The emergency mode is perfect for when stranded on the side of the road at night and the white flood light is great for general use. The wide clean beam would be great for working under the car hood after hours, although it lacks a built in hook to hang under your hood so you would have to sit it on something but it's wide beam could be used around the house for just about any project. Besides the array of LED lights, it also has a built in flashlight on the side. This also comes in very handy, its not the brightest flashlight by any means but good enough if you need light when searching for items up close such as cabinets, drawers, underneath car seats, etc.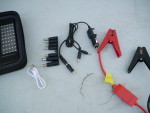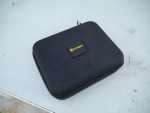 Now onto my favorite feature of the portable jump starter, the ability to use the built in lithium ion battey as a power source for small electronics. It can power a variety of mobile devices such as cell phones, tablets, mp3 players with its built in USB port and can even charge larger devices such as laptops. Not only can it charge such devices but even comes with charging cables included. It comes with 1 standard USB to micro USB cable to charge devices such as smartphones and has a charging cable to charge laptops with several adaptors to fit your specific model. I tried the included adaptors and it was able to charge my Acer laptop. It comes with the standard charging cable to charge the CoolReall jumpstarter itself and whats neat is that you have 2 chargers, a wall outlet charger and a vehicle charger so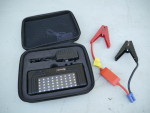 you can charge the jump starter using your vehicles cigarette lighter while on the go. The CoolReall jump starter comes with a handy soft carrying case that fits everything inside including the jump starter and all included cables with a nice foam insert to neatly store the jump starter and a pocket to store all the cables. The CoolReall jumpstarter also has a built in fuel gauge composed of 4 blue LED lights to check the remaining charge.
In testing I was able to charge two Nexus 4 smartphones from near empty with the CoolReall jump starter and still had 2 out of 4 bars left on the jump starter. So I was able to charge my phone and my wife's phone and still had plenty of charge left on the jump starter device. I had some doubts at first on it's ability to charge laptops but it had no problem charging my Acer laptop. Not only did it charge my laptop but the CoolReall jump starter was able to charge my nearly depleted laptop all the way up to 80% with a total charge time of an hour and 30 minutes before the jump starter battery was completely depleted.
So with these results we can see that the CoolReall jump starter has a serious power capacity built in. I thought it would take forever to charge it up again when it was depleted but it only took 3 hours and 21 minutes to get it back to full capacity. This is a huge difference from my old Diehard jumpstarter as it could take up to a whole day to charge that thing. There was one feature the Diehard jump starter had that this CoolReall jump starter doesn't and that's the ability to pump air in your tires or inflate inflatables such as air mattresses and such but honestly I don't miss those features at all as CoolReall jump starter is truly portable so its a great trade off. I'm sure they could make a portable jump starter, power source, and air compressor tire inflator all in one but at the cost of a much larger unit to hold the extra features.
My experience overall is a positive one with this CoolReall jump starter. Even for someone like me that doesn't have car battery issues, I still find the product very useful in my everyday life. Although I have plenty of portable power sources such as the M12 Power Source, I still needed a product such as this CoolReall jump starter for larger power hungry devices such as my laptop. I love the fact that it can charge my laptop as many times I'm on the go and need to use my laptop for extended periods while away from an outlet. It can charge all my portable electronics and makes a great product to have on hand for emergencies (car trouble and dead batteries). My only dislike would be that there are times when the jump starter makes loud beeping noises as the battery is being depleted. It doesn't always make beeping noises but when it does it's quite annoying. I often have my phone next to me in bed while it's being charged with a portable power source but I couldn't do that with this jump starter due to it's random beeping while charging devices.
Capacity 36.63 Wh
Starting current: 300A
Peak current: 600A
Input 15V 1A
Output 5V2.1A – 12V/16V/19V/3.5A – 12V Jumpstart