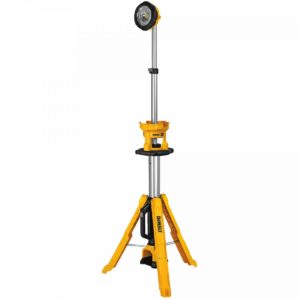 Dewalt recently announced a new 20V cordless tripod light DCL079 and what's interesting is that it seems to be a replica of Milwaukee's original M18 LED tower light.
Dewalt's 20V cordless tripod light DCL079 can extend up to 7 feet and has a built in 3 legged base that can fold back in place and set up in seconds just like Milwaukee's original tower light. I say just like the original Milwaukee light because the Dewalt tripod light has a similar one piece head, has three light settings, and is only battery powered just like the first M18 tower light. However Dewalt's tripod light does something better than the first M18 tower light and that's more lumens at 3,000 max lumens on the highest setting. Although Milwaukee's second M18 tower light has the same 3,000 lumens light rating and a couple of extras such as a 3 piece head that allows it to angle each light individually, can be plugged into an extension cord for unlimited runtime, and can also charge batteries. Dewalts tripod light is rated for up to 11 hours runtime with a 6.0ah battery on the lowest setting of course.
Dewalt's tripod light can be purchased as a baretool for $199 and as a kit for $329 which includes a charger and XR 6.0ah battery. We can expect this light to be available sometime this month of November 2017.


Free 2 day shipping – Try Amazon Prime 30-Day Free Trial

DISCLOSURE:
Tool Craze does not sell this product or any product on the Tool Craze website. Tool Craze does not handle the sale of any item in any way. If you purchase something through a post on the Tool Craze site, Tool Craze may get a small share of the sale. Please refer to the About section for more info.