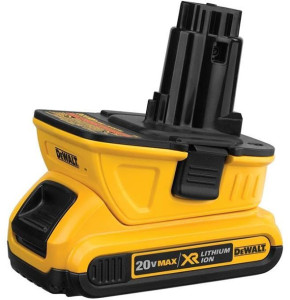 What's the most asked for Dewalt accessory for the past few years? The answer is a battery adapter to use newer DeWalt 20V Max batteries on the aging DeWalt 18V cordless power tools. Ever since the introduction of the newer Dewalt 20V Max cordless platform, users of the older 18V cordless system have felt a little bit left out. Many users would love to switch over to the newer platform but is not financially possible for many that are heavily invested in the 18V Dewalt platform with large collection of 18V Dewalt power tools. I've heard of adapters being made for Dewalt 18v tools that accept the newer 20V batteries but all of those have been produced unofficially by independendt DIY'ers. While Dewalt says that they will continue to support the older 18V system, we haven't seen any new products for their 18V line besides dual platform items like chargers, cordless vacuums, and cordless radios. That is until now that they've finally come out with their very own in house official Dewalt 20V Max to 18V battery adapter DCA1820.
It's a very basic accessory but the benefits are HUGE! It resembles the basic shape of a Dewalt 18V pod style battery and is molded on the bottom to accept the newer 20V Max Dewalt slide pack batteries. The adapter is designed to accept all Dewalt 20v Max batteries – we're talking about the 1.3, 1.5, 2.0, 3.0, 4.0, and newer 5.0 ah batteries. Now users of the old Dewalt 18V power tools extend the life of their tools and use Dewalts latest 20V Max lithium ion batteries.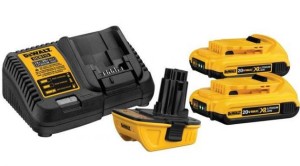 Ofcourse the adapter is nothing without new 20V batteries to power older tools and the new 20V batteries will need a new 20V charger to charge them, Dewalt thought of this and also came out with a Dewalt 20V starter kit DCA2203C with a 20V/12V charger and two compact XR 2.0 ah lithium batteries and they toss in a new 20V to 18v adapter in the kit.In a sense this can also be looked at as a "gateway" tool for Dewalt 18V users as once the new adapter and 20V batteries and charger, users have no excuse and nothing in their way to add additional 20V cordless power tools to their collection.
The adapter and starter kit will be available in October 2015 with a retail price of $39 for the adapter by itself and $149 for the 20V Max starter kit including the adapter.