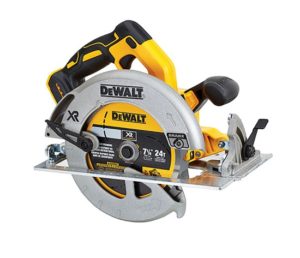 While Dewalt already has a cordless and brushless 7-1/4″ circular saw, it's part of the Flexvolt line and only runs on the new 60V batteries which means that current 20V users have to purchase new batteries to run that saw. But luckily for existing Dewalt 20V Max users, Dewalt has now released an all new cordless and brushless 7-1/4″ circular saw that's specifically designed for existing Dewalt 20V Max batteries.
This is great news because Dewalt 20V users now have a cordless brushless circular saw running full size 7-1/4″ blades. This'll satisfy current Dewalt 20V users cravings for something that competes directly with other cordless saws running 7-1/4″ blades from competing brands such as Milwaukee's M18 Fuel 7-1/4″ saw, the current Makita x2 7-1/4″ circular saw and the new brushless rear handle model, and Ridgid's brushed and brushless GenX5 7-1/4″ models.
Dewalt 20V XR Brushless 7-1/4″ Circular Saw DCS570B Features
Brushless motor provides 5,200 RPM maintaining speed under load
7-1/4-in blade provides 2-9/16-in cutting capacity at 90 degrees
57 degree bevel capacity with positive stops at 45 and 22.5 provides increased versatility
Offers rubber overmold for better control
Stops the blade after trigger is released
Delivers corded capacity
Durable high grade aluminum base for accurate cuts
Maximized for runtime and durability delivering excellent performance
Includes 7-1/4-in (184mm) circular saw, 7-1/4-in blade, and blade changing wrench
7.9 lbs weight – without battery
So far it looks very promising and thanks to the brushless motor we can expect more power as it's stated to "deliver corded capacity". It has a very good 2-9/16″ cutting capacity at 90 degrees for which is more than enough for easy cutting of 2×4's in a single pass.
It has an electric brake which is pretty much a standard feature on pro cordless circular saws nowadays. The shoe is made out of aluminum to keep the weight down. Dewalt doesn't specify what material the blade guards are made of, but I would assume their also made of aluminum since the total weight of the saw without battery is listed as 7.9 lbs without battery.
Pricing for the new brushless circular saw is going to be around $159 and will be out soon.