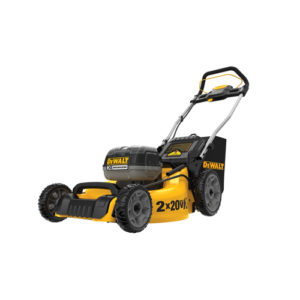 Dewalt announces a new lawn mower, their first lawn mower, the Dewalt 2x20V Max Lawn Mower DCMW220 or as a kit DCMW220P2 .
This new mower is part of their popular 20V cordless power tool line but what's interesting about the mower is that it uses two 20V batteries together to power the mower.
It uses a brushless motor and has a 20 inch metal deck, those together make for some serious specs as most battery powered mowers use brushed motors and plastic decks.
What's also interesting is the 2x20V naming, this leads me to believe that they are using a pair of batteries to double the voltage which would be similar to what they do on their 120V cordless 12″ miter saws which is based on a tech that Makita pioneered with the X2 power tools. So in reality if both batteries are being used together in series, this means that the mower is actually a 40V max mower. It makes sense that they didn't go with the 40V max label because Dewalt already has a separate 40V outdoor power tool line that is incompatible with their 20V batteries. If they'd named the mower a 40V mower that used two 20V batteries, owners of the Dewalt 40V power equipment would naturally assume that their 40V batteries would be compatible, but they are not.
The addition of a cordless mower to the 20V line means that it's shaping up to be a good system for outdoor power tool use along with the large library of power tools. Dewalt's 20V line already having outdoor power tools such as their string trimmer, hedge trimmer, leaf blower, and recently announced chainsaw along with this newly announced mower will make for a nice little system to get most of your yard work done. They have all the basics covered at least. Only thing needed now are possibly a pole saw, edger, and a backpack blower would be nice but that might be pushing it for the 20V system, but who knows, they could surprise us in the future as they've done with this new mower.
One thing I've always enjoyed about Dewalt's 20V outdoor power tools is their low price and huge value, offering an outdoor power tool, large 5.0ah battery and charger for $199 (some now priced at $169). Dewalt does it again with the mower by offering us a good deal for $399 which includes the 2x20v mower, two 5.0ah batteries and charger.
As an aside, I think it would be a great idea for Dewalt to surprise and wow us again in the near future with a 60V Flexvolt mower. You never know that we might get what we want 😉 .


Free 2 day shipping – Try Amazon Prime 30-Day Free Trial

DISCLOSURE:
Tool Craze does not sell this product or any product on the Tool Craze website. Tool Craze does not handle the sale of any item in any way. If you purchase something through a post on the Tool Craze site, Tool Craze may get a small share of the sale. Please refer to the About section for more info.