Cody Robertson spotted a new corded/cordless 20V air inflator from Dewalt model DCC020IB.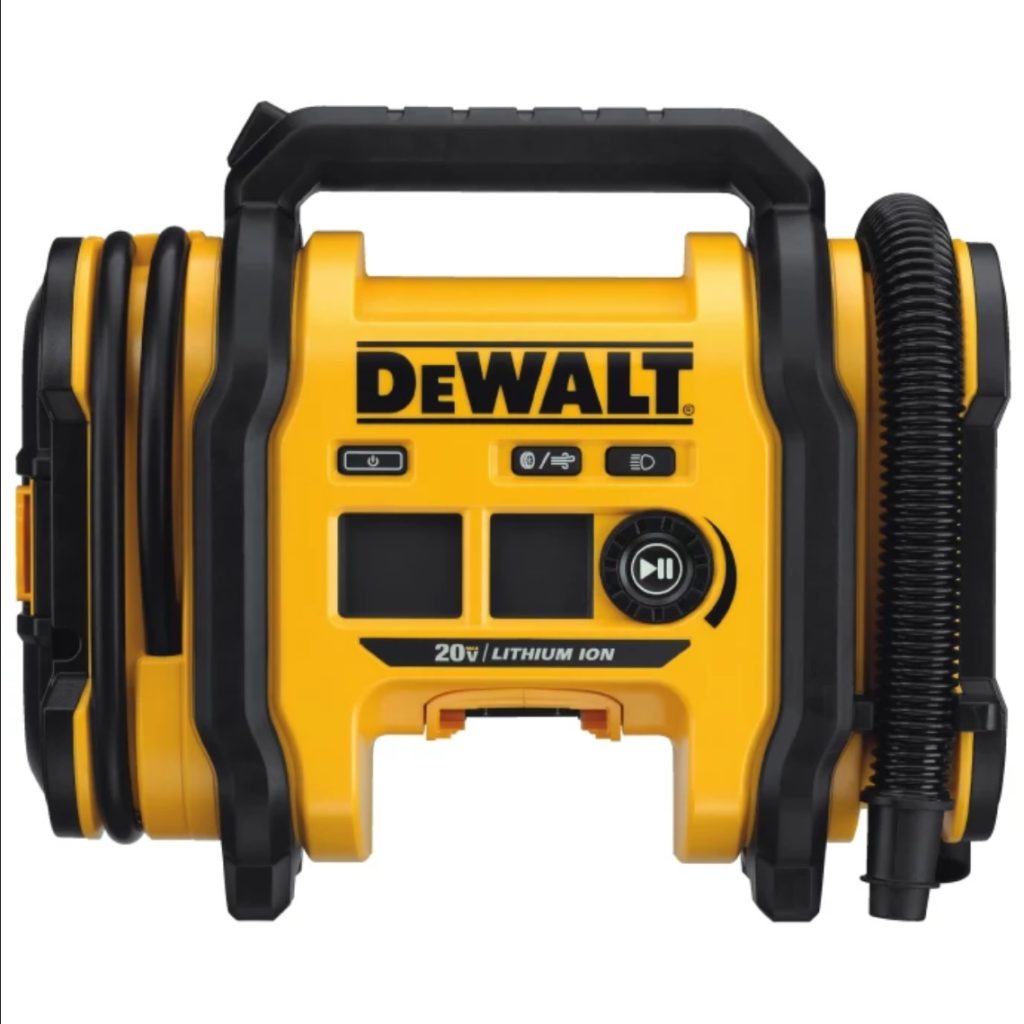 Just like it's name suggests, it inflates. Good for inflating vehicle tires using high pressure with a high pressure rubber hose on one end while the other end uses low volume to inflate inflatables like air mattresses and pool inflatables. All on the go.
Honestly, the design mimics the original Ryobi 18V inflator. Just like the Ryobi, the Dewalt has a digital display to select and dial in air pressure in PSI, has the battery pack placement underneath and also has a built top handle however Dewalt's has a sort of built in roll cage design similar to their cordless radios.
To mix things up and make this model their own, Dewalt incorporated an LED light on the left edge of the handle which should add to this unit's usefulness in emergency situations or when light is needed in a pinch when it's dark out. They also made this a hybrid inflator as it can take their 20V batteries for cordless power along with being able to plug in to the grid with 110V ac power and you can also plug this into your vehicles 12V DC cigarette outlets for even more flexibility. With all these options you can use this Dewalt inflator out of the box even if you don't own any Dewalt 20V batteries.
This Dewalt is available now and is priced at $99 as a baretool.



 High-pressure inflation mode with automatic shutoff
 High-volume inflation and deflation modes
 Three power sources for inflation on a jobsite and on the go (DEWALT 20V MAX battery, 12V DC, or 110V AC)
 LED light helps to provide illumination
 Convenient onboard accessory storage
 Heavy-duty rubber feet help reduce walking when in use
 Threaded chuck for secure connection to inflation valve
 Includes (1) DCC020I air inflator, 12V DC power cord, (1)high-pressure tapered nozzle, (1) oresta valve adapter, (1) inflator needle
 Tool only, battery, charger, and power adapter sold separately
DISCLOSURE:
Tool Craze does not sell this product or any product on the Tool Craze website. Tool Craze does not handle the sale of any item in any way. If you purchase something through a post on the Tool Craze site, Tool Craze may get a small share of the sale. Please refer to the About section for more info.