In this review I will be checking out the Dewalt DCD996 20V Brushless 3 Speed Hammer Drill DCD996B DCD996P2 and I will provide my honest review to see how it performs and check out it's feature set.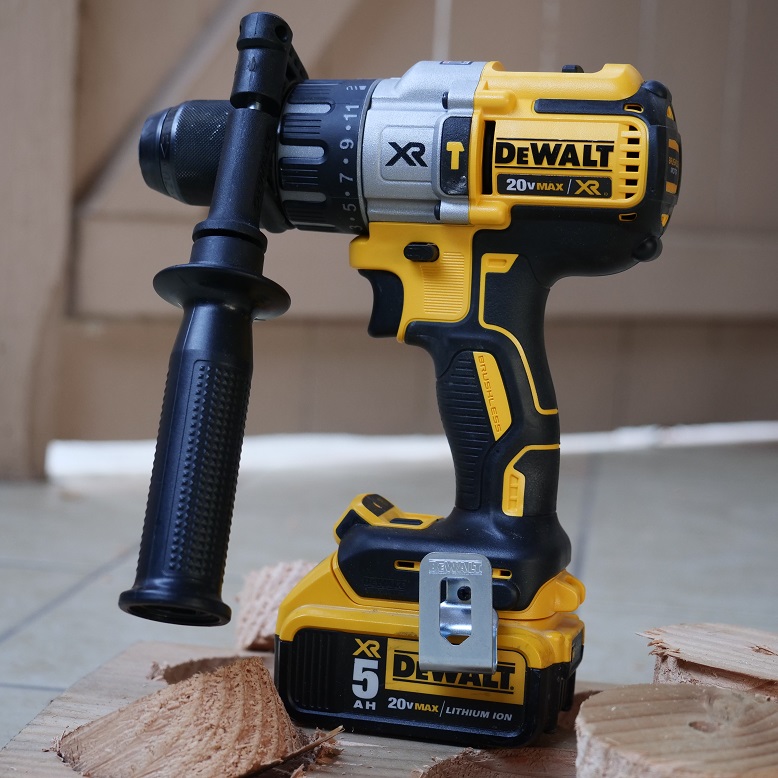 Ethics Disclosure:
I personally purchased the Dewalt DCD996 20V Brushless 3 Speed Hammer Drill DCD996B DCD996P2 with my own money. As with all my reviews, I am not paid, sponsored, or obligated to give a positive review. This review is my opinion of the product based on my usage and knowledge and my review will reflect what I like and dislike about the product. I will do my best to provide you with an unbiased review.
Manufacturer Specs:
DEWALT-built high power, high efficiency brushless motor delivers up to 75% more runtime vs. 18v NiCad brushed motors
XR® Li-Ion batteries with fuel gauge provide 33% more capacity over standard packs
Heavy-duty 1/2″ ratcheting nitro-carburized metal chuck with carbide inserts for superior bit gripping strength
3-Mode LED provides lighting in dark or confined spaces up to 20X brighter than previous model
LED Spotlight Mode features 20 minute shutoff function allowing for extended work time in dark or confined spaces
3-speed, all-metal high performance transmission optimizes tool-to-task for fast application speeds and improved run-time
0-450 / 0-1300 / 0-2000 RPM in drill mode
0-500 / 0-1500 / 0-2250 RPM in hammer drill mode
0-38,250 BPM for fast drilling in masonry materials
4.8 lbs tested weight with 5ah battery
8-5/16″ chuck fully open 8-7/8″ chuck fully closed tested length
Torque specs 95Nm based on UK specs (840.82 +/- in lbs)

My Thoughts:
The Dewalt DCD996 brushless 3 speed hammer drill represents Dewalt's flagship drill with all the bells and whistles such as a powerful brushless motor and 3 speed drivetrain, something you don't see on other brands such as Makita Milwaukee and Bosch as they only feature 2 speed drills nowadays. It also represents Dewalt's second brushless high torque drill after the original DCD995 model which offer brute torque you simply wont find on compact drills.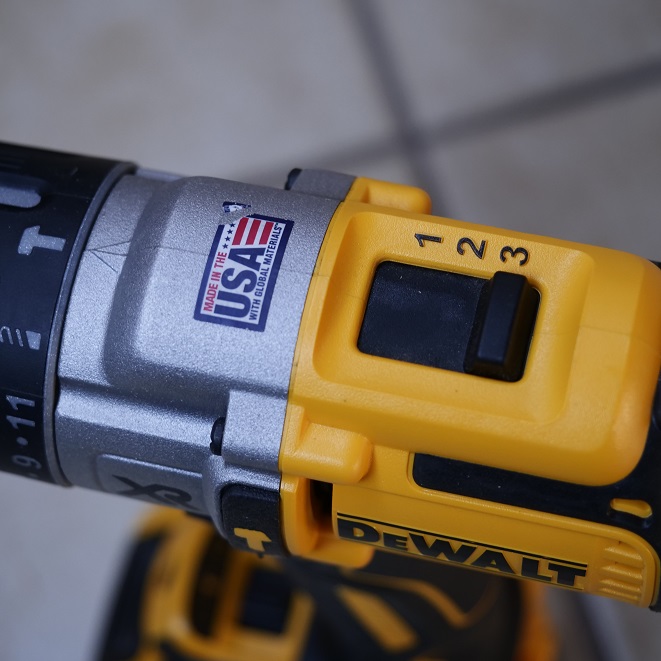 I will admit that I am late in reviewing the DCD996 since it came out in 2016, almost 3 years prior to writing this review article but I did so since many showed interest in the DCD996 after my Milwaukee M18 Fuel Gen 3 hammer drill honest review was completed. Many were claiming that it appears the new Milwaukee M18 Fuel Gen 3 model could stand toe to toe with the older DCD996 model and I wanted to see for myself if true or not.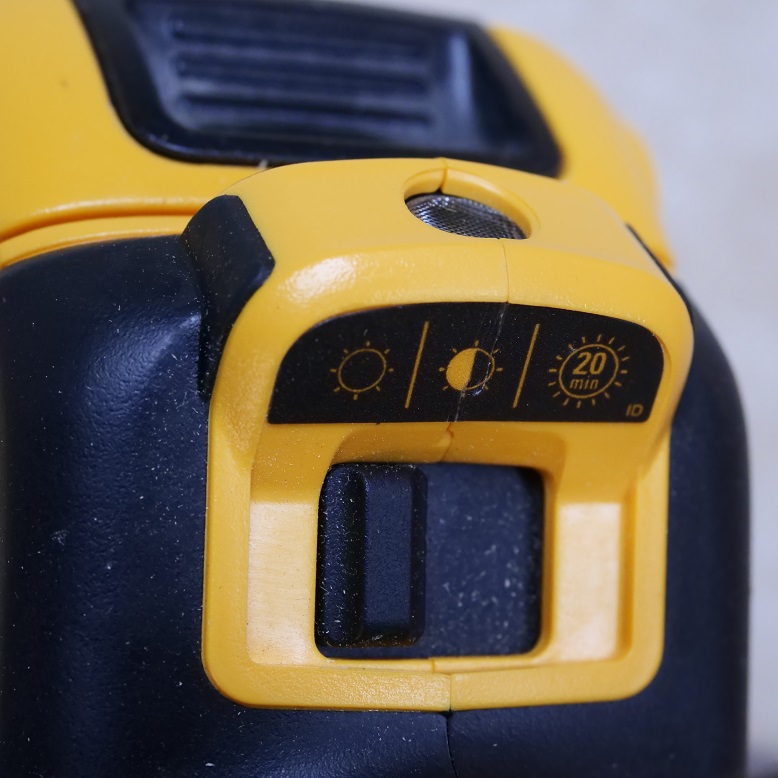 The DCD996 model from a first glance looks identical to the original DCD995 model I had reviewed previously. Back in it's day, the DCD995 was a force to be reckoned with, not only for it's impressive torque but because it was truly a premium drill with a 3 speed drivetrain, a fully featured side handle, solid chuck that bites down hard on bits and new tech such as an electronic clutch. All of that carries over to the DCD996 plus added torque (which I will discuss further in the performance section below) and now features a larger LED light with 3 light settings, low, medium, and spotlight mode. The "low" setting has the same brightness as other cordless tools which is just bright enough to do the work at hand in low light. Medium mode makes it a bit brighter. Both low and medium brightness modes stay lit for 20 seconds after a trigger press. The spotlight mode is tremendously brighter and has a 20 minute limit! Finally we have a cordless power tool that has LED's bright enough and stay long enough to be effectively used as a flashlight which is perfect in very low light situations and allows the user to only bring this drill along with hand tools instead of this tool, hand tools and a separate flashlight. The light brightness modes are controlled by a physical slide switch at the base of the handle.
Aside from the addition of the larger LED light & switch and the change of color of the torque collar, the drill is basically identical cosmetically to the original DCD995. Of course the internals are much different and not just because of a spiffy new more powerful motor, but because they reworked the gearbox and drivetrain. For instance, Dewalt did three things on the DCD996 model I haven't seen done before. The first is that it has different max RPM speeds for drilling mode and hammer drilling mode. When in the drilling mode it maxes out at the same 2000 RPM as the original DCD995 but when you set it to hammer drill mode, all three speeds have a max RPM increase across the board, 1st speed maxes out at 500 instead of 450, 2nd maxes out at 1500 RPM instead of 1300 and 3rd speed maxes out at 2250 instead of 2000. I ain't complaining as faster RPM's go hand in hand with this models also faster BPM's which are now up to 38,250 BPM. Check out the performance section below to see how the higher BPM and RPM speeds affect it's hammer drilling performance. The next thing they did different regarding the drivetrain is that the chuck will actually extend a bit when you go into the hammer drilling mode. I don't think of how this can be of any benefit but probably happens due to the way they engineered the drill to engage the higher RPM speeds internally. The last difference is that the drill's max RPM's are further decreased the lower the torque setting is used on the torque collar regardless of what physical speed setting the drill is set to.
Before we move on, I wanted to remind you guys that Dewalt has one of the best side handles for their cordless drills along with Bosch. For instance Makita's and Milwaukee's side handles only do two positions, 90 degree right and left and out of the two, only Makita's has the ability to use a depth rod which comes in handy so as to not overdrill when hammer drilling. Dewalt's side handle can be rotated in any direction and has a slot to use a depth rod although one is not included like you would find on the Makita and Bosch models. Still, you can fit an old 1/4″ drill bit into the Dewalt side handle and use that as a depth rod, as that's what I do. You will also find a removable belt clip that can be positioned on the right or left of the drill.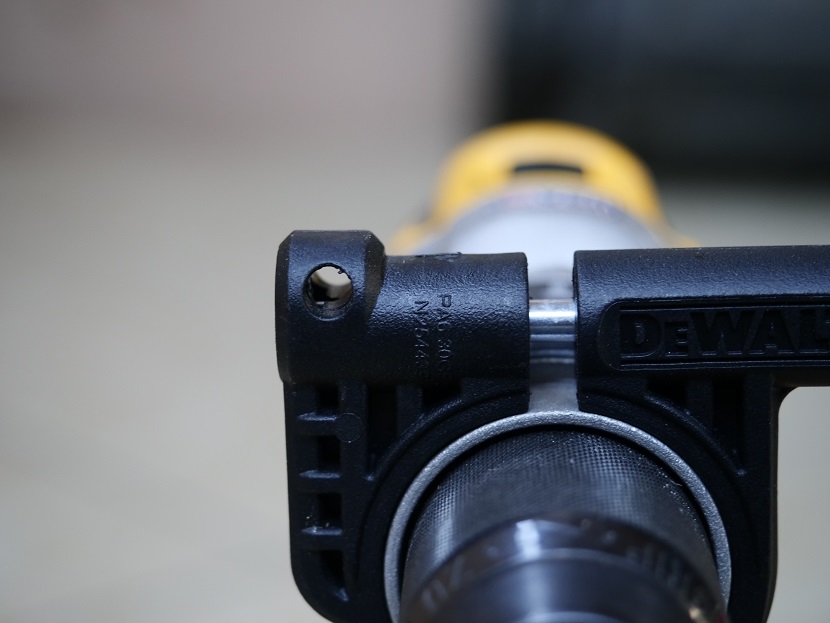 The Dewalt DCD996 is the very definition of a high torque drill with it's stand out massive size compared to compact drills as it's a lengthy 8-7/8″ inches (with the chuck fully closed). This is the same exact length figure of the original DCD995 which means that Dewalt had no intention on cutting any corners (literally) to make this drill as compact as possible. It's still a massive drill compared to Milwaukee's puny compact drill-like Gen 3 Fuel Hammer drill which is nearly 2 inches shorter at 6.9 inches. But you have to keep in mind that the Milwaukee Gen 3 is a much newer drill that came out years after the DCD996. If I had to guess, I'd say that Dewalt is probably due to make another premium brushless 3 speed hammer drill flagship model to replace the DCD996 model so as to keep up with the competition but check out the performance section to see if they really need to update it right now or not.
I also wanted to mention that Dewalt doesn't post torque stats in in-lbs here in the USA as they've gone with their own in house performance measurement which they call UWO or unit watts out. Honestly I think they did this so as to not take part in the who has the highest torque race. Some people shop only based on torque stats alone and considering Dewalt's best models never had the highest torque in their class, I can see why they wanted to hide their torque numbers. However in the UK it's a different story as they are more strict and manufacturers must disclose torque numbers in Nm which stands for newton metres. Over in the UK the DCD996 is rated for 95Nm which translates to around 840.82 in-lbs of torque. Honestly 840.82 in-lbs of torque, while higher than the original DCD995 and Milwaukee's original M18 Fuel hammer drill, is still low when compared to the current competition of 1080 in-lbs of Makita's XPH07 and Milwaukee's 1,200 in-lbs with their Gen 2 and 3 models but we'll see just how well the DCD996 stacks up against the competition in the performance section below.
Price versus value:
The Dewalt DCD996 is sold as a baretool (DCD996B) for $159 and as a kit (DCD996p2) with a pair of 5ah batteries, charger and hard case for $319. It's closest spec'd competition is the Milwaukee M18 Fuel Gen 3 hammer drill and Makita 18V XPH07 hammer drill which are each brand's flagship high torque hammer drills. Each model goes for $149 as a baretool making the Dewalt $10 more expensive however neither of the other two offer a 3 speed drivetrain so it may a be a feature some are willing to pay $10 more for as a baretool. Things get a little more complicated when it comes to each other's kits as both Makita and Milwaukee offer two battery kits for $299 which are $20 cheaper than Dewalt's kit. Milwaukee's kit includes a pair of 5ah batteries which is the best value of the bunch unless you want the three speeds of the Dewalt. Makita's $299 kit includes a pair of batteries but are 4.0's which makes it a lessor value than Dewalt's kit. Makita does offer a kit with a pair of 5.0's but it goes for $349 which makes it the worst value of the bunch. At the end of the day, each brand has very similar pricing for either kit or baretool and honestly most people will simply buy a drill based on what battery platform they are already tied to. Most people wont buy the yellow if they already own team red or blue's batteries.
Performance:
The first test for the DCD996 was the 3-5/8″ hole saw test. I tried it both in speed 3 and speed 2 and it performed extremely well in either speed as it cut very fast with hardly any bog down. You could put down a decent amount of pressure, but putting moderate pressure would cause the overload protection to kick in which was the case with the 1,200 in-lbs torque Milwaukee M18 Fuel Gen 3 hammer drill model. So when drilling with hole saws, it's just as powerful as the Milwaukee flagship. This is an amazing feat considering the DCD996 is rated for only 840 in-lbs. The next test was drilling with a 2-9/16″ self feed bit in speed 1 and it aced the test with great speed and torque. It felt like it drilled just a tad bit faster at this test than the Milwaukee Gen 3. Next test was drilling on speed three with a speedbor max 1″ bit. Most compact drills struggle with this test on high speed and it puts a large stress on many high torque drills but the DCD996 pushed through like a champ with no slow down whatsoever. Next on the list was drill on high speed with a large 1-1/4″ speedbor max bit. This large bit gives high torque drills a hard time on high speed but considering the Milwaukee Gen 3 can do it, I wanted to see if the DCD996 could. First I tried it on speed 2 which is the middle speed on the DCD996 between high torque speed one and high speed, speed 3. This middle ground setting doesn't have the highest torque or highest speed but is a nice combination of torque and speed, think of it a best of both worlds. On speed 2, the DCD996 plowed through a 4×6 with no slowdown and great speed, amazing indeed! Curious to see if it could handle the same large bit in it's 2000 RPM speed 3 setting and unfortunately the overload protection kicks in often preventing the user from finishing the hole in one or two or three tries. I then slapped a Flexvolt 6.0 battery to see if it could help it do the 1-1/4″ speedbor bit with better performance to finish the hole in one try. Many people think that larger capacity batteries provide better performance. In most cases this is simply not true as I've tested this out several times. A few times when there is a measurable increase in performance, the difference is so slight it's negligible. There are a few rare cases where larger capacity batteries offer noticeably better performance but it's never a night and day difference. Anyways, going back to the 1-1/4″ speedbor bit on speed 3 with the larger Flexvolt 6ah battery, there was simply no difference in performance with the DCD996 and it was unable to finish the hole without the overload protection saving the day or ruining the day depending on how you view it.
The next test on the list was driving a 5/16″ x 3-1/2″ lag into a 4×6 without pre-drilling a pilot hole. No doubt the DCD996 can handle this lag on speed one so the real tests are to see if it can do it on middle speed and high speed. Keep in mind the Milwaukee Gen 3 can do it on it's 2000 RPM high speed setting in one try. Unfortunately for the DCD996, it could not finish the hole in a single try on either speed 2 or 3 without the overload protection shutting the tool down several times. I will say that it did much better on speed 2 than speed 3 but still not what I would call ideal. Honestly I feel like the DCD996 is very close to Milwaukee's high speed torque performance however Dewalt's overload protection kicks in at the first sign of slowdown which is the complete opposite of the original DCD995 which let the drill struggle a bit but allowed it to finish the job without any intrusion.
It's hard to tell exactly how powerful Dewalt's DCD996 really is since it's overload protection prevents it from reaching it's true potential. However it's not anywhere near as intrusive as Ryobi's original 18V brushless hammer drill. Ryobi's overload protection was so horrendous and didn't let the tool flex it's muscles at all like it should. Still as the Dewalt DCD996 stands, it's still one of the better performing cordless hammer drills on the market and can not only hang with Makita's 1080 in-lbs XPH07 model but it can also hang with Milwaukee's 1,200 in-lbs hammer drills as well in regular drilling and driving.
Moving on to hammer drilling performance is where all things change. Long story short the Dewalt DCD996 is a beast, no, monster at hammer drilling and completely blows away the competition from Makita and Milwaukee in terms of cordless hammer drills. I tested the DCD996 by hammer drilling into a concrete block with 3/16″, 3/8″ and 1/2″ bits and not only was it extremely fast with the smallest 3/16″ bit, each larger size bit only took slightly longer to drill through the concrete block. Even the 1/2″ bit was almost as fast as the 3/16″ bit. Cordless hammer drills never were that great at hammer drilling to begin with and I've always preferred using either a corded hammer drill or moving up to a rotary hammer when hammer drilling but the DCD996 performs a lot more like a corded hammer drill.
Conclusion:
Going back to the question of whether Dewalt needs to update it's nearly 3 year old (at time of writing) DCD996, when it comes to it's sheer size, I'd say yes considering how small Milwaukee's Gen 3 is. However when it comes to it's regular drilling and driving performance it can go either way. It has enough performance that it's still more powerful than most drills on the market today and can hang with the best such as Milwaukee's Gen 3 model and Makita's XPH07. It could still stay around for a while longer as it's performance is very well relevant today as it's still a powerhouse. As for it's hammer drilling performance for a cordless drill, it's out of this world and clearly ahead of it's closest competition.  If you want the fastest cordless hammer drilling performance on the market, by a mile, the DCD996 is it. The only thing better would be a rotary hammer for hammer drilling performance. It does have some standout features that none of it's competition have such as the 3 speed drivetrain with it's best of both worlds middle speed 2 and it's very bright spotlight mode that can stay on for 20 minutes essentially doubling as a fully functional flashlight.
It may not be the newest drill or the most compact high torque drill or the strongest, it's still very much a heavy hitter and stronger than most high torque drills out today and coupled with the best in class cordless hammer drilling performance and super bright spotlight mode, it makes it very easy for me to award the DCD996 with the Tool Crazy Recommended award!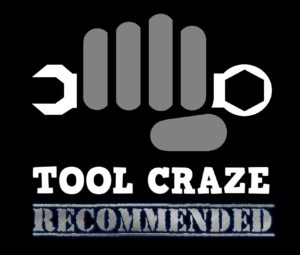 Pros:
excellent drilling and driving torque for a high torque drill
best in class hammer drilling speed, by a mile
ultra bright spotlight mode
3rd middle speed is the best of both worlds for torque and speed
side handle rotates in every direction and accepts depth rods
1/2″ all metal ratcheting chuck bites down hard
Cons:
large drill by today's standards
doesn't include depth rod
no separate mode select collar

Free 2 day shipping – Try Amazon Prime 30-Day Free Trial

DISCLOSURE:
Tool Craze does not sell this product or any product on the Tool Craze website. Tool Craze does not handle the sale of any item in any way. If you purchase something through a post on the Tool Craze site, Tool Craze may get a small share of the sale. Please refer to the About section for more info.