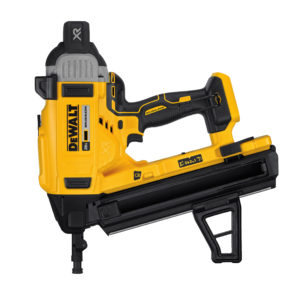 Dewalt has another cordless nailer and it was spotted over in the UK, the Dewalt DCN890 20V Concrete Nailer.
It was spotted on the Toolstop UK website and the reason I say it's coming to the USA is because the main picture of the nailer has the title 20V Max. We all know that Dewalt lithium ion slide pack battery cordless tools are known as 18V XR models and they wouldn't sell them labelled as 20V Max over there. The rest of the pictures show 18V XR branding.
Features per UK model:
18V XR Li-Ion Three Speed Concrete Nailer featuring BRUSHLESS motortechnology
Three speeds – or power levels – to optimise the nailer for firing all lengths of nails
Benefit from longer runtime, quicker readiness to fire, less recoil and more durability when firing short nails
BRUSHLESS motor technology offers the power to fire a 57mm nail
The sequential operating mode allows for precision placement and the rapid operating mode provides the user with production speed
Mechanical rather than gas operation offers consistant performance attemperature between -20 and 50 degrees celcius and minimal cleaning/service requirements
Specs per UK model:
Nail Diameter: 2.6-3.7 mm
Magazine angle: 15 °
Magazine loading: Rear – load
Nail Length: 13-57 mm
Magazine capacity: Up to 30 Nails
Weight: 3kg
Total Shipping Weight: 3.5kg
What's interesting about the new nailer is that it's brushless just like the rest of their newest 20V (18V XR) nailers and features 3 speeds to adjust the power the the size of the nails used. This will help users maximize runtime. We can also expect the usual single fire and bump fire modes.
It's not out yet in the USA but it should be out soon. Will be sold as a bare tool model DCN890N or a kit DCN890P2 with a 5.0ah battery and charger.
DISCLOSURE:
Tool Craze does not sell this product or any product on the Tool Craze website. Tool Craze does not handle the sale of any item in any way. If you purchase something through a post on the Tool Craze site, Tool Craze may get a small share of the sale. Please refer to the About section for more info.