Cleaning up messes on the jobsite is an essential job to keep the site clean and vacuums are such tools that get used for exactly that purpose, specifically wet dry vacuums and dust extractors. In this article I will be reviewing 2 wet dry vacuums from Dewalt, the Dewalt DXV04T 4 Gallon Portable Wet Dry Vac and the Dewalt DXV14P 14 Gallon Wet Dry Vac.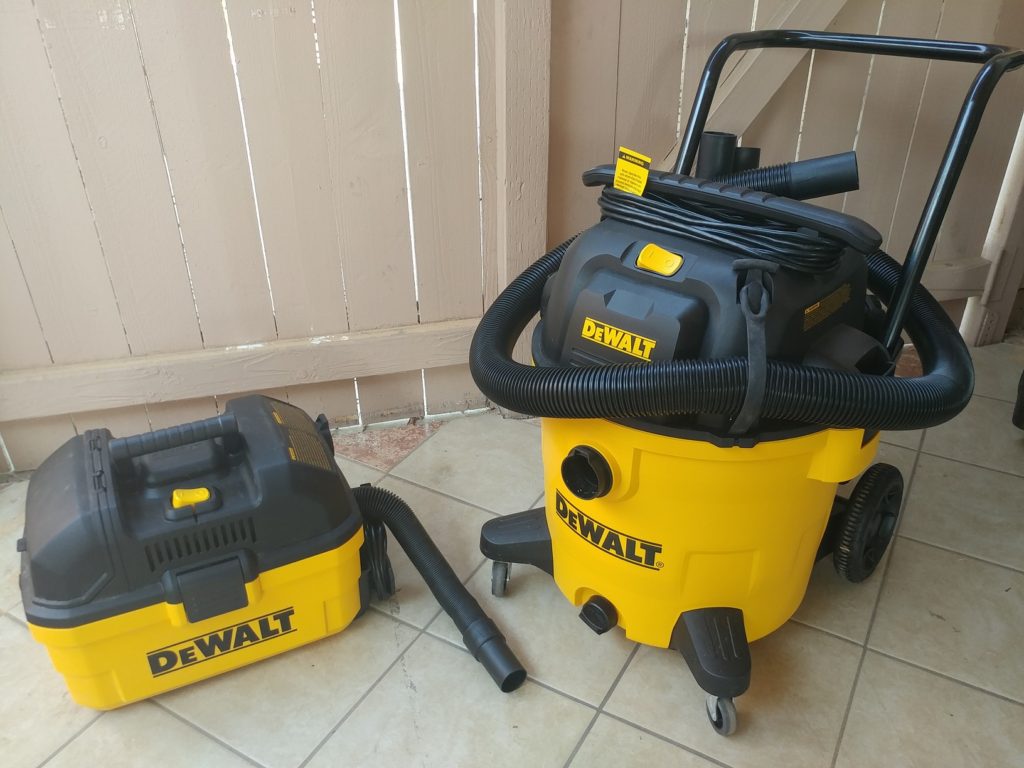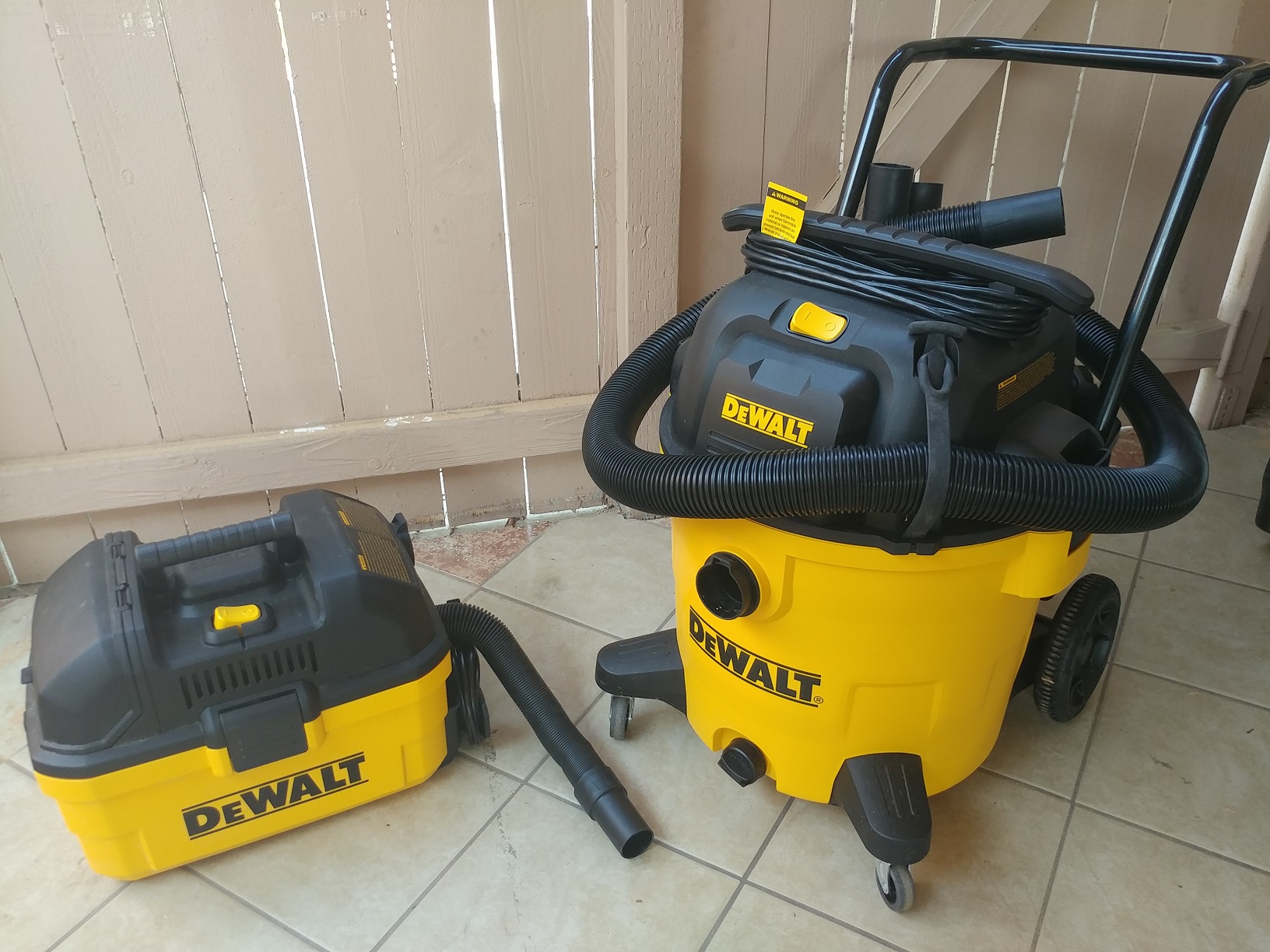 Ethic's Disclosure:
Dewalt was kind enough to provide the Dewalt DXV04T 4 Gallon Portable Wet Dry Vac and the Dewalt DXV14P 14 Gallon Wet Dry Vac at no cost for review. However as with all my reviews, I am not paid, sponsored, or obligated to give a positive review. This review is my opinion of the product based on my usage and knowledge and my review will reflect what I like and dislike about the product. I will do my best to provide you with an unbiased review.
Dewalt DXV04T 4 Gallon Portable Wet Dry Vac
Manufacturer Features and Specs:
Portable 4 Gallon toolbox design makes it convenient to take to any job 4 Gallon poly container

Onboard vac accessory storage provides an easy location for all attachments including extension wand storage

Powerful 5 peak hoursepower motor provides just the amount of suction needed to most any cleanup job

Ultra-Flexible hose extends up to 7′ to reach almost any job

Extra long, 20′ power cord with cord wrap helps reach almost any cleanup need

Built-in blower port powerful enough to blow sawdust and debri from most any workshop

includes: Wet/dry vacuum, 1-7/8″x7′ hose, two extension wands, cartridge filter, dust bag, floor nozzle, utility nozzle, crevice nozzle
Retails: $119

My Thoughts on Features of the Dewalt DXV04T 4 Gallon Portable Wet Dry Vac:
I'm no stranger to jobsite wet dry vacuums and have owned several Ridgid models ranging from their portable 4 gallon model all the way up to their larger 14 gallon model, a Fein Turbo model and cordless wet dry vacs as well from Dewalt's and Milwaukee's 18V/20V 2 gallon models. I use these often to clean up messes when I'm doing DIY stuff around the house like drywall work, sanding, electrical, flooring installs, trimwork and such and these type of vacs are perfectly suited for these types of messes as they are far easier to use than household vacuums meant for only cleaning flooring.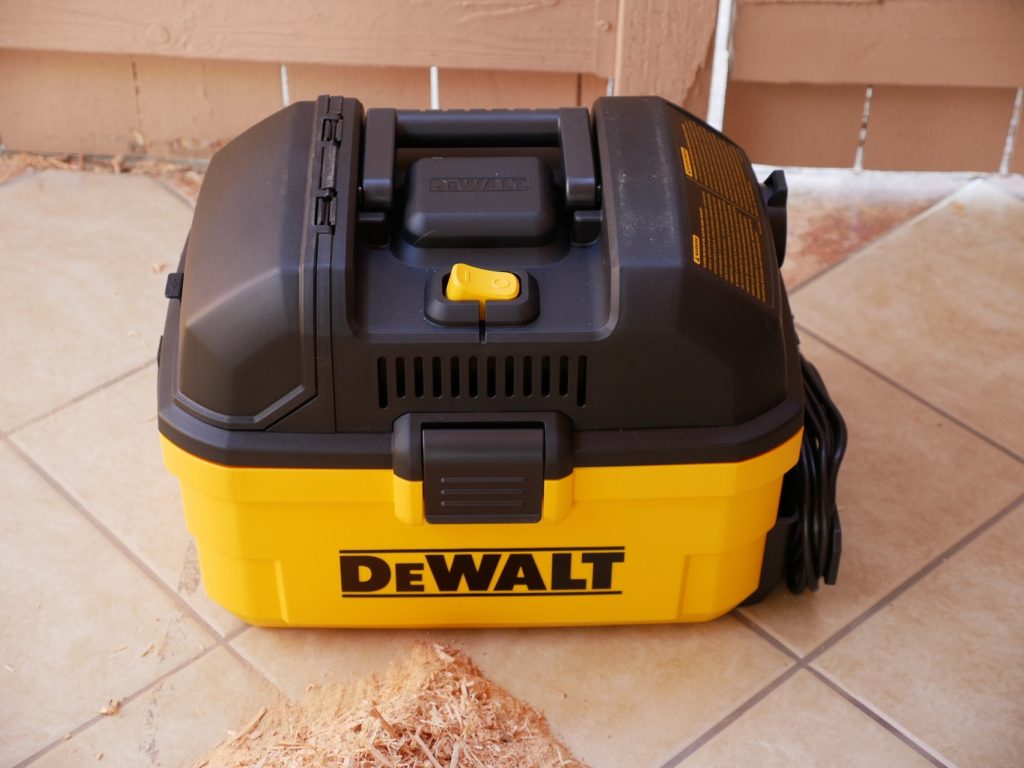 The closest thing I can compare these Dewalt vacuums is to the well known Ridgid models, in fact the Dewalt models I received for review are similar to the ones I've owned in the past from Ridgid down to the same size containers and similar HP motors. The Dewalt DXV04T 4 Gallon Portable Wet Dry Vac has the same 4 gallon capacity and 5 HP rated motor as my Ridgid 4 gallon portable wet dry vac. Pricing of the Dewalt 4 gallon vac is similar to Ridgid's although a bit more at $119. While both models do the same thing the higher price on the Dewalt get's you a few upgrades specifically in fit and finish and design along with a quieter running motor. One of my biggest complaints of Ridgid's budget wet dry vac models is the plastic hose they use to lower production costs. Their hose isn't very flexy and is prone to kinking because of the cheap plastic they use, sure it gets the job done but not as nice as the hoses found on the Dewalt and Milwaukee cordless vacuums. The Dewalt 4 gallon portable vac includes a hose that is similar in quality to those cordless vacs I've tried out and is what I would call premium. This hose will not kink on you as it's highly flexible thanks to it's design. Just like the hose on the cordless vacs, this one also is very compact when not in use so it doesn't take up much space and can also stretch up to 7 feet when the full length is needed.
One of my favorite features about the Dewalt 20V 2 gallon cordless vacuum was that all of the included accessories can be stored onboard with specific slots and compartments for everything down to the hose and attachments. The same thing goes with the Dewalt 4 gallon model as it has a flip out cover on top that exposes a built in compartment to house the crevice and utility nozzle. The back side has two built in slots to house both extension wands and the right side has a built in compartment to store the hose when not in use and right below that is a cord wrap.
All in all, Dewalt's 4 gallon portable vac is very portable and slightly smaller than Ridgid's 4 gallon model. That's because Dewalt's model doesn't have any wheels to move about and doesn't feature an exterior storage bucket like the Ridgid's. While the Dewalt 4 gallon model is very compact, I'd still like the ability to roll around with wheels and castors and as such I will miss this feature. I wish Dewalt would have added wheels or at least the ability to add them later even if they were an optional add-on.
The Dewalt 4 gallon vac design is somewhat boxy with a somewhat toolbox design, however not as boxy as Milwaukee's 18V 2 gallon wet dry vac which could easily be used as a step or to sit on. The top of the Dewalt 4 gallon vac isn't flat so I wouldn't advice using this as a step nor would it be comfortable to sit on either.
A nice touch I found was in the extension wands included with the Dewalt 4 gallon vac as they use thicker gauge plastics and the thicker walls will stand up to more years of abuse.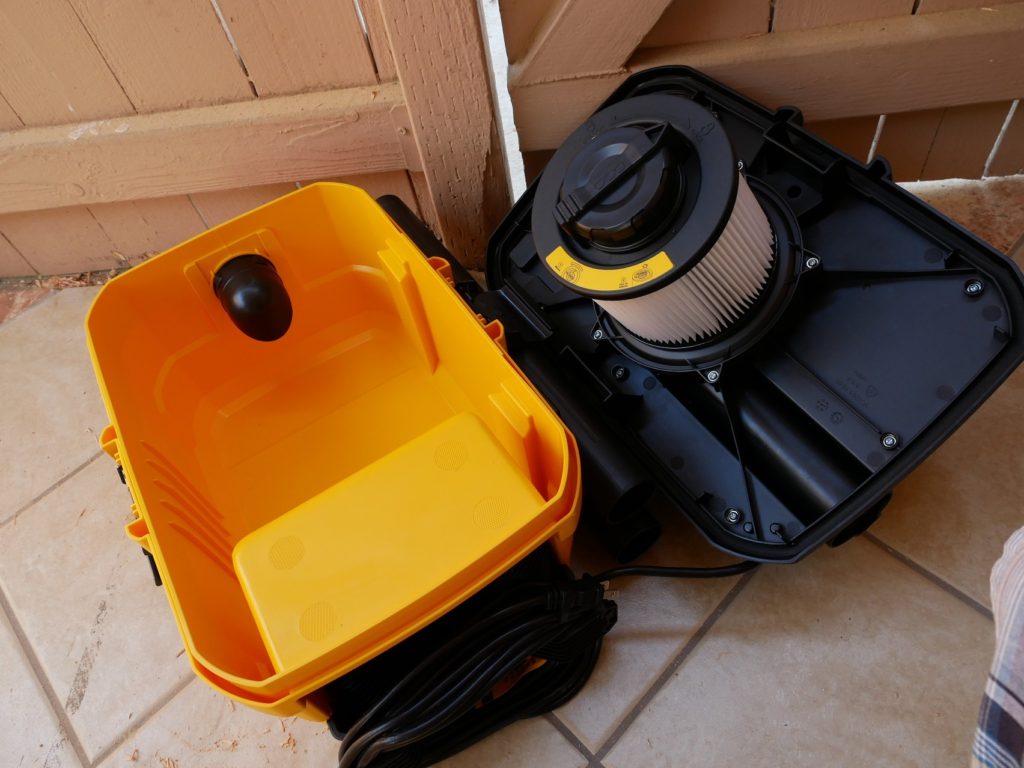 Just like most wet dry vacuums, the Dewalt 4 gallon model comes with a pleated paper cylinder shaped cartridge filter. What's interesting about the Dewalt filters is that they feature a built in lock knob to lock them in place and unlock them for easy replacement. A long 20 foot cord means you wont need an extension cord for most rooms.
Besides the ability to suck up dry and wet messes, there's an exhaust port where you can connect the hose to it so that you can use this vacuum as a blower.
There isn't a water spout on the tank of this vac but vacuums of this size don't offer them due to their small size.
Performance of the Dewalt DXV04T 4 Gallon Portable Wet Dry Vac
As I mentioned above, one of the features I very much appreciated about this Dewalt 4 gallon vac was it's quieter running motor. The one on the Ridgid 4 gallon portable vac was very loud to the point that you couldn't hear yourself or others in the same room. This Dewalt 4 gallon model was considerably quieter when running. In my opinion, this easily justifies the higher price point as the Dewalt is not obnoxious when it comes to it's operating noise. I'm surprised Dewalt didn't list the quieter operation as a selling point. While not as quiet as my Fein Turbo model, it's a nice upgrade in lower noise than the Ridgid's, easily.
When it comes to  suction performance, the Dewalt 4 gallon vac is very powerful for its small size, thanks to it's motor rated at 5 horsepower. This helps it suck up saw dust and even metal objects like nails and screws with ease. It also does well at wet suction and was able to suck up over two gallons of liquid very quickly. Honestly it's performance is similar to the Ridgid 4 gallon portable model as they both feature motors rated at 5HP.
There were a couple of features that limit the performance potential on the Dewalt 4 gallon vac model, first of all the hose which is claimed to measure 1-7/8 inches thick but the opening of the tip of the hose is actually around 1-3/4 inches OD with the actual opening ID being just shy of 1-5/8″. If you are sucking up dust, this is fine but the test I put the vac through was saw dust with chips. The wood chips were small however in testing if too many were sucked in at the same time it caused the small hose opening to clog easily.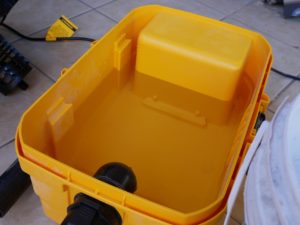 The next has to do with the usable size of the tank. To determine this, I filled a 5 gallon bucket with exactly 4 gallons of liquid to see how much this vacuum would actually pick up and it stopped about halfway when it got full. I measured the water that was in the tank when it would not suck anymore and measured 2 gallons and a pint. It was actually slightly more than that because some of it spilled as I tried pouring it back into a measuring bucket so I'd say the total amount was closer to 2 gallons and a quart. However that is still far off from the rated 4 gallons that Dewalt claims, sure technically there is more space in the tank than 2 gallons and a quart but that's where it stops suction at sucking up liquids. The small tank also means that the large filter will get dirty sooner with the need for frequent cleaning of the filter when picking up dust as dust and dry messes surround the filter due to the small usable tank size. However Dewalt includes a dust bag that you can use which will keep the filter clean and maximize the usable size of the tank. Only one is included so make sure to buy more if you plan on using bags with this vacuum.
There's also a built in blower on this model and offers decent blowing performance similar other vacuums in it's class. It does the job for clearing a dusty countertop and dust off the ground but don't expect to do any yard work with it, for that you'll need more power from an actual leaf blower.
Pros:
Strong suction
blower function
premium hose
compact shape
onboard storage for hose, cord and all accessories
long 20 foot cord
Cons:
small hose opening smaller than rated 1-7/8″ size
4 gallon tank only has about 2 gallons 1 pint+ of usable space for wet pickup
small tank means the filter can get clogged easily with dry pickup, expect frequent filter cleanings
no wheels or option to add wheels
Dewalt DXV14P 14 Gallon Wet Dry Vac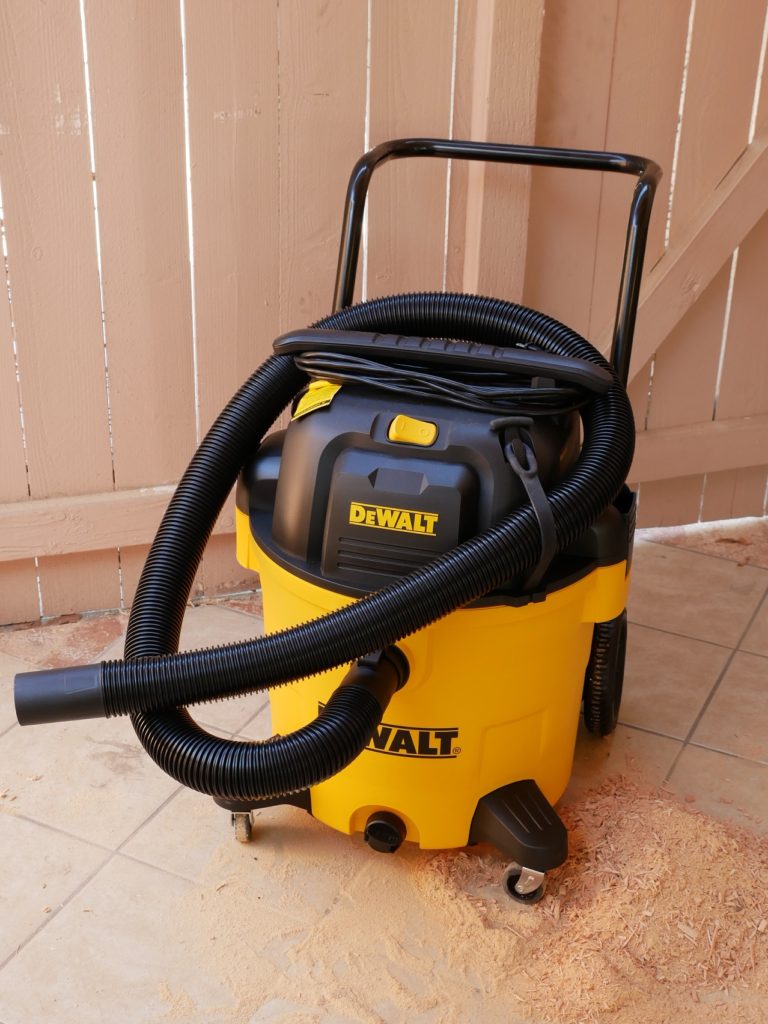 Manufacturer Features and Specs:
Sturdy 14 Gallon wet/dry vac ideal for large pick-up applications

Powerful 6 peak horsepower motor provides just the amount of suction needed to most any cleanup job

quieter than vacuums in it's class

Ultra durable rubberized casters on the front and large rear wheels provides easy maneuverability

Built-in blower port powerful enough to blow sawdust and debris from most any workshop

Built-in accessory storage bag conveniently attached to the backside of the vac to keep all accessories neatly organized

Large built-in tank drain makes it easy to remove liquids picked up

includes: wet dry vacuum, 2-1/2″x7′ hose, two extension wands, cartridge filter, dust bag, floor nozzle, utility nozzle, crevice nozzle
retails: $149

My Thoughts on Features of the Dewalt DXV14P 14 Gallon Wet Dry Vac:
Next on the review list is the Dewalt DXV14P 14 Gallon Wet Dry Vac. This model retails for $149 and just like it's Ridgid counterparts, it does cost a bit more but offers several key improvements that justify the slightly higher price point. First of all this model features a nice flexy plastic hose. It's not as premium as the one found on the 4 gallon model but still much better than the stiff ones found on the budget Ridgid vacs (I say budget vacs because Ridgid does offer premium hoses on some of their vacuums but those are the more expensive models). I found the 2-1/2″ diameter hose to be flexible and wouldn't kink even under severe bending.
The built in front castors have actual rubber wheels for better traction on smooth surfaces and the large rear wheels although not rubber are a plastic with a hard rubber feel to them which also aids in traction. Much better than all plastic hard wheels and had pretty good traction on smooth surfaces even though dusty.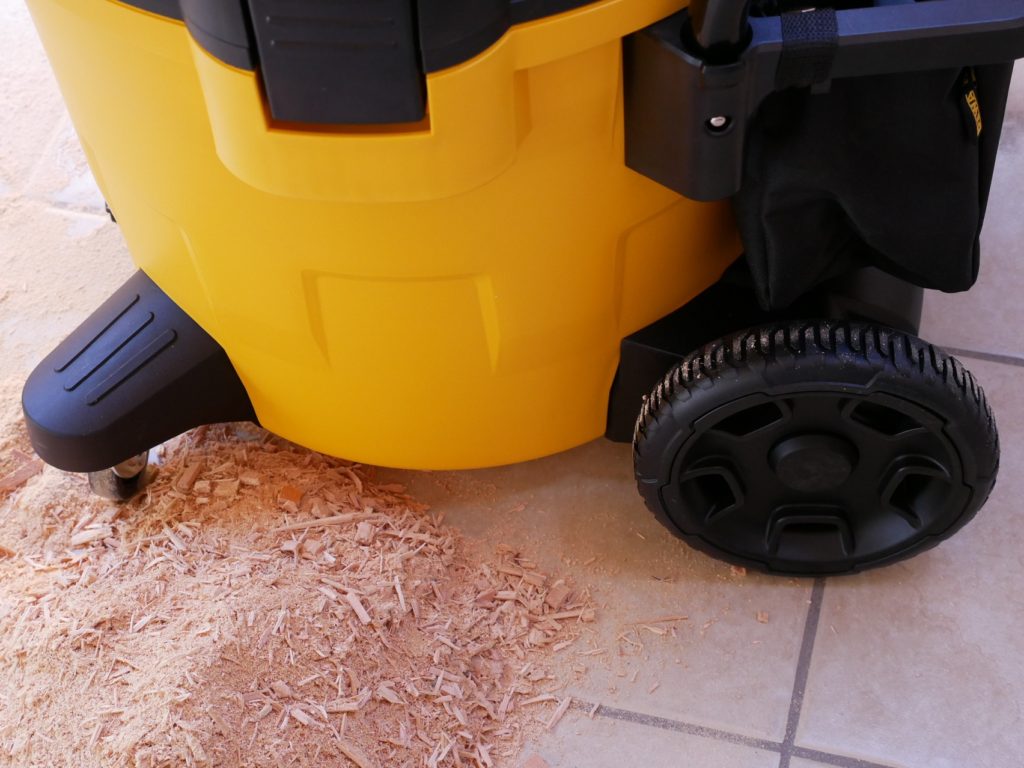 Just like the 4 gallon Dewalt vac, this 14 gallon model also features a quieter running motor that is much quieter than any Ridgid I've tried before. Still not as quiet as my Fein Turbo but not too far behind.
On the back of the 14 gallon Dewalt Vac, you'll find a large metal handle bar to easily push this vacuum around instead of having to pull/tug it along and below the handle is a bucket with cloth walls where you can store the two extension wands, hose adapter, floor nozzle, crevice nozzle, and utility nozzle. Large vacuums of this size usually don't feature any storage for their hose however this Dewalt 14 gallon model has a rubber strap on the front so you can wrap the hose around the top and the strap holds on side of the hose in place. It's not the best solution I've seen for hose storage but it's better than nothing.  I like that they included a large handle on top of the unit which also doubles as the cordwrap for the long 20 foot cord. With a cord this long you will hardly have a need for an extension cord for most rooms.
The motor is rated for 6 horsepower and there's also a blower port on the rear of the vacuum. On the front bottom of the tank you'll find a water spout with cap to easily empty the tank when filled with liquids. Dewalt also includes a house adapter so you can attach your garden hose to the spout and to better direct where you want the liquid to go. Very neat!
It uses a similar cylinder cartridge style pleated paper filter as the 4 gallon model however larger to accommodate a larger vacuum and more powerful suction. Dewalt also includes a bag for use with the vacuum which helps keep the paper filter clean during use and also makes it mess free to empty it's contents.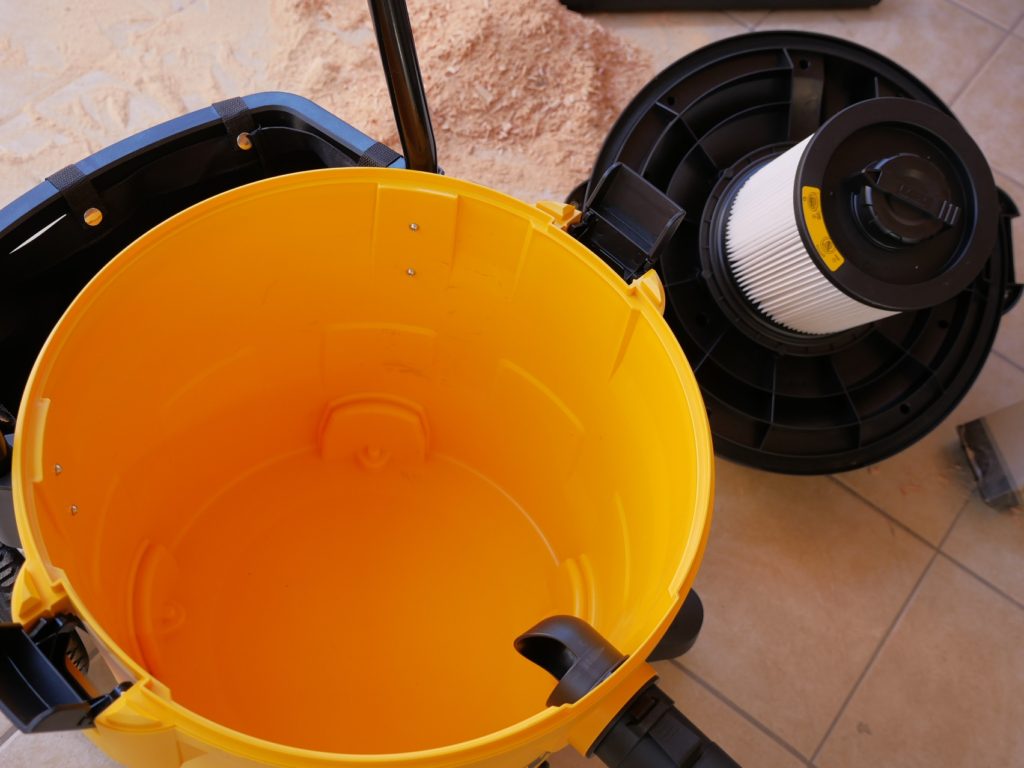 Performance of the Dewalt DXV14P 14 Gallon Wet Dry Vac
Prior to trying out this Dewalt 14 gallon vac I had never tried out a vacuum with more than 5 rated horsepower and boy was I impressed with this large model's suction. I thought 5 hp was pretty strong but 6 hp felt like a whole 'nother level! This vacuum didn't just pick up the same sawdust with wood chips and 4 gallons of water, it devoured them all! And easily picked up the concrete nails in an instant.
Expanding a little bit more on it's noise performance, yes it's a bit louder than the smaller 4 gallon model but yet still quieter than traditional Ridgid models so not only does this have very strong suction performance, it's also quieter than most vacs.
I didn't find any negatives on this model as the hose was larger and didn't have any problems picking up the same exact messes the smaller vac picked up due to the small hose opening on the smaller vac.
The blower as expected is stronger than the 4 gallon Dewalt model however only by a bit making it useful for dusting off dusty messes on countertops and off the floor with the extension wands but this is similar to other vacs in its class. Don't expect to use this to blow leaves from your yard of course.
Pros:
Very Strong suction
blower function
quieter than vacuums in it's class
upgraded flexible plastic hose doesn't kink
large metal handle bars for easy pushing
rear bucket holds all included accessories
water spout + hose adapter
cordwrap
long 20 ft cord
rubber castors & large wheels with rubber-like grip
Cons:


Free 2 day shipping – Try Amazon Prime 30-Day Free Trial

DISCLOSURE:
Tool Craze does not sell this product or any product on the Tool Craze website. Tool Craze does not handle the sale of any item in any way. If you purchase something through a post on the Tool Craze site, Tool Craze may get a small share of the sale. Please refer to the About section for more info.