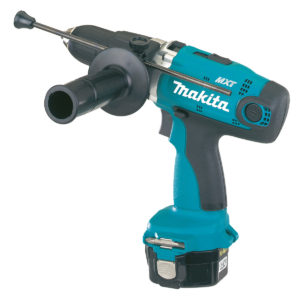 As the headline suggest the tool in this article is discontinued but that doesn't make it any less relevant today. I came across the Makita 8414DWFE while doing some research on a different tool and what makes this tool rock is that it's a 12V hammer drill packing a brawny 575 in-lbs max torque (65nm torque) and a 3 speed transmission.
Makita 8414DWFE Specs/Features:
12 Volts
Max in Steel: 13mm
Max in Wood: 45mm
Max in Masonry: 13mm
Torque Settings; S/H Nm: 16; 31/65
No Load Speed: 3: 0-1,600rpm, 2: 0-550rpm, 1: 0-300rpm
Blows per minute: 3: 0-24,000bpm, 2: 0-8,250bpm, 1: 0-4,500bpm
Net Weight: 2.4kg
Charging Time: 70min
Total Shipping Weight: 5kg
All metal gear box
Very High Torque
MXT motor
Externally changeable brushes
3 mechanical gears
Forward/reverse rotation
Variable speed trigger
Electronic brake
2 x 3.0Ah Ni-MH batteries
Charger
Carry case
Most pro grade 12V drills today fall in the 200-300 in-lbs torque range while the strongest are around 350 in-lbs torque and most are 2 speed. I know the Fein 12V ASCM 12 C has 354 in-lbs and 4 speeds but isn't a hammer drill. The Milwaukee M12 Fuel Hammer drill is a hammer drill and also has 350 in-lbs torque but doesn't have more than 2 speeds. Also both of those models don't even come close to the 500+ in-lbs torque of Makita's 12V monster.
What's also interesting about the Makita 8414DWFE is that they thought it had so much torque that it warranted a side handle to grip on tight, and it also serves as a depth rod holder for when hammer drilling.
So if the Makita 8414DWFE 12V monster was so great, why was it discontinued? I cannot answer that without contacting Makita themselves but if I had to guess it probably has more to do with the specific Makita 12V line itself was discontinued as a whole along with all the cordless tools that were part of it. Makita discontinued that entire 12V line in favor for a newer 12V line that used lithium ion batteries (pod style) where part of the battery stem went inside the handle. That wasn't the last time Makita switched over to a new 12V power tool line as they now have the CXT 12V line with lithium ion slide pack batteries.
As a huge 12V power tool fan myself, I sure hope the Makita 8414DWFE isn't the last 12V drill to reach 500 in-lbs torque. I know I've been asking for a 500+ in-lbs torque 12 volt drill to make an appearance and it's ironic that now that I've found one, I've found that it's discontinued!
The question now is why don't they make any high powered 12V drills? We know the technology is there and we know it can be done. I fully understand a 500+ 12V drill will be bigger than current 12V drills and some might say: what's the point of a big 12V drill since the point of 12V tools is to make them smaller. Yes I understand that point but some of us out there rely on our 12V tools and may only have 12V tools. If they wanted a more powerful drill they would be forced to go 18V. Also many of today's 18V drills have 500+ in-lbs torque and are puny even creeping into 12V size and even besting 12V drills with more compact 18V drills. So the technology is out there to not only make a high powered 12V drill but also to make it very compact.
What about runtime? For sure a high powered drill will eat up batteries, right? Possibly but with today's battery sipping brushless motors and high capacity batteries, this shouldn't be an issue as 12V 4ah batteries are widely available from multiple brands and Milwaukee even has 6ah 12V batteries.
So if manufacturers are reading this article, you guys need to make a 500+ in-lbs 12V drill and take my money already!!! And if you want it to be successful, make it brushless, make it very compact, 2 speeds are OK but multiple speeds would be better, give us two models – a drill driver and hammer drill model based on the same design and specs, ditch the plastic chuck in favor for a metal chuck, and don't charge us a premium just because it's a 12V tool. Remember we have options.