I thought 4 to 5 amp oscillating tools were the top dogs in terms of power output but Dremel has come out with a new oscillating multitool that makes the current heavy weights look like midrange tools with a new Dremel Velocity multitool with a whopping 7 amps of power output. That's double the power output of my current oscillating multitool favorites, the Fein MultiMaster FMM 350 Q and the Bosch MX30E which have 3.6 and 3.0 amps respectively. Even the monster Rockwell F50 and upcoming F80 with their strong 4 amp output are dwarfed by the Dremel Velocity's 7 amp output.
With 7 amps power output, it will no doubt be a viable alternative for cutting sheet goods and is even marketed as such in the above YouTube video as it can be seen cutting plywood, OSB, hardibacker board, and even dimensional lumber such as a 2×4. In my opinion there are far better tools for cross cutting or ripping any of those mentioned materials than an oscillating multitool, but the fact that the Dremel Velocity can be used effectively in such materials is impressive to say the least, even though at a much slower pace than a traditional circular saw.
Also to aid it's powerful motor are a large 5.0 degree oscillating angle for fast and aggressive cuts. This was no doubt added for quick work (for an oscillating multitool) on sheet goods and lumber.
The Dremel Velocity even looks as if it was designed for ripping sheet goods in mind as it has a vertical cutting head as opposed to the more traditional horizontal oscillating head seen on just about all the other multitools out there. The vertical cutting position is a natural fit for ripping sheet goods. You can still turn the tool slightly so you grip it with the cutting head in the horizontal oscillating direction.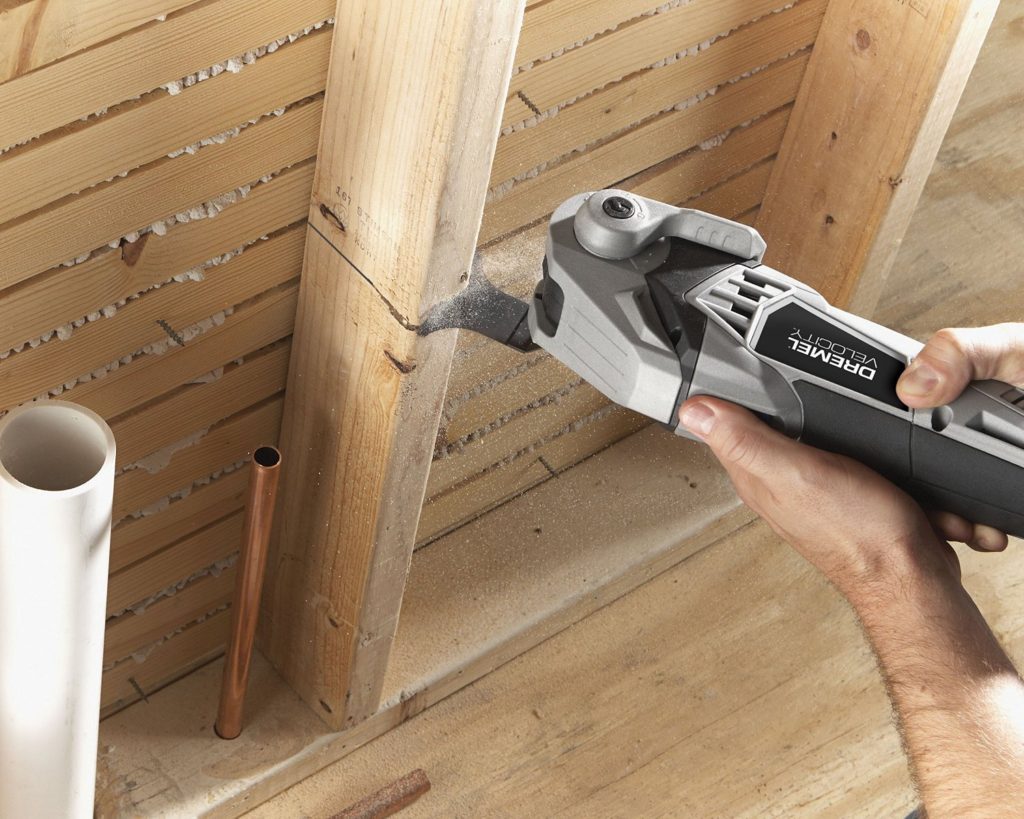 A nice built in feature on the Dremel Velocity, is the inclusion of a swing out control foot that can be used to rest on the material being cut and used to support the machine as it cuts, similar to a shoe on a circular saw or jigsaw. I'm sure that used at the correct angle, it can also be used as a make shift depth guide.
The Dremel Velocity has all the other features you'd come to expect on mid to top range multitools such as a slide on/off switch and variable speed dial. One feature I didn't see mentioned was any anti-vibration technology so I would expect higher than normal vibration, but hopefully they managed to keep it to a manageable degree.
I'm not sure exactly when the Dremel Velocity was released but it's already out ready for purchase and has a current retail price around $179 per Amazon.
Dremel Velocity Features
High performance 7.0 Amp motor to power through the most demanding application

Precision and Hyper Speed modes for optimal performance in a variety of materials

Extra wide 5 degree oscillation angle with new drive system delivers a faster speed of cut

Integrated control foot for long and accurate cuts

Quick-Lock feature for quick and easy, tool-less accessory change

4.45 lbs weight