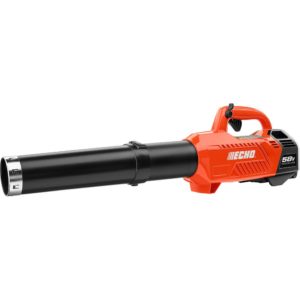 Echo just recently introduced a new cordless blower to hit their promising 58V cordless line of outdoor power equipment.
The race is on for manufacturers to come out with the latest in features and performance to get potential buyers to their system. A few years ago Ego came out with the 56V line of OPE and then soon after Echo came out with a 58V line with slightly better performance, then not soon after Ego updated their models with better stats than Echo's.
The leapfrogging continues with Echo's latest 58V Brushless Blower which pumps out some very nice stats with 550 CFM's at a whopping 145 MPH!!
Of course the new blower features a brushless motor as all of Echo's 58V line of power tools do. It has a variable speed trigger to adjust the blower speed, along with a variable lock on tab so you don't have to hold the trigger for long periods. It also features a turbo button up top for maximum power output. It has very good stats for a hand held blower and almost matches the stats on paper with Ego's backpack blower which is pretty impressive.
The Echo 58V Brushless Blower is out now at the Home Depot and is priced at $229 as a kit with a 2.0ah battery.
Stats:
brushless motor
58V
550 CFM
145 MPH
Turbo button
9.l lbs weight
24.6″ length