Evolution Power Tools is no stranger to saws that are designed to cut more than wood but multiple materials including metal cutting. They now offer their very own table saw that cuts metal and other materials with the Evolution RAGE5-S 10 inch table saw.
Full disclosure: This is not a review, this is tool news. Tool Craze cannot guarantee the accuracy of the information/specifications/features of any tool listed in this article. Manufacturer marketing claims may not always meet expectations. Tool Craze is not responsible if products do not live up to claimed expectations. Please do your full research before buying any products. Tool Craze is an Amazon Associate, and also an affiliate with the Home Depot, Acme Tools, Ohio Power Tool, Tool Nut, Lowe's, Ebay, and Walmart and places paid links to these retailers. If you purchase something through a link on the Tool Craze site, Tool Craze may get a small share of the sale.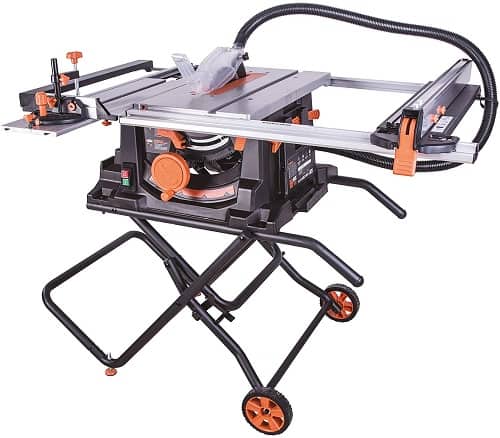 Table saws are traditionally known for cutting wood and while you can attach any type of blade on them, including those for cutting metal, while they may be able to do the job, it doesn't mean they were designed for metal cutting. Much in the same way as putting offroad tires on a Corolla doesn't make it an effective offroad vehicle. Metal cutting is more demanding than cutting wood and requires more torque and it appears that Evolution has accomplished just that with what they claim is a high torque motor and I believe it's thanks to the lower RPM's used on this saw. Simple gearing mechanics shows that you can get greater torque by changing to lower gears. Just like a vehicles 1st gear is a low gear that doesn't make the car go to a high top speed but is easier on the motor to get up and go while the higher gears help with higher speeds. Another example is how a two speed drill's lower gear has more torque but lower RPM's. That same principle applies to saws and you can gear a motor to run at lower RPM's to provide higher torque for more demanding applications such as metal cutting.
Like other Evolution power tools, their table saw is equipped with a multi material cutting blade that can cut the usual wood, and also metals & plastics. This blade allows you to cut a variety of materials without needing to switch out blades within the intended applications.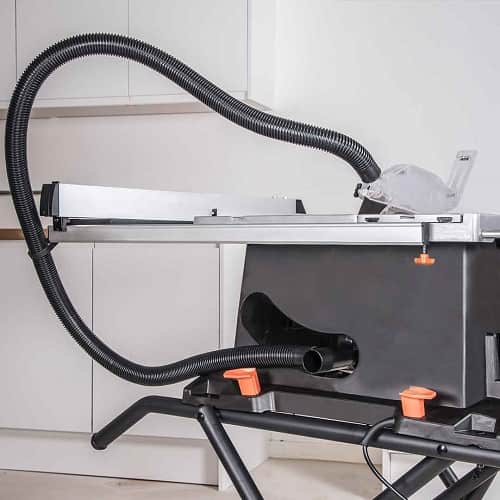 Looking at the saw itself, I can tell that Evolution put some thought when designing this table saw. For example, they included two side extensions to help support wide panels, they have the usual vac port on the rear but it also has one on the blade guard for dual vac ports. I liked that the rear vac port has two connectors so that the top vac port can connect to the lower vac port via the supplied vac hose which means only one vacuum is required and without the need for additional adaptors.  And while miter gauges are a standard feature on table saws, they added a sliding table surface on the left of the blade to secure the miter gauge onto to help with long materials when cutting angles. The miter gauge even has a material clamp like those you'd find on a miter saw to hold material down as you cut it. It also comes with a folding rolling stand for convenience in storage as well as hauling it out to the jobsite and the fence doesn't have a rack and pinion system as found on Dewalt table saws for smooth easy dialing in. The rip capacity to the right is a standard 25-1/2 inches which is about average.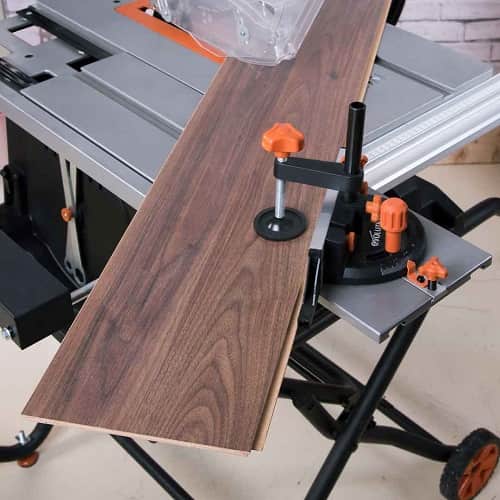 Of course this saw isn't without its quirks. First of all, while it accepts the industry standard 10 inch circular saw blades, it uses a less common 1 inch arbor rather than the more common 5/8 inch arbor. This just means you'll have a harder time finding 10 inch blades that fit this saw because of the less common 1 inch arbor. I also noticed that the rear vac port is 1-1/4″ or similar sized instead of the usual 2-1/2″ inch found on standard table saws. Of course a vacuum that comes supplied with a 2-1/2″ hose will have greater suction than a household vacuum that's supplied with a 1-1/4″ hose and thus provide better dust control, unless we're talking about a dust extractor which use thinner hoses but have about the same suction power as a larger wet dry vac, but the average homeowner won't know much if at all about dust extractors.
Of course I haven't seen the saw in person but overall it doesn't look as beefy or solid as a pro table saw. For example the stand doesn't look as robust as you'd find on a Bosch or Skilsaw table saw stand and the body of the table saw is all plastic instead of a metal roll cage design that many table saws are going with nowadays.
The price is around $500 at time of writing which puts it at the higher end of the price range for a portable jobsite table saw and closer to pro brand portable jobsite table saw pricing.
The 15A optimised gearbox and blade system increases motor and blade life to cut through a variety of materials including steel, aluminium, wood, even wood with embedded nails and plastic, all with just one blade that comes included with this table saw.

Rip cutting, assisted by an adjustable, full-length, parallel fence with measuring rail guide ensures reliable smooth square cutting every time. Set the blade to the desired angle up to 45 degrees bevel tilt and up to 60 degrees miter which covers all common cutting angles.

Raise and lower the blade height for trench cuts with this folding table saw. Achieve 3-1/4 in. depth of cut at 90° and 2-1/4 in. depth of cut at 45° bevel.

The included 28T Japanese TCT saw blade (tungsten carbide tipped blade) allows the table saw to cut effortlessly through steel, aluminium, wood with embedded nails, plastic and more

For added safety, the included push stick offers safer operation when handling off cuts and the huge saw table features left and right table extensions to support wide work-pieces with a table surface area of 47-1/4 x 25-3/16 inch.

The all in one Rage 5-S table saw offers a collapsible frame with wheels for easy storage and portability meaning there is no need for use of a miter saw stand.

3 years limited warranty included


Free 2 day shipping – Try Amazon Prime 30-Day Free Trial

DISCLOSURE:
Tool Craze does not sell this product or any product on the Tool Craze website. Tool Craze does not handle the sale of any item in any way. If you purchase something through a link on the Tool Craze site, Tool Craze may get a small share of the sale. Please refer to the About section for more info. Tool Craze cannot guarantee the accuracy of the information/specifications/features of any tool listed in this article. Please do your full research before buying any products.