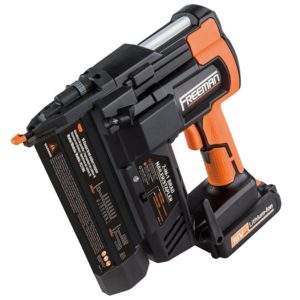 A viewer was talking about this Freeman brand and saying how other people are saying they have good nailers in reference to their cordless nailer. Surprisingly I have never heard of this brand before so I decided to take a closer look, particularly their cordless 18V nailer, the Freeman PE2118G 18V 2in1 18 Gauge Cordless Nailer & Stapler.
18V electric nailer comes with 2 Lithium-Ion batteries, a quick charging base, a blow mold case, and 1, 000 fasteners

Bottom-loading 2-in-1 MAGAZINE fires 18 gauge Brad nails and 18 gauge narrow Crown staples for maximum functionality

Easily switch between bump Fire and single Fire modes with the side-panel control

Two-stage safety trigger and work contact Element ensure safe operation

Features two side work lights, a belt hook, and a tool-free depth adjustment wheel
The Freeman PE2118G 18V 2in1 18 Gauge Cordless Nailer & Stapler stands alone in the Freeman cordless line up as this is their one and only cordless tool at the moment. It's hard to comment on build quality but it looks well built from an observational point only as I haven't picked one of them up and they look rather generic in their design and styling but it does have modern conveniences like a built in light, textured grip, belt clip, and most importantly lithium ion batteries. The nailer itself is said to be a 2 in 1 tool as it can shoot both 18ga nails and narrow crown staples making it a nailer and a stapler. Pretty good in my opinion and saves the user the need to buy two separate tools.
Pricing is $199 for the tool as a kit and you get two compact 2.0ah batteries and a charger. The price is not bad and not the best or worst value since you can find similar cordless nailers from Ryobi or Porter Cable for less but with only one battery.
The biggest downside I can see from the Freeman nailer is not the tool itself but the name itself as it's not a well established name, I never even heard about it until somebody mentioned the name, and also the fact that they only have one cordless tool in their lineup. There is currently no upgrade path to go to if you want another nailer, or another type of cordless tool with the Freeman name on it or with the same battery compatibility.
However the reviews are good on both the Home Depot site for this nailer with 4.8 out of 5 from 6 reviews and on the Amazon site as well with 5 out of 5 with 4 reviewers. The only person that gave this 4 out of 5 from HD said that it didn't sink all the nails flush and required some to be hammered in.
What Freeman needs to do in my opinion is to continue adding tools to their new cordless 18V line with more nailers for example 16ga straight, angled, 15ga, pin nailers, flooring nailer, framing nailer, etc and also add additional types of cordless tools like an impact driver, a drill and so forth to make the line more complete.
I also wanted to mention that you can also find a clone to this Freeman nailer under the Knox name on Amazon, it's basically the same nailer just different color scheme and even more generic labeling on the batteries.


Free 2 day shipping – Try Amazon Prime 30-Day Free Trial

DISCLOSURE:
Tool Craze does not sell this product or any product on the Tool Craze website. Tool Craze does not handle the sale of any item in any way. If you purchase something through a post on the Tool Craze site, Tool Craze may get a small share of the sale. Please refer to the About section for more info.