Grizzly just launched a new cordless power tool lineup called the Grizzly Pro 20V system.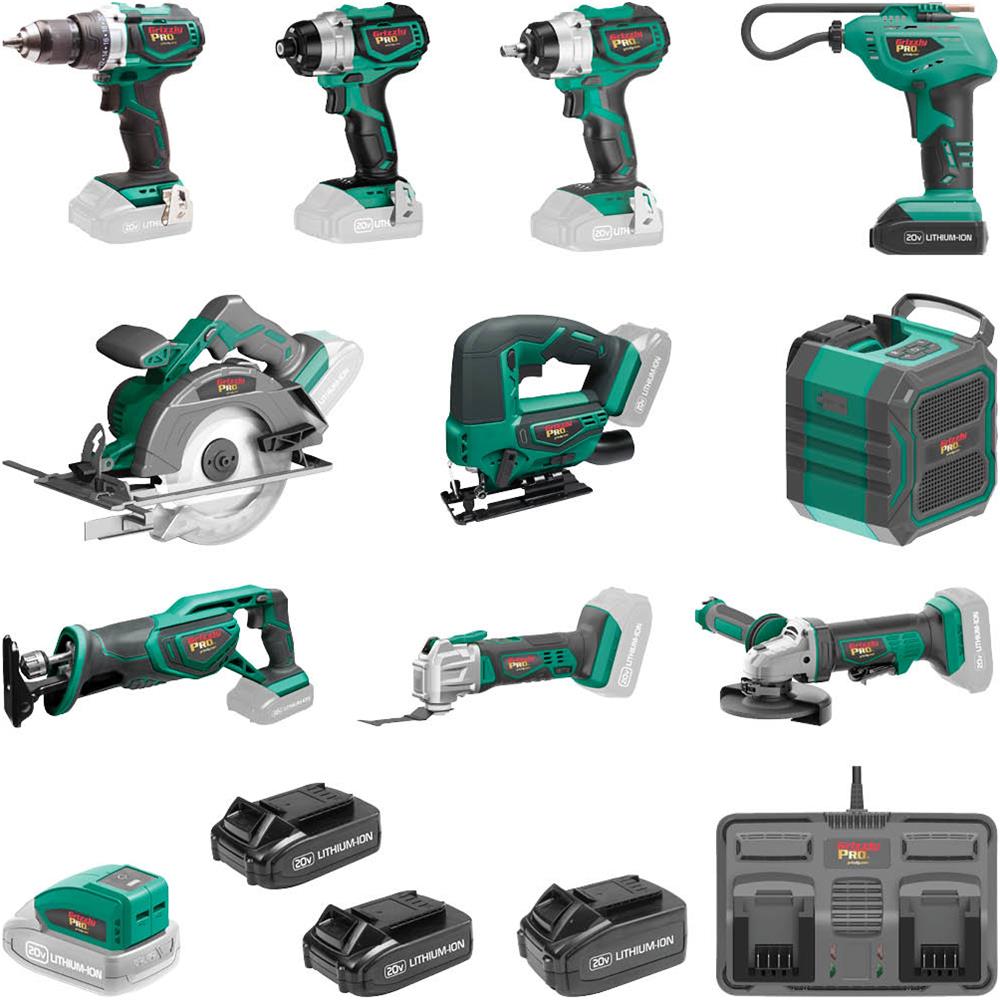 The new Grizzly Pro 20V line consists of a total of 11 tools with 8 of them being power tools and two batteries and two chargers out of the gate. The 8 cordless power tools are a hammer drill (brushless), impact driver (brushless), 3/8″ impact wrench (brushless), jigsaw, circular saw, reciprocating saw, angle grinder and oscillating multitool. The other two cordless tools that aren't power tools are a bluetooth speaker, inflator and a USB power source. The two batteries consist of a 2.0 ah compact battery and a 4.0 ah fatpack battery and there's a 2.4amp single port "fast charger" and a dual port 2.4amp "fast charger". Not sure why they call them fast chargers since it takes 60 minutes to charge a single 2.0ah battery. They didn't list charge times for the 4.0 battery but simple math lets us know it will take about 2 hours to charge with neither charge times are what I would call fast. I also believe there's a third, even slower charger that's not pictured or mentioned that is in some of the cheaper lower priced kits.
The prices of these tools are on the lower end of the spectrum which makes me believe these are targeted at customers looking at similarly spec'd and priced Ryobi, Craftsman, Porter Cable and Bauer and Hercules 18v/20v cordless power tools. Prices for the hammer drill and impact's as single tool kits with a single battery and charger go for $90, 100 & 135 depending on whether you get the unmentioned charger or "fast charger" with one battery or get the fast charger and two 2.0's while those baretools are $60. The recip saw, circular saw and multitool are $35 while the grinder and speaker are $37 and the jigsaw and inflator are only $27 and the power source is only $10 as baretools. The chargers are dirt cheap at $13 for the single fast charger and $29 for the dual fast charger and the batteries are $35 for the 2.0 and $58 for the 4.0.  The prices for all the baretools that aren't a hammer drill or impact are very low and so are the chargers which means picking up extra baretools will be very inexpensive.
All of the tools are in midrange territory meaning you'll bet better tools than Black & Decker, Drill master or Warrior brands but are lower spec'd and featured than pro brands like Dewalt, Makita and Milwaukee. It's funny because Grizzly compares some of their kits directly head to head against the above mentioned pro brands. While Grizzly's Pro models have the advantage of possibly being lower priced, they don't compare to top brands. For example their hammer drill is spec'd at 370 in-lbs of torque which is on the lower end for an 18V drill. On the plus side, it's a brushless drill which means a more compact efficient motor. Their brushless impact's are all rated for 1,400 in-lbs of torque which is on the lower end for 18V however on the plus side, all their impacts feature 3 speeds.
All are available now on the Grizzly site and keep in mind shipping is extra at $10-25 depending on items.


Free 2 day shipping – Try Amazon Prime 30-Day Free Trial

DISCLOSURE:
Tool Craze does not sell this product or any product on the Tool Craze website. Tool Craze does not handle the sale of any item in any way. If you purchase something through a post on the Tool Craze site, Tool Craze may get a small share of the sale. Please refer to the About section for more info.