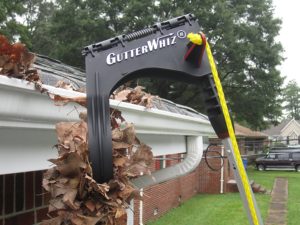 Leaves and tree junk fall into our gutters and eventually clog them up and cleaning them sucks! A company called Gutterwhiz wants to make it easier for you to clean out your gutters and they've made a product called the Gutterwhiz GW1 that helps you clean your gutters without the need of a ladder and without you letting your hands do the dirty work.
The Gutterwhiz GW1 Gutter Cleaning Tool reaches up high and into your gutters and grabs whatever junk is up there. The Gutterwhiz GW1 looks like a small jawhorse and has two "legs", "teeth", or "jaws" – whatever you want to call it that closes to grip leaves or other unwanted stuff in your gutter so you can then lower the Gutterwhiz GW1 to dump the items into the trash. Easy!
The opening and closing mechanism is activated using a rope that cause the jaws to open and close. The Gutterwhiz GW1 includes the rope to activate the opening and closing jaws although you'll need to supply your own pole to attach the Gutterwhiz GW1. It takes any extension pole with standard threads so you'll be able to use the ones you already have laying around. This means as soon as you know when to clean your gutter you can pick up the Gutterwhiz GW1 and sort out the problem yourself in minutes!
The Gutterwhiz GW1 is available now and is priced around $40.

No Ladder, No Problem! Clean your gutters from the safety of the ground.

Pole Sold Separately to Suit Gutter Height – See GutterWhiz Special "Pin-Lock" Heavy Duty Pole

Very durable, includes Limited Lifetime Warranty

Includes Free Safety Glasses

Attach your smart phone to take photos or videos of your gutters.