Harbor Freight has pinned some of their tools against other brands like Dewalt, Snap On, Milwaukee and others to name a few and now the budget tool giant is going up against Fein with Harbor Freight's new Hercules 3.5 Amp Variable Speed Oscillating Multi-Tool.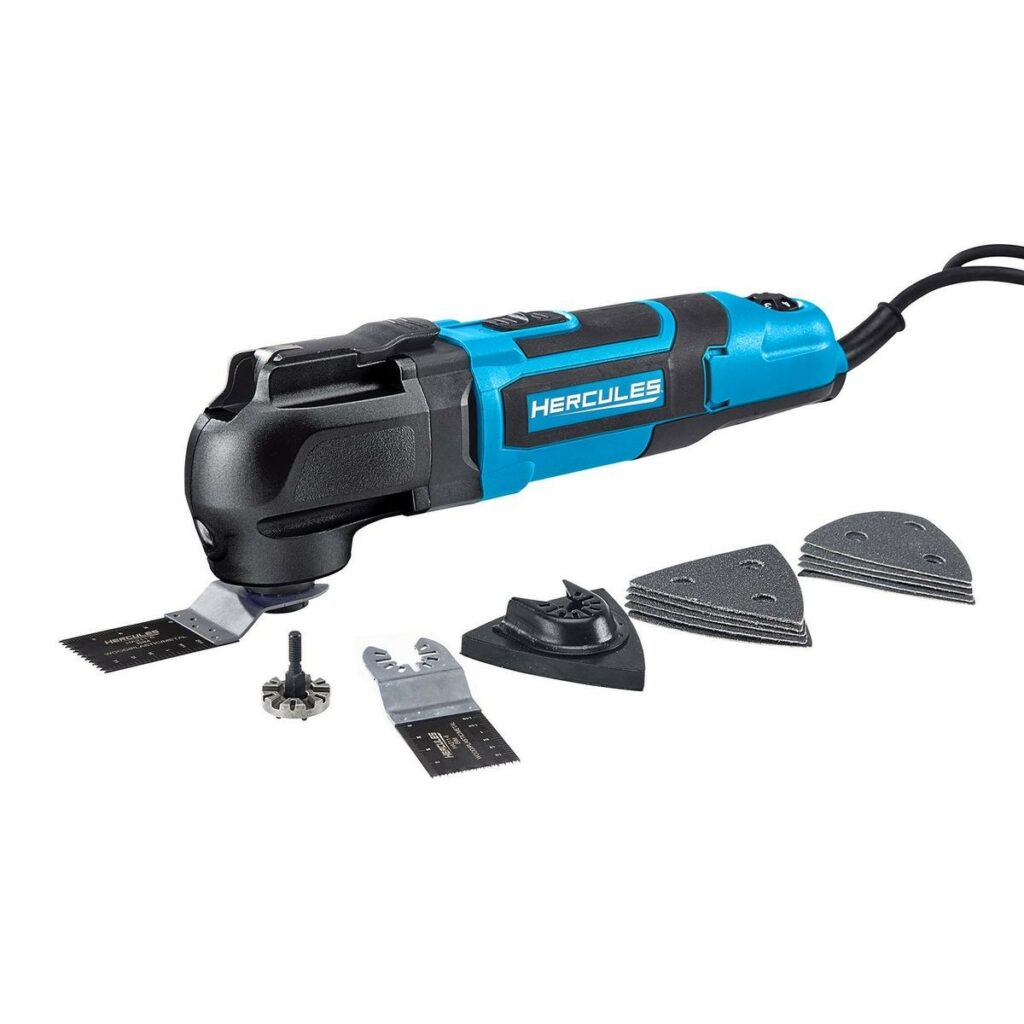 Usually the Hercules brand is aimed directly against Dewalt and many of their tools copy Dewalt's looks as close as possible however Harbor Freight took a different approach by going against Fein with their latest Hercules multitool. Before I go into specs and features, I want to mention that the Hercules multitool is priced at $129.99 and I didn't see any coupons for it to drop the price in my latest coupon flyer that mentions this tool. So what does $129.99 get you in a multitool? The Hercules multitool has a 3.5 amps motor with soft start, variable speed control of 11,000 – 20,000 OPM with rear dial, keyless blade change system (latch and pin), front mounted LED light, 3.3 degree oscillating angle and vibration control to minimize felt vibrations. According to these specs alone, the Hercules is slightly better with a slightly larger 0.1 degree increase in oscillating angle and slightly more oscillations per minute while having other seemingly similar features like the same 3.5 amps, LED light, tool less blade changes and reduced vibration.
The Fein FMM350QSL is priced at $199 in it's lowest priced kit, so is the Hercules a better buy?
If price is your only determining factor then the Hercules might seem like the better deal however there are other factors to consider. For example the Fein FMM350QSL is one of the most refined multitools I've ever used and is the only one (at the time of writing) that has a suspended head design. This suspension system keeps vibrations to such a minimum, more so than other brands I've tried. Hercules doesn't have a suspended head system like the Fein does so it simply cannot have the same level of vibration dampening that the Fein does. It's the difference between riding in a car with a suspension and a vehicle without a suspension. Anyone that's ever driven a go kart knows what I'm talking about. However the fact that the Hercules doesn't have a suspension system doesn't mean it doesn't have a vibration control system, in fact it mentions having one. Bosch's multitools don't have suspension systems however their multitools have the least vibration (second to Fein) so it's possible the Hercules vibration control might do a decent to good job.
Next on the list is the tool less blade change system on the Hercules. It uses the tried and true latch and pin system that's been used for many years however the Starlock mount is the superior oscillating blade mount in that it has extremely fast and easy blade install and removal. Blades simply click into place and a pull on the lever ejects the blade. It doesn't get any easier than this folks. Hercules' multitool uses the older latch and pin system which takes more steps to install and remove blades which is centered on removing and reinstalling the included pin. And don't forget this pin has the possibility of getting lost, while there are no pins to worry about losing on the Starlock mount.
I also don't like that Hercules went with a flat mounted rear dial. If it's anything like the one's found on earlier Fein models and on Rockwell multitool models, it will be hard to rotate.
Harbor Freights comparison between the Hercules and the Fein doesn't make too much sense. Sure they're both multitools and they both do the same thing but the Hercules lacks what makes the Fein great which is the suspended head design and the Starlock mount. Without those two features the Hercules is just another 3.5 amp multitool with 3.3 degree oscillating angle for $129.99 and there is plenty of competition in this price range with more amps and larger oscillating angles. For example, take a look at the Rockwell F50 which is priced at $99 (at time of writing per HD) and offers a 4 amp motor and 5 degree oscillating angle or the Rockwell F80 which offers the same oscillating angle and 4.2 amp motor for $111.10 (at the time of writing per HD) both of which outspec and are priced lower than the Hercules. In my opinion, the Hercules looks and is spec'd more like a Rockwell F30 as they have similar specs and features and even look very similar however with a different front end and latch and pin system but the F30 is priced much lower than the Hercules at $77.42 (at the time of writing per HD).
Long story short, the new Hercules multitool looks great, has a decent spec list and the build quality looks great however I didn't see any standout features that would make me want to go out and get one and especially not in the $129.99 price range it's pinned at the moment. Hopefully they drop the price down to $80'ish which would make better sense in my opinion. What do you guys think?
Powerful 3.5A motor with all metal gear construction delivers 75% more power* and maximum durability
Variable speed control dial delivers 11,000 – 20,000 OPM to match speed with application
Keyless blade change for easy accessory installation and removal
LED light provides a clear view of the work space
Vibration control design minimizes the amount of vibration felt by the user, increasing control and comfort during use
Soft start motor with industry leading 3.3 degrees of oscillation provides smooth starts


Free 2 day shipping – Try Amazon Prime 30-Day Free Trial

DISCLOSURE:
Tool Craze does not sell this product or any product on the Tool Craze website. Tool Craze does not handle the sale of any item in any way. If you purchase something through a post on the Tool Craze site, Tool Craze may get a small share of the sale. Please refer to the About section for more info.