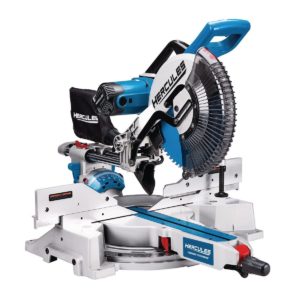 Harbor Freight's in house Hercules brand has come out with a new miter saw geared towards pro's. It's the Hercules professional 12″ double bevel sliding miter saw. It has excellent features and specs and unlike most of Harbor Freight's tools, this one has a hefty price tag of $399!
Before I go over it's great specs list, I want to mention that the new Hercules miter saw has a strong resemblance to a Dewalt miter saw but in blue. This wouldn't be the first time Harbor Freight's in house brand has done this as all other Hercules power tools up to this moment have been Dewalt look alikes. In fact the new Hercules miter saw looks very similar to a Dewalt DWS780 miter saw which is also a double bevel sliding 12 inch miter saw. The DWS780 from Dewalt is the company's flagship corded miter saw with all their bells and whistles but comes with a commanding $599 price tag. The question now remains, does the new Hercules 12″ professional double bevel sliding miter saw compare to the Dewalt DWS780? Is it an exact clone? And is it a better value at $399? Let's take a look.
Hercules VS Dewalt DWS780 side by side
Let's answer the clone question first. No, it's not a clone. A clone would mean it's a rebranded model from the same factory but this is not. What we have here is a look alike for sure and from a quick glance looks almost the same as a Dewalt miter saw but after looking at side by side pictures I can see that it is not from the same mold.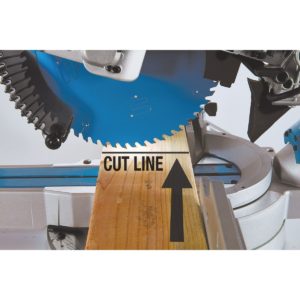 The Hercules miter saws specs include a 12 inch blade, can slide for up to 14 inches of cross cut capacity at 90 degrees and can bevel both ways (left and right directions) 0-45 degrees in each direction. It can miter angles to 60 degrees to the right and 50 to the left. Vertical cutting capacity comes in at 7-1/2″ for nested crown molding and 6-3/4″ Base board vertical capacity. This is one large saw and as such weighs in at 56 lbs. Power comes from it's 15 amp motor with a no load speed of 4,100. The saw comes with a large carry handle above the trigger and two hand grips on either side of the base and Hercules has what they call a precision blade guide system. They don't go into detail as what it is or how it works but it looks very similar to Dewalt's then known XPS LED light system that uses LED's to cast a shadow over the cut line. I'm going to assume this is how the Hercules precision guide system works.
So up to this point the Hercules pro miter saw has identical features and stats compared to the Dewalt DWS780 as it has the same STOCK (more on this below) horizontal and vertical cutting capacities, same left and right miter and bevel angles, same weight and even possibly the same lighting blade line guide system. Although both use 15 amp motors, the Hercules has a slightly higher no load speed RPM of 4,100 instead of the DWS780's 3,800.
So to answer the question: does the Hercules compare to the Dewalt DWS780? Yes and no. Yes because all main features and specs are similar but NO because all is not the same. There are a couple of key features that differentiate the two models and might make some to choose the Dewalt DWS780 over the Hercules 12″ pro double bevel miter saw. The first is that although the stock 14 inch horizontal sliding cut capacity is the same on both, the Dewalt DWS780 has a unique back fence feature that is exposed once both fences are removed and allows for cutting up to 2×16 lumber. That might be a huge selling point for those that need the additional horizontal cutting capacity but yet the Hercules miter saw lacks this feature. The next feature that differentiates the two is that the Hercules miter saw is still using the old twist knob to lock and unlock miter angles. Dewalt's DWS780 uses a lockdown lever which is much quicker than rotating a knob and is my preferred locking method on miter saws.
So to answer the question: is the Hercules miter saw a better value? Being $200 cheaper yet very similar, I'd say that if you don't need the additional horizontal cutting capacity to cut 2×16's and don't care to use a twist knob to lock miter angles, then yes it appears to be a better value on paper. I say on paper because the Hercules brand is still young and we don't know the long term reliability of their tools since the Hercules brand has only been out for a few months. Also at the time of writing this article, I have not yet seen this Hercules saw in person so I cannot say anything about it's fit and finish, but it looks good in the pictures provided from the HF website. I do own a Dewalt miter saw so I know the fit and finish quality is excellent on Dewalt miter saws (I have the DHS790 which is the cordless/corded hybrid version of the DWS780). However if someone needs the larger horizontal capacity, the lower price of smaller capacity saws will not matter as it will not fit their needs.
Talking about price, we still have to get used to higher prices from Harbor Freight but it appears that with the introduction of higher end tools such as the Hercules lineup we are now seeing higher price points at HF. Still you have to admit that this is a nicely spec'd saw for the price point even when compared to Dewalt and to other brands like Ridgid and Hitachi.
Hercules Professional 12″ Double Bevel Sliding Miter Saw Features:
14″ Horizontal cut capacity at 90°
7-1/2″ Crown molding nested capacity
6-3/4″ Base board vertical capacity
Precision Blade Guide System allows better visibility of cut line for accurate cuts every time
High output 15 AMP, 4100 RPM Motor delivers the power needed for high performance cutting
Adjustable stainless steel miter detent plate with 10 positive stops
Miter detent override system for fine adjustments
Double-bevel design with oversized bevel scale makes bevel-angle adjustments accurate and easy
Miters 60° to the right and 50° to the left to accommodate a wide variety of cuts
Dual horizontal steel rail system with linear bearings allows for smooth and accurate cuts
Big thanks to Joshua B and Cody Robertson for spotting this miter saw!
DISCLOSURE:
Tool Craze does not sell this product or any product on the Tool Craze website. Tool Craze does not handle the sale of any item in any way. If you purchase something through a post on the Tool Craze site, Tool Craze may get a small share of the sale. Please refer to the About section for more info.