We wrote about the launch of the long awaited Hercules table saw towards the end of March and while I thought it was a very nice table saw, my biggest criticism over the new saw was it's steep everyday price of $379. That pricepoint was exactly the same as the Dewalt DWE7480 it was trying to replicate but was missing the rack and pinion fence system which was Dewalt's biggest key feature. Even though they offered a coupon at launch that brought the price of the Hercules table saw down to $300, I still thought it was too high considering there was other competition on the market such as Bosch's and Skilsaw's own portable metal roll cage design table saws for not much more. Luckily for us, Harbor Freight came to their senses and dropped the price down to a reasonable $249.99 and they did this just over a month after initial launch.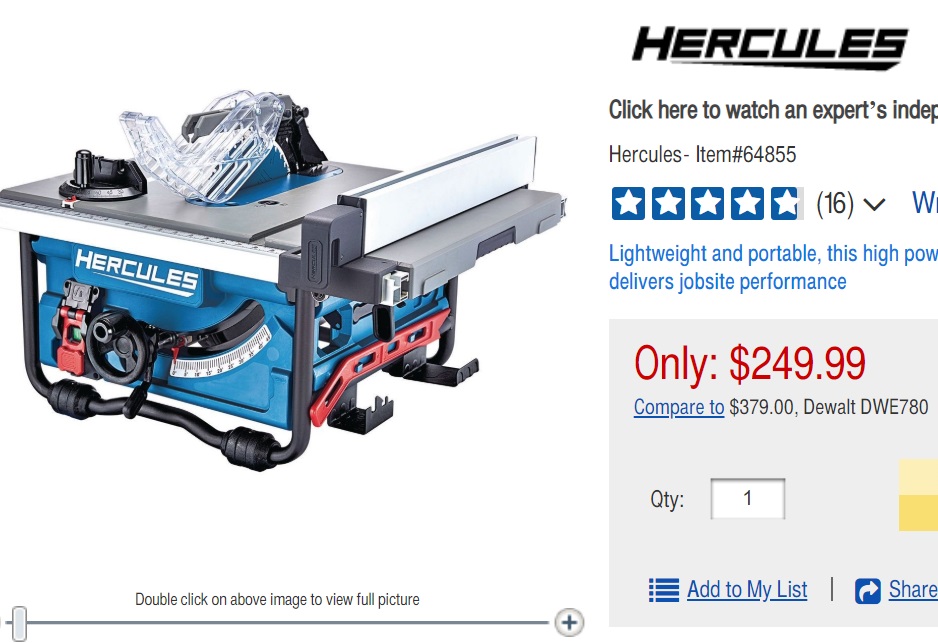 The price drop doesn't surprise me as they probably didn't move enough units to justify the high for Harbor Freight price point. The good news is that now it's dropped down to the affordable price levels we expect from Harbor Freight and I expect it should sell very well at the $250 price point. I didn't see any coupons at the time of writing that made the price even more tempting however I wouldn't be surprised if we don't see any coupons for this saw for a good long while since you have to realize they just lowered the price by $130 in less than two months after launch.
Who knows, maybe they'll take my advice and pack in a rolling stand for a total of about $379. I think that would be a great idea and would be some fierce competition to Dewalt's table saw with rolling stand.
What do you guys think of the new $249.99 lower price point?


Free 2 day shipping – Try Amazon Prime 30-Day Free Trial

DISCLOSURE:
Tool Craze does not sell this product or any product on the Tool Craze website. Tool Craze does not handle the sale of any item in any way. If you purchase something through a post on the Tool Craze site, Tool Craze may get a small share of the sale. Please refer to the About section for more info.