With Metabo, Makita, AEG, and Milwaukee all offering full size 9"/230mm cordless grinders, Hikoki / Metabo HPT must have felt left out because they're introducing a G3623DA MultiVolt 36v Brushless 9" / 230mm Angle Grinder as part of their MultiVolt 36v battery system.
Full disclosure: This is not a review, this is tool news. Tool Craze cannot guarantee the accuracy of the information/specifications/features of any tool listed in this article. Manufacturer marketing claims may not always meet expectations. Tool Craze is not responsible if products do not live up to claimed expectations. Please do your full research before buying any products. Tool Craze is an Amazon Associate and places paid links including those from other retailers that Tool Craze is an affiliate partner with. If you purchase something through a link on the Tool Craze site, Tool Craze may get a small share of the sale.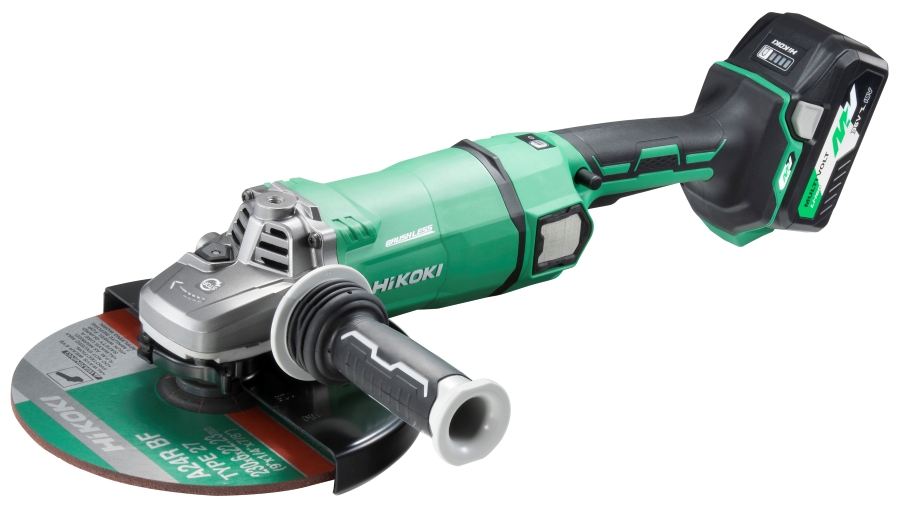 My thoughts: As with any other tool it's always good to see competition as it ultimately benefits the end users with better features, performance and value. Hikoki / Metabo HPT has been really pushing the performance on their latest releases so hopefully this new grinder will be no different. My only concern is runtime as the biggest battery offered for this grinder is currently a 4.0ah 36v battery. Although the battery capacity may be on the low side, one of the the main advantages to this grinder will be the option to use a corded adapter so you can plug it in to the grid when you need more runtime, and still be able to take it out in the field for ultimate versatility. This grinder features a soft start brushless motor, full size 9"/230mm disc capacity, auto mode, electric disc brake, anti kickback protection, and a tool free adjustable blade guard for quick changes in application. I did reach out to Metabo HPT to see if this new grinder will be making its way to North America, and they said it will be. However, they were not able to provide a release date, or pricing at the time of writing.
A big thanks to Hikoki Europe for helping provide all the info on this awesome looking new addition to the MultiVolt platform!
Features and specifications:
Soft start brushless motor
9"/230mm full size disc capacity
Corded and cordless power option
Tool free adjustable blade guard
Electric disc brake
Auto mode automatically adjusts speed to the workload
Anti kickback protection
Removable motor vent filters
Voltage: 36v DC
No load RPM: 5,300 RPM
Class leading lightweight with MultiVolt battery: 4.9KG (10.803 lbs.)
Price at the time of writing: Varies by country
Earliest availability in Europe: April 2019. North America: TBD
Warranty: 1 year in North America, will vary in Europe


Free 2 day shipping – Try Amazon Prime 30-Day Free Trial

DISCLOSURE:
Tool Craze does not sell this product or any product on the Tool Craze website. Tool Craze does not handle the sale of any item in any way. If you purchase something through a post on the Tool Craze site, Tool Craze may get a small share of the sale. Please refer to the About section for more info.