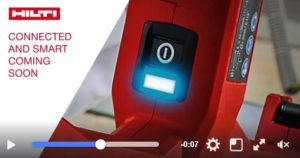 I was visiting Facebook when I noticed a post from Hilti saying "Something connected and smart is coming soon". They even give us a teaser with a video clip of a tool with a blue glowing light.
Part of their post says to make a guess. The picture they show of a tool has a label on the side with a picture of a nail and gives nail capacity dimensions. Hard to see exactly what the dimensions say since the text is small and blurry but I can guarantee you it is a nailer. I can't read all of the text but I see wording of "3mm / 0.118".
I was reading through the comments, only two at the time of writing and one said a laser which I doubt because we already know its a nailer of sort. The other commenter said that it's a new version of their BX 3 battery actuated concrete nailer. He might have nailed the right comment, sorry for the pun, couldn't help myself on that one.
Everything matches up with a new bluetooth connected version of the BX 3 as the picture Hilti teases us with looks to be the same unit. The nail capacity label on BX 3 matches what is on the teaser tool with the same exact 3mm / 0.118″ markings. So most likely it will be a bluetooth smart connected version of the BX 3 battery actuated nail gun. Read more about the original Hilti BX 3 battery actuated nailer by clicking here.
Since this is a new smart connected device we can expect bluetooth connectivity as that's how the current smart connected tools from Milwaukee, Dewalt, and Bosch to name a few make their connection to a smartphone or table using a proprietary app. Although no smart features are listed we can expect one or more of the following: bluetooth tracking, tool diagnostics, battery diagnostics, ability to remotely activate and deactivate the tool and even implement select users to operate the tool, tool customization. Not saying it will feature any one of these but may offer one or more of them as that's what's currently available on competitors bluetooth smart connected tools. It is likely that it will feature one or more of these features.
DISCLOSURE:
Tool Craze does not sell this product or any product on the Tool Craze website. Tool Craze does not handle the sale of any item in any way. If you purchase something through a post on the Tool Craze site, Tool Craze may get a small share of the sale. Please refer to the About section for more info.