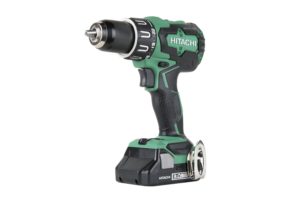 When it comes to drill, most of the leaps in performance goes to the large, bulky, and heavy high torque drills which are currently topping 1,200 in-lbs of torque. But we hardly see torque advancements in the compact drill segment. Usually the torque numbers stay the same while the progress goes to making already compact drills slightly shorter in length and slightly lighter.
Hitachi took the right step forward with their latest compact drill DV18DBFL2 by adding more performance while maintaining a light and compact tool. And did I mention it's a hammer drill?
The new DV18DBFL2S compact hammer drill puts out a whopping  620 inch-lbs of torque which is creeping very close to large heavy high torque drills of yesteryear. It does this while maintaining a very short  189mm which is translated to 7.44 inches length front to back and at 3.7 lbs.
It also takes advantage of Hitachi's compact 3.0 ah batteries with high capacity but in the size of a traditional 1.5ah battery.
This Hitachi hammer drill is currently out now and it retails for around $249 as a kit and around $149 as a baretool.

Powerful torque: 620 in-lbs to tackle a variety of applications

189mm tool length

22 + 2 clutch settings: versatile to handle various jobs

Keyless metal chuck: to ensure strong grip on the bit and easy bit replacements

Lightweight: at 3.7lbs (with battery) to reduce user fatigue

Lifetime li-ion tool warranty