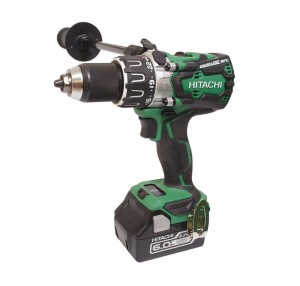 Lately, it seems that the race is on to produce the most powerful cordless 18V drills with each manufacturer trying to one up each other with more and more powerful cordless drills. Hitachi is joining the ranks of high end 18V drills with 800+ in lbs drills with Metabo, Hilti, Makita, and Milwaukee, with their newest entry at the heavyweight 18V drill division with their brushless 18V  DV18DBXL/JX hammer drill with a whopping 136 Nm torque. This has been spotted on the UK Hitachi site and boasts an impressive 136 Nm (Newton Meter) torque rating which roughly translates to approximately 1203.7 in lbs of torque putting it right there with the current heavy weight Milwaukee Gen 2 Fuel drills with a similar 1,200 in lbs torque.
Other notable specs are its size and weight which are 204mm (8.03 inches) and 2.5kg (5.5 lbs) making this slightly lighter and slightly more compact than the Makita XPH07 hammer drill. Actually the overall shape of this Hitachi reminds me a lot of Makita's heavyweight drill, except Hitachi is more aggressively styled which most of their 18V power tools are. Although lighter and more compact than the Makita XPH07, this Hitachi is a bit heavier and longer than the Milwaukee 2nd Gen Fuel hammer drill but with roughly the same torque on paper. Hitachi does bring in a feature not seen on other brushless heavyweights is their "Reactive Force Control" safety feature which I assume is a safety clutch that prevents users from wrist snapping torque. This will be an extremely useful feature as high torque drills have been known to cause injury to users under high torque. They also included a long side handle to combat high torque stress. It appears to be screwed on and appears to only have 2 positions to mount, either left or right of the top of the drill. It also appears to screw on and it looks as though there are 2 weather sealed rubber flaps that cover each threaded hole for the side handle. Another interesting bit of info on this new hammer drill, is that it will come bundled with two 6.0ah batteries meaning you get a huge gas tank to run this new beast. Luckily for all of us, Hitachi includes their fast charger which is said to charge these huge gas tanks as little as 38 minutes.
It appears that this is already being sold over in the UK with ebay listings for that region. The bad news is that it is not currently available here in the USA and I don't know when or if it will be available here stateside.
A big thanks to Tool Craze Facebook follower Bernd Bernd for sharing this with the Tool Craze universe!


Try Amazon Prime 30-Day Free Trial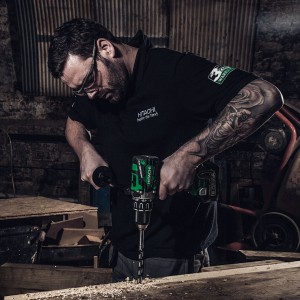 Specifications:
0-31500 BPM
Capacity 16mm (brick), 76mm (wood), 13mm (metal)
charging time 38 minutes
Max torque 136Nm hard (1,203.7 in-lbs torque)
no load speed 0-500/2100/RPM
Overall length 204mm (8.03 inches)
Weight 2.5kg (5.5 lbs)
Features
Combi drill with brushless motor technology
All new 6.0Ah Li-Ion batteries with multifunction protection circuit
Class leading hard torque of 136Nm
New fast charger with 38 minute charge time
Reactive Force Control (RFC) safety feature
Compact body – only 204mm long
Brushless motor
High performance Röhm chuck with spindle lock
22 stage torque setting
New robust aluminium gear case
Low battery indicator
Built-in LED work light