Until now Hitachi's best cordless high torque impact wrench put out less than 1,000 foot pounds of torque, but that's changing soon with the new MultiVolt high torque impact wrenches WR36DA and WR36DB. With a whopping 1327 foot pounds of nut busting torque for the WR36DA, and 1216 for the WR36DB, they are both pretty close to the other market leading high torque impact wrenches. With the excellent performance of Hitachi's more recent releases, these 2 units shouldn't disappoint. Both units are also IP 56 rated against dust and water, something has also been seen on some of the more recent Hitachi cordless tools.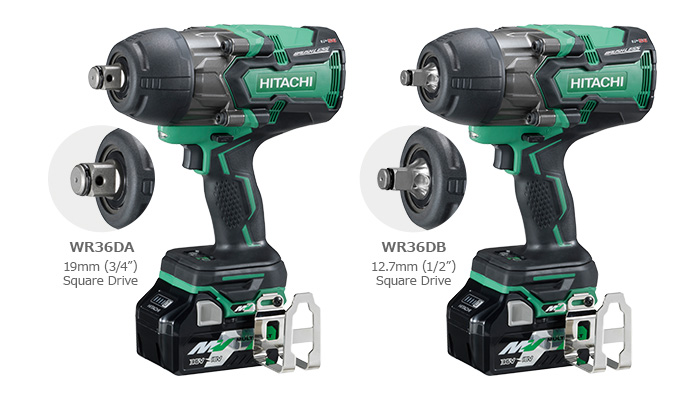 My thoughts: Hitachi has been lacking in the high torque cordless impact wrench for a couple years now, and while many other brands brought their best to the game Hitachi appears to have taken their time and come out with something awesome. While these 2 units don't have many stand out features, they do offer IP56 protection which isn't something I've seen on any other high torque impact wrenches. That combined with some excellent specs should be a great fit for anyone who's work may involve getting rained or snowed on. While these don't have the highest specs on the market, Hitachi's more recent releases have been no disappointment, so we can expect their performance to be right there with their competitors.
Features and specifications
4 different speed/power modes
Brushless motor provides better performance, runtime and motor life
IP56 rating for excellent protection against water and dust
½" and ¾" square drives available
LED work light
Belt hook
On/Off button for LED light
Voltage: 36v
Length: 8.7" (221mm) (WR36DA and WR36DB)
Weight: 8.2 pounds (3.7 kg) with 2.5ah MultiVolt battery (WR36DA and WR36DB)
Height: not listed
WR36DA nut busting torque: 1327 foot pounds (1,800 NM)
WR36DB nut busting torque: 1216 foot pounds (1,650 NM)
WR36DA fastening torque: 812 poot pounds (1,100 NM)
WR36DB fastening torque: 775 foot pounds (1,050 NM)
RPM: speed 1: 0-600 rpm. Speed 2: 0-900 rpm. Speed 3: 0-1,200 rpm. Speed 4: 0-1,500 rpm. (WR36DA and WR36DB)
IPM (impacts per minute) speed 1: 0-1,200 IPM. speed 2: 0-1,800 IPM. speed 3: 0-2,300 IPM. speed 4: 0-2,900 IPM. (the WR36DB has 100 less IPM on speed 4 at only 0-2,800)
IP56 rated


Free 2 day shipping – Try Amazon Prime 30-Day Free Trial

DISCLOSURE:
Tool Craze does not sell this product or any product on the Tool Craze website. Tool Craze does not handle the sale of any item in any way. If you purchase something through a post on the Tool Craze site, Tool Craze may get a small share of the sale. Please refer to the About section for more info.