A new cordless cooler has been spotted over in Japan, the Hitachi UL 18 DSL (LYM) Cordless cooler.
Full disclosure: This is not a review, this is tool news. Tool Craze cannot guarantee the accuracy of the information/specifications/features of any tool listed in this article. Manufacturer marketing claims may not always meet expectations. Tool Craze is not responsible if products do not live up to claimed expectations. Please do your full research before buying any products. Tool Craze is an Amazon Associate and places paid links including those from other retailers that Tool Craze is an affiliate partner with. If you purchase something through a link on the Tool Craze site, Tool Craze may get a small share of the sale.
It basically looks and acts like your standard everyday small portable ice chest cooler but it also operates on Hitachi's 18V lithium ion batteries to provide additional cooling which Hitachi claims can cool down to -20 Celsius and on top of cooling it also has a heating function which may keep your food warm up to 40 Celcius.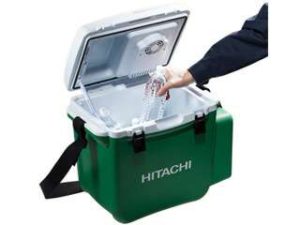 According to the Japanese translation, it has a 25 liter interior capacity which is said to be able to fit 20x 500ml water bottles or up to 6x 2 liter bottles meaning it's not as small as it looks.
But wait there's more features! It can also be operated by 3 different types of power supplies, of course it can be powerd by battery power with the supplied 6ah 18V battery, it can be powered by plug in AC power, and it can also be powered by your vehicles 12V DC power.
This is definitely a "cool" new tool and would be great if Hitachi sells it here in North America. What do you guys think?