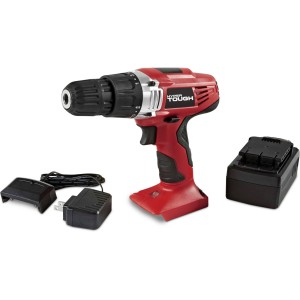 Watch out Harbor Freight, a new cordless 18V drill in the $20 price range is on the horizon. This new drill sold at Walmart is the Hyper Tough 18V ni-cad cordless drill and it's actually cheaper than $20. It was being sold for $18.73 and now at a price drop of $17.29 for a whopping $1.44 in savings!! Sarcasm aside, this puts this drill directly against the Harbor Freight DrillMaster 18V cordless drill regularly sold at around $20 or less with coupon.
Now before I go on, I will admit that even though I mention this as being new, I don't know exactly how long it's been on the market. Frankly, it's been a while since I've roamed the single tool isle at my local Walmart store so this might not be late breaking news to some Walmart diehards. The last time I checked the Walmart tool isle, the only power tools I remember seeing were a few Black + Decker, Skil, Hitachi, and Bostitch power tools. I definitely didn't see any Hyper Tough power tools at all a few months ago.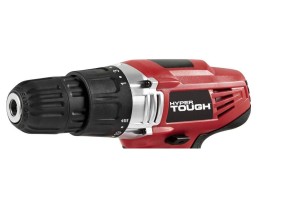 Anyways, back to the drill itself, it's very similar in many ways to the Harbor Freight budget 18V drill as it comes with a 3/8″ plastic chuck that requires 2 hands to tighten, variable speed brushed motor with electric brake, a built in LED light although it's placement is on the base of the tool, it comes with a 21 settings clutch, comes with an old-school nicad battery and budget charger. The stats though are a bit confusing on the website, there's a short spec list on the top right of the Walmart website saying it has a single no load speed of 0-550 RPM while the description paragraph lists the product as having "2 speed settings" and this is repeated again just under the description in the specs/features bullet list mentioning "2 speed settings (no load speed: 0-350RPM and 0-1150RPM )". Because the single speed stat is listed once while the 2 speed stat is listed twice, one would lean towards believing it is a 2 speed drill, although a close inspection of the stock photo close up, shows no 2 speed switch on top leading me to believe that it is most likely that this is a single speed drill with 0-550 RPM's. If true, this makes it considerably slower than the Drillmaster from Harbor Freight which tops out at 900 RPM and is a single speed drill. So based on the price point and the stock photo, I seriously doubt this is a 2 speed drill. Sure, it would be nice to have a $20 2 speed drill that tops out at 1,150 RPM on speed 2, but I wouldn't get my hopes up if I were you. But I do plan on going to my local Walmart soon to take a look at the actual drill if it is available at my local store. If they do have it in stock, I'll make sure to post an update as to whether it's a single speed or 2 speed drill.
So what can we expect from this drill? Because performance stats such as torque is not listed, I would expect similar torque performance as the HF model. You can check out my YouTube review for the Drillmaster 18V drill by clicking here. Don't expect this to blow you away or make you want to get rid of your Dewalt 18V drill. After all, this is a $20 drill and a drill such as this one is aimed towards light duty use. Think hanging picture frames on drywall, light duty arts and crafts projects.
Looking at the user reviews most are positive with 4-5 stars out of 5, although some of the reviews are pretty hilarious. Here's a few quotes from the reviews…
"A man came in & said "this is a nice drill", Man approved, but I love it!"
"The drill goes clockwise & counterclockwise."
"Gobahead and throw away big bucks for a "name" brand, it may be as rough and tough, but at the end of the day you'll have mucho denero in your pocket and a beautiful little beast of a drill, in my book, that's common sense not uncommon cents! LOL"
"Not extremely powerful but definitely faster than doing by hand"
"buy the way I gave it 4 stars only cause I didn't use it yet buy I'm sure it will be a 5 star drill"
"the keyless chuck was monstrous"