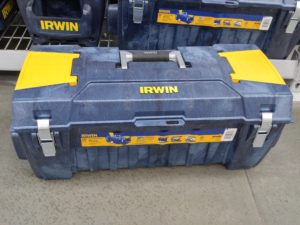 I was walking down the isle's of Lowes the other day, I was looking for some double sided carpet tape for a current project of mine to use with a router, when I walked past an end cap of Irwin Tool Boxes. They caught my eye because I've never seen Irwin branded tool boxes before. These were 26 inch tool boxes made of structural foam.
What also caught my eye was the neat looking blue tinted material they're made of with psycedelic swirls.
Without actually taking them home and testing them out, my first look impressions review of them were that they were very sturdy, more so than typical thin walled plastic tool boxes you'd find. The outer walls were pretty beefy with a good thickness to them and little flex when pushed.
Overall it had the same design as just about any old tool box but they did add a couple of extra's such as two large open side compartments which offer easy access without having to open the top lid. There's also two extra compactments with their own door and all on the top of the lid. The yellow plastic on these was a little flimsy feeling though but the strength of the box is in the rest of the frame it seems.
The inside is typical, with a large open space and a tool caddy with handle that sits up top, nothing out of the ordinary on the inside. The latches are metal latches. You can either use the top handle to carry or the two built in side grips for two handed carrying.
I noticed that the sticker label says that the tool box has a watertight design. This sounds great and it probably is but it's missing the weather sealed foam strip you usually find on other weather sealed boxes so I have a feeling this Irwin box will easily survive water being dumped and splashed on it when the unit is closed. But water might find it's way in if the box is submerged. But who knows without actually testing it out, must my opinion of it so far.
Overall it looks very strong and looks like it's built to withstand some abuse. Normal everyday pricing is around $39 everywhere including Amazon and AcmeTools.