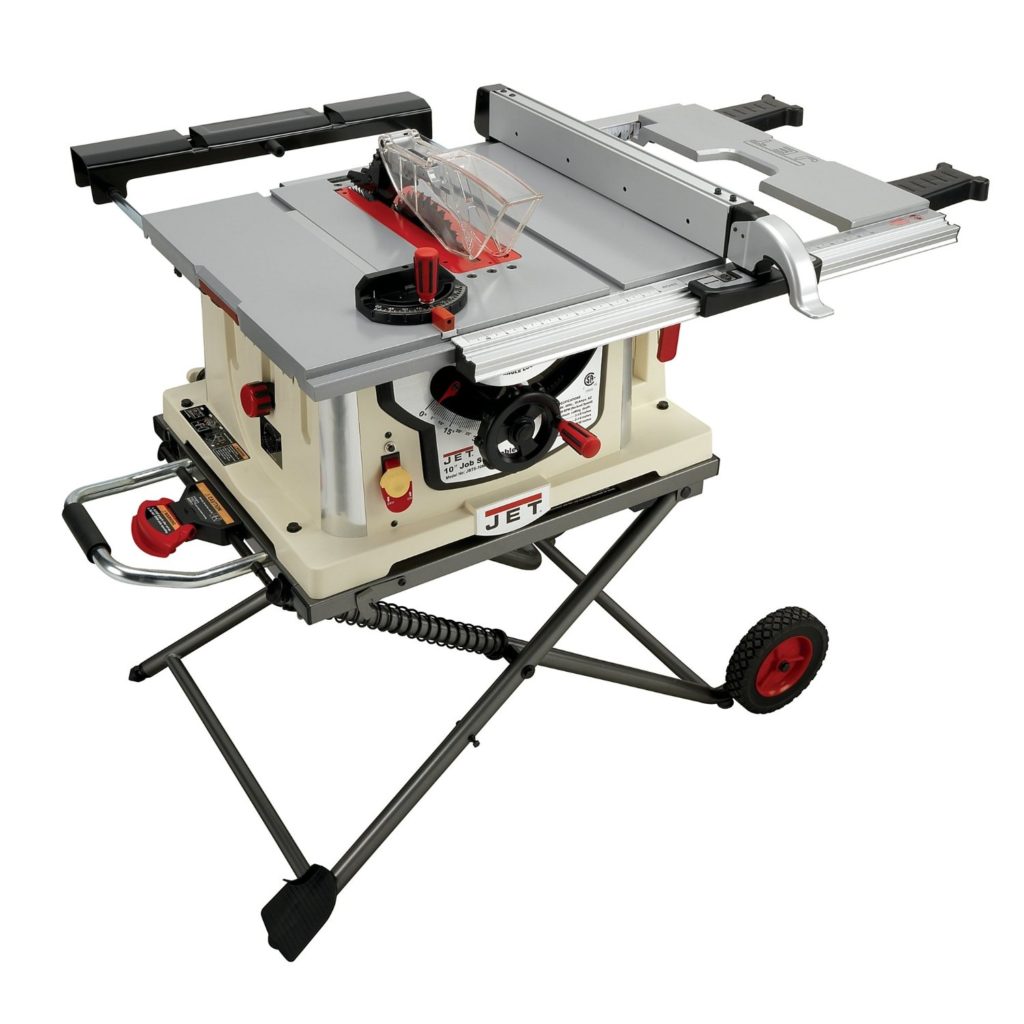 Jet is known for making some woodworking and metalworking machinery but did you know they also make a portable jobsite table saw? The JBTS-10MJS is just that, a portable table saw you can haul out to the jobsite. Unlike the rest of their beefy stationary table saws, this unit can be carried and wheeled to your next project. It even comes with a folding stand with wheels to help you get it set up on location.
It shares many features you'd find in the portable jobsite table saw segment such as the 10 inch blade, 25 inch rip capacity, a 15 amp motor that runs on standard easily available 120V power, and folding wheeled stand. It does feature an outfeed table which isn't found standard on many models.
Description and specs from the manufacturer:
If you're looking for a jobsite saw that's both powerful and portable, look no further than the all-new JET® B3NCH 10″ Jobsite Table Saw with stand. This table saw features a 15 Amp soft start motor, 25″ right rip capacity, a riving knife and anti-kickback pawls for added safety, and a heavy-duty folding stand with wheels for quick setup and portability. Weighing in at just under 100lbs, this powerhouse brings the stability of a stationary table saw to your jobsite, then rolls away when you're done.
Weighs only 90 lbs.
Maximum 3-1/8 in. cut depth at 90°; maximum 2-1/2 in. cut depth at 45°
Chip and dust particles captured via dust shroud
Out-feed support maximized with slide-out rear extension
Outfitted with rubber-molded hand grips to enable carrying without stand
Blade changes facilitated with push-button arbor lock
JET offers full tech support in order to assist with any warranty issues; please call 1800-274-6846 for assistance
Convenient push button arbor lock allows for easy and quick blade change
Quick-lock fence slides smoothly and locks securely for accurate cuts
My thoughts:
It's price is a bit on the high side at $669, making it about $100 more than popular high end portable jobsite models from Bosch and Dewalt. It's hard to say how it compares to those two models without testing but based on appearance and features, the Jet model is more similar to mid-range brands such as Porter Cable, Ridgid, Kobalt and I say this based on appearance only.
I'm not sure how old this model is, it's not new if you're wondering and Amazon has reviews dating back to 2012. With only 9 reviews on Amazon and only 5 reviews on the Home Depot site, it doesn't seem to be a very popular model. I've never seen this model in any local home improvement stores and that could be one reason and the high price tag could also be another reason.
If you own one or have experience using one, please share in the comments section below your experience and thoughts on this model.