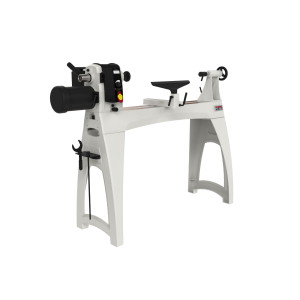 La Vergne, TN – The new JET® 16" x 40" Electronic Variable Speed Woodworking Lathe (JWL- 1640EVS) is loaded with cutting-edge features that distinguish it from others in its class. Included is a sliding headstock that also pivots 360 degrees, electronic infinitely variable speed from 40 – 3200 RPM, and a newly designed headstock locking handle.
"The full-featured 1640EVS lathe provides all the power, control, versatility and convenience valued by today's woodturners," said Katie Davidson, JET's Product Manager.
With a 16 ½" swing over the lathe bed and 40" between centers, this lathe can handle a wide range of project types and sizes. The lathe's sliding headstock also pivots 360º, allowing the operator to choose the most comfortable outboard position for turning large work pieces, such as bowls and platters.
The headstock's locking handle is accessible from the front of the lathe, eliminating the need to walk around the back of the machine. The lathe's new, extended spindle nose houses dual headstock spindle bearings and allows greater access to work pieces. A convenient spindle- lock latch frees up both hands for other operations. The top of the headstock features a rubber tool mat.
The 16" lathe is powered by a 1 ½ HP, TEFC motor that delivers torque throughout its wide speed range. The Variable Frequency Drive makes it possible to run the 3 phase motor with common 115 volt, household current. The easy-to-read digital speed display is conveniently located on the front of the headstock.
ACME threads have been added to the tailstock to improve quill engagement, along with an anti-rotation key to facilitate tailstock adjustments. The banjo employs a non-marring, positive- locking, wedge system to securely hold the tool rest and prevent slippage.
The JWL-1640EVS has several optional accessories, including the JET Tailstock Swing Away, a 20" bed extension with post and a lathe guard. The JET JWL-1640EVS Variable Speed Woodworking Lathe is CSA certified. It is covered by a 5-year warranty, as well as JET RED AssuranceTM, the industry's most dependable service and support guarantee.
Visit jettools.com for more information or to locate a dealer for the JET JWL-1640EVS Woodworking Lathe (719500, $2,499.99), JET JWL-SA Tailstock Swing Away (719001, $289.99), JET JWL-LG Lathe Guard (719002, $89.99), and JET JWL-20EXT 20" Bed
Extension (719401, $269.99).
JET 1640EVS Woodworking Lathe (719500)
Model Number JWL-1640EVS
Swing Over Bed (in.) 16-1/2
Swing Over Tool Rest Base (in.) 12
Distance Between Centers (in.) 40
Centerline of Spindle to Floor (in.) 44
Bed Construction Cast Iron
Bed Gap (in.) 1-3/4
Headstock Movement Slide and Rotate
Spindle Bore (in.) 5/8
Spindle Taper MT2
Spindle Thread (in./TPI) 1-1/4 in./8 TPI
Speed Range 40-3200
Spindle Speeds High 120-3200/Low 40-1200
Indexing Positions 36
Quill Taper MT2
Quill Travel (in.) 4-1/4
Tailstock Bore (in.) 3/8
Motor Amps 4.6
Motor Power (HP) 1-1/2
Motor Phase (PH) 3
Motor Voltage (V) 230
Prewired Voltage (V) 115 Input Only
Net Weight (lbs.) 375
About JPW Industries, Inc.
Headquartered in La Vergne, Tennessee, JPW Industries, Inc.® manufactures and markets a wide range of machinery and equipment under the JET, Wilton, and Powermatic brands. In addition to its La Vergne headquarters, the company has operations in Switzerland, Germany, Russia, France, Taiwan, and China. It sells through a vast network of distributor partners worldwide. Visit JET Tools at www.jettools.com