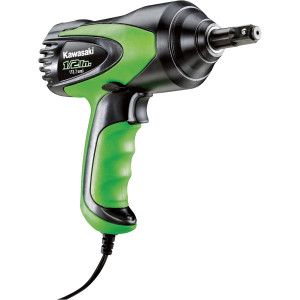 Nobody likes being stranded on the side of the road with a flat tire and most people don't enjoy changing tires. Most cars have tools stowed away for changing tires but wouldn't it be nice to use a power tool to do the heavy work? Kawasaki thought so and makes a 12V DC 1/2″ impact wrench designed with changing tires in mind. How powerful can this 12V impact wrench be? According to the manufacturer specs it generates up to 190 ft lbs of torque to bust out lug nuts.
Being a 12V tool, cordless pops up in mind but instead it uses DC power from your vehicles cigarette lighter port. This means you have power at all times at your disposal assuming your car battery isn't dead. It also includes 2 double ended sockets 11/16-Inch and 3/4-Inch, 13/16-Inch and 7/8-Inch so you don't need to carry around a separate set of sockets.
12V power does have its limitations but according to user reviews on amazon most are satisfied with the performance with an average rating of 3.7 out of 5 stars.
Specifications:
12V DC 80 watt

Power cord length-11 Feet

Max Torque-190-Feet/-Pound

2500-5500 RPM