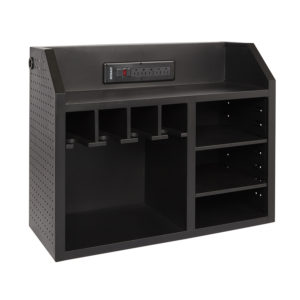 Here's a neat storage option for your tools, the Kobalt 24 x 30 inch Steel Tool Chest.
Basically it's a cordless power tool storage station. It has 3 shelves on the right side, one large shelf on top, main storage open compartment on the bottom left with hanging cordless power drill holders. Just what you need to keep your cordless drills ready to go plus extra storage for batteries and additional accessories.
I've seen plenty of these over on YouTube but made of plywood of course, but here Kobalt offers you the same storage solution but made of steel. Besides the steel construction what also makes the Kobalt model stand out is that it has a built in power strip on top so you can connect a charger for your cordless drills. It also offers steel peg boards on the sides for additional storage options.
Normally you mount these on your wall and they made it easy to hang on the wall with the included french cleat or you can store on your favorite workbench or cart.
Priced at $99 I think the price is not that bad. I wouldn't buy one, not because there's anything wrong with the Kobalt model or the price as I like it what they offer, the thing is is that I've been wanting to build something like this and this just gave me additional inspiration.