Kickstarter has a new campaign regarding a new to market cordless 18V power tool system called KwikPro that utilizes a modular head design. Right now there are a total of 8 power tool heads that consist of a drill/driver, hammer drill, impact driver, impact wrench, jigsaw, reciprocating saw, multitool and angle grinder and also has a 9th tool which is an LED spot and floodlight torch. They also have a Kwikbelt tool belt which can be used to store heads when not in use and they also have a double charger.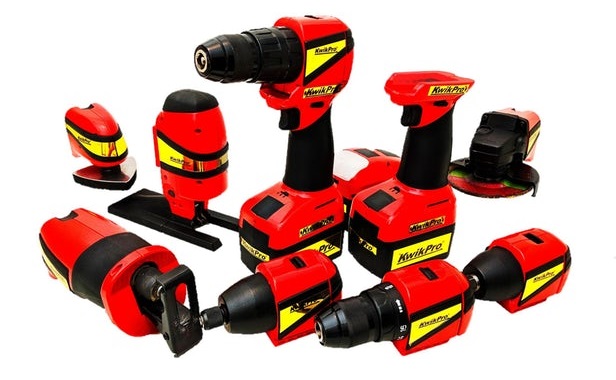 There are plenty of modular cordless tool systems on the market such as Ridgid's Jobmax, Ryobi's Jobplus (compatible with Jobmax) and Black + Decker's Matrix system that have a power base that can accept different power tool heads for various uses. Because the base has the motor, the attachment heads don't need to include an additional motor which not only cut's down on cost per attachment, but it also means each attachment head takes up less space than a complete tool. KwikPro's 18V system works on the same principle with the heart of the system being the motor handle and the power tool heads attach directly to the handle itself.
What's interesting about Kwikpro's motor handle is that they placed a brushless motor inside the handle itself unlike the top mounted motor design of Black + Decker's Matrix handle. This means that attachments like a drill and impact can become even shorter in front to back length because the motor is in a different section of the tool that doesn't impact the tool's length. Also interesting to the KwikPro system is that their drill and hammer drill can be placed in the normal pistol configuration and can also be connected to their backside for a straight inline design.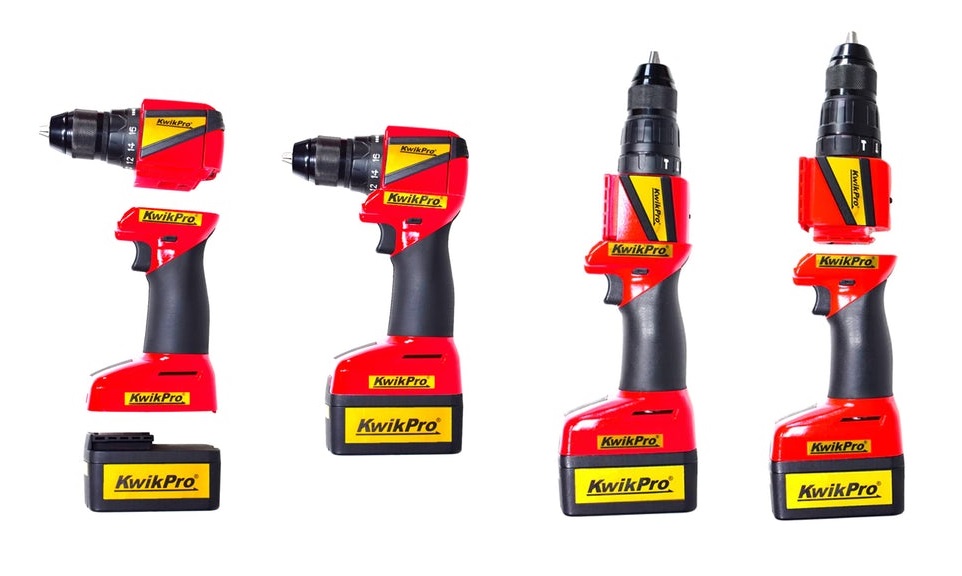 If that weren't enough, the KwikPro motor handles can also control another KwikPro motor handle basically giving you remote control. This unique remote control aspect has the option to control only the other motor handle or both motor handles although I can't think of any uses where you'd need to control two tools at the same exact time with one of them being controlled remotely.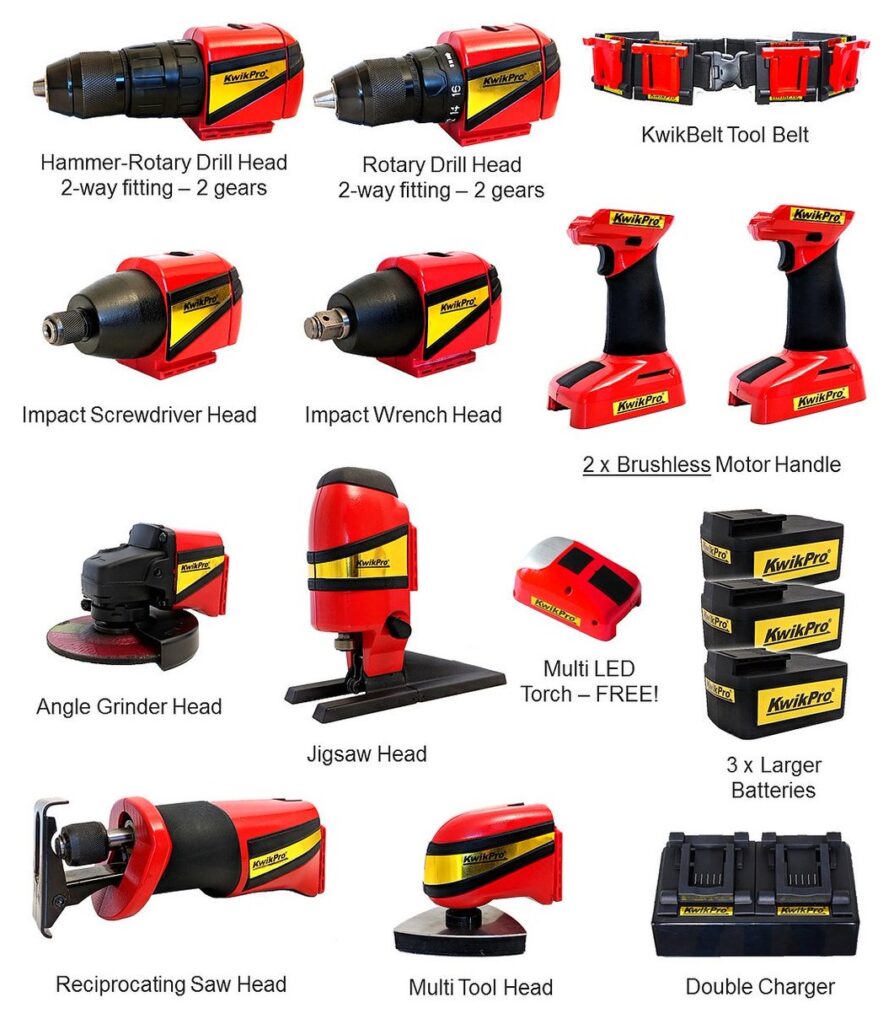 Just like the Jobmax, Jobplus and Matrix systems, with the KwikPro system you can carry a power base motor handle and all your attachment heads together without taking up much space. In fact they can all fit into a single large plastic tool case.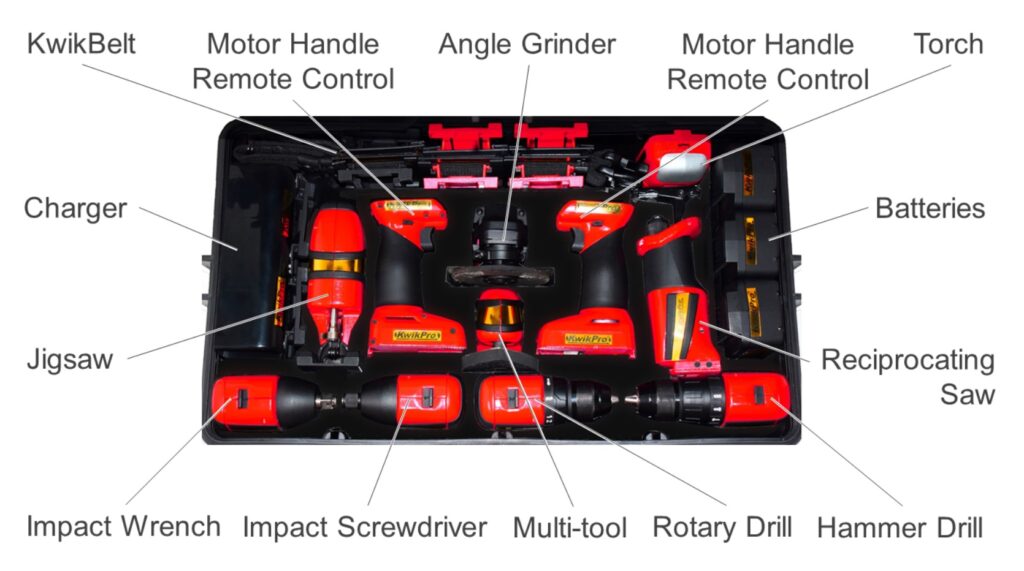 According to their YouTube video comments section, they have solid mid-range torque specs with 70 Nm (620 in-lbs) for their drill/ and hammer drill, 180 Nm for their impact driver (1593 in-lbs) and 280 Nm (2478 in-lbs or 207 ft-lbs) for their impact wrench. Those would compare to very solid torque specs for a compact 18V drill or hammer drill and very close to a low range high torque drill and hammer drill, a mid range impact driver and a compact impact wrench.
Hammer drill – Max. torque: 70Nm
Rotary drill – Max. torque: 70Nm
Impact driver – Max. torque: 180 Nm
Impact Wrench – Max. torque: 280 Nm
Of course all modular power tools have downsides as there is a limit to how many tools they could add to the handle while still being practical. The motor also limits how powerful these tools can ever be, so unless they come out with a more powerful motor handle, you can expect these to be the best they can achieve under the current circumstances. Then there's also the brand recognition aspect to consider. It might be hard to market a new brand when many users would be inclined to buy into a well known brand.
What do you guys think of the KwikPro 18V Modular Head Power Tool System? Like or dislike? Leave a comment below.


Free 2 day shipping – Try Amazon Prime 30-Day Free Trial

DISCLOSURE:
Tool Craze does not sell this product or any product on the Tool Craze website. Tool Craze does not handle the sale of any item in any way. If you purchase something through a post on the Tool Craze site, Tool Craze may get a small share of the sale. Please refer to the About section for more info.