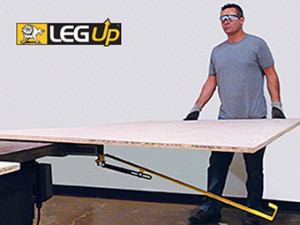 Loading a full size sheet of plywood onto a table saw can get very awkward when doing it by yourself especially if there isn't anyone else around to help load the sheet. The company Gorrilla Gripper offers a simple yet genius new accessory to make life a lot easier when loading sheet goods onto a table saw. Gorrilla Gripper offers their Leg Up table saw accessory to help load sheet goods onto your table saw.
The Leg Up is a swing out arm with hook that attaches onto the left or right side of your table saw or table saw fence rail and as it hangs down is able to hold a sheet of plywood with the hook on the end and gives you leverage as it assists you on loading a board onto the table saw. This enables users to load sheets onto the table saw by themselves with only the assistance of the Leg Up accessory. It's pretty neat the way it works and you should watch the video below to see it in action.
Once the sheet of plywood of is safely loaded onto your table saw the Leg Up lowers on its own because of gravity but has a dampener so it doesn't swing all crazy as it lowers.
The Leg Up is available now and retails for around $40-$50.