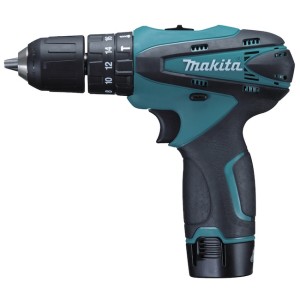 The only 3 12V hammer drill's I've ever known have been produced by Bosch and Milwaukee, with Bosch having a brushed 12V hammer drill and Milwaukee having both a brushed and brushless hammer drill. Now Makita has entered the ring with their own 12V hammer drill the HP330DWE.
It looks to be based of the tried and true FD02 3/8″ 12V drill driver with the added hammer drill mechanism and function along with a separate mode selector collar and naturally is a bit longer. I really enjoy when manufacturers add the separate mode selector collar to flip between drilling, screwdriving, and hammer drilling modes all from an independent collar instead of having to flip through all the torque settings and modes from the torque collar.
This new hammer drill has been spotted in the UK as part of the 10.8V makita line which is identical and the same as our US 12V Makita line except foreign 12V / 10.8V models come in Makita teal blue as opposed to the white models we get here in the US. No word on when or if we will ever get this here in the states.

Specifications:
10mm (3/8") Single-sleeve keyless chuck
With 2-speed gear selection
Single LED job light with pre-glow function
Capacity in Steel 10mm
Capacity in Wood 21 mm
Chuck Capacity 10 mm
Capacity in Masonry 8 mm
Blows per Minute (Hi) – ipm 0 – 19500 ipm
Blows per Minute (Lo) – ipm 0 – 5300 ipm
No Load Speed (Hi )0 – 1300 rpm No
Load Speed (Lo)0 – 350 rpm
14 / 30 Nm
Torque Settings 18 + Drill Mode