Makita now joins the cordless 2 gallon wet dry vac crowd with their very own 18V Brushless 2 Gallon Wet Dry Dust Extractor Vacuum model number XCV11T for the kit with 5.0 ah battery or XCV11Z as a baretool.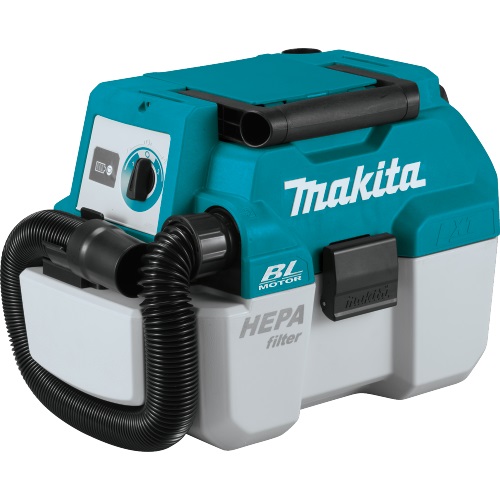 Many other brands like Dewalt, Milwaukee, Ridgid, Ryobi, Porter Cable and now Craftsman have had 2 gallon wet dry vacs however what stands out with Makita's newest 18 volt wet dry vacuum is that it has a brushless motor. Brushless motors have been widely seen on power tools but up until recently have been pretty rare on cordless vacuums which are some of the tools that would benefit the most from a brushless motor for better runtime and increased performance.
Also interesting to note is that Makita's 2 gallon wet dry vac is also considered a dust extractor. No doubt because it comes equipped with a HEPA filter. I wonder if it would have a self cleaning and/or user selectable filter cleaning cycle as it operates like some of the larger corded dust extractor models. At the moment, I don't have all the specs to confirm or deny this but I would imagine it might not, but since it did surprise us with a brushless motor, a self cleaning filter cycle even if it is user selectable could always be a possibility. It would be nice if it did as you'd have to worry less about cleaning filters getting clogged rapidly.
As for features, already mentioned was it's 2 gallon capacity although I've noticed that when I've reviewed other 2 gallon vacs, that they usually don't fully use their 2 gallon tanks so actual usable capacity is most likely less. We can also see by the picture that it has on board exterior storage. The shape and hose storage reminds me of Dewalt's and Porter Cable's designs (both made by the same company) with an angular body and wrap around hose storage. One interesting design feature I see is that the top of the Makita vacuum is flat unlike Dewalt's and PC's designs. This would make it easy to stack for storage and use for sitting on. Other features include an LED fuel gauge to check remaining battery charge and also comes with a shoulder strap.
As far as performance goes, it's rated for up to 57 CFM and 27″ of water lift making it stronger that Milwaukee's brushed motor M18 2 gallon wet dry vac and Makita claims this will have up to 60 minutes of runtime. While I didn't see any mention of selectable speeds, I'm pretty sure this has at least two speeds, a full power speed and a low speed with the low speed being the one with reduced suction to achieve a claimed 60 minutes with a 5.0 ah battery. No way could this get 60 minutes of runtime at full speed on a single 5.0 ah battery. After a close inspection of the above picture, I noticed that it does in fact have 2 selectable speeds. Speed setting one and two are marked on the dial with off being in the center of the dial. Only question left is if it has a blower port. Unfortunately I didn't see it listed in the Stafda PDF brochure which leads me to believe it probably doesn't.
We can expect this new vacuum this winter.
• Efficient HEPA filter captures 99.97% of particulates .3 microns and larger
• L.E.D. battery indicator shows charge level for 18V LXT® Lithium-Ion battery
• Compact and portable design with shoulder strap; weighs only 10.1 lbs. with 18V LXT® 5.0Ah battery


Free 2 day shipping – Try Amazon Prime 30-Day Free Trial



DISCLOSURE:
Tool Craze does not sell this product or any product on the Tool Craze website. Tool Craze does not handle the sale of any item in any way. If you purchase something through a post on the Tool Craze site, Tool Craze may get a small share of the sale. Please refer to the About section for more info.