Oscillating multi tools are just like the name says, it's many tools in one as it can do a bunch of tasks that would take several tools to do. Normally these are corded power tools but lately with advances in battery tech we have seen several cordless multi tools.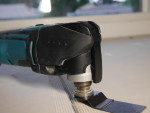 This is Makita's latest oscillating cordless 18 volt multi tool model XMT03Z as a baretool or XMT035 as a two 3.0ah battery kit with charger and hard case. There have been a couple of major updates over the previous model. The previous model had a LED light at the head of the tool shining straight forward and also required a hex key for blade changes. This new model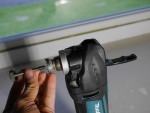 now comes with tool less blade changes as it ditches the old hex key and instead uses a latch and pin system to easily and quickly change blades. Unlike traditional multi tools that use latch and pin systems, the latch closes forward and over the front of the multi tool. Because of this there no longer a LED light, a light could have been inplemented but of what use would it be after all since the latch would block it anyways?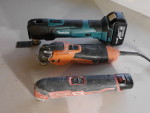 Compared to other multi tools its bigger and heavier, weighing in at 4.9 lbs with a battery. This is noticeably heavier than even corded models. Although it's larger, the gripping area is ergonomic and comfortable to grip. It's slimmer near the middle and flat towards the back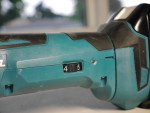 making it easy to grasp. One thing I would have liked on this model is a fuel gauge. Although one is not built in Makita offers the next best thing which is a low battery indicator light that lights up when the batteries need to be recharged. It uses a traditional on/off slide switch along with a dial on the left side to control the variable speeds. The dial is very easy to turn unlike other multi tool dials I've tried out and has a nice premium click as it turns.
The motor powers on with a soft start so it doesn't jerk your arm as it starts up. There are a couple of other safety features built into the XMT03Z multi tool as well. Such as a power on lock out if the power switch is accidentally left in the on position when inserting the battery, the motor will not power. This is a great feature to have as you won't accidentally damage a blade or the work surface. The other safety feature – at first I thought it was a design flaw as it seemed the battery compartment would rattle the battery due to what I thought was a bad connection. This was the complete opposite of a design flaw and in fact was a safety feature. It turned out that it wasn't the battery connection, there is actually a joint at the back of the multi tool near the battery that pivots slightly to absorb vibration from reaching the battery. There are a few things that can damage batteries, and vibration is one of them. It's nice to see that makita took precautions to protect the battery from regular use as multi tools are known to vibrate as it's in their nature. Since we're talking about vibrations, I would say that out of a scale of 0-10 with 10 being the most vibration, I would say that this multi tool is about a 5 to 6.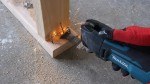 Power deliver is very good for a cordless multi tool. I've tried out several other multi tools ranging from a cordless 12v model all the way up to super fast corded models. This is definitely more powerful than a 12V and between the 12v and corded models. If you check out the video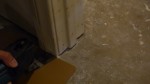 you can see how it performs while making notch cuts into a 2×4 using a plunge cut and the power delivery is smooth. It did a great job at cutting framing nails with a metal cutting blade. It was quite capable at everything I put it through although you must make sure not to force the blade and let the tool do the work.It's quite capable for a cordless unit just don't expect the extreme performance that comes with a corded unit.
I used it on several projects with a 3.0 ah battery and was able to get 17 minutes of nonstop use out of it- at full power while making cuts. Most of the cuts were done into lumber with just a few cuts into metal. Just to keep this into perspective, multi tools are known for having short runtime because of their high draw motors. This model resembles the previous model and that model was stated to have a 15 minute runtime. I was able to get 2 minutes more than that which I believe is pretty good. You can get a lot of work done in 17 minutes as I did and what's great about the Makita 18V batteries is that they charge very fast. You can also get longer runtime if you use the multitool for sanding and or scraping as that doesn't max out the motor. The included 3.0 ah battery with the kit charges in only 30 minutes so you'd be back to work in no time.
I think this is a good model to consider if you're in the market for a cordless multitool as it has good power for a cordless unit to get the job done. I enjoyed the amount of power it has for a cordless unit and also appreciate that Makita took a look at the previous model and updated it with a tool free blade change system. I don't know how I lived this long with a multitool without a tool free blade change system.

Specifications
Oscillations Per Minute 6,000 – 20,000 OPM
Oscillation Angle 3.2°
Overall Length 13-3/8″
Weight 4.9 lbs.
low battery indicator
variable speed dial
star protection from overheating, overloading, and overdischarging
soft start
3-year warranty on tool