Ever been caught away from home without a cell phone wall charger and a dead or about to die cell phone? Luckily for you if you have Makita 18V batteries, there is a Makita 18V Power Source that runs off your 18V Makita power tool batteries so you can charge your cell phone or tablets on the go.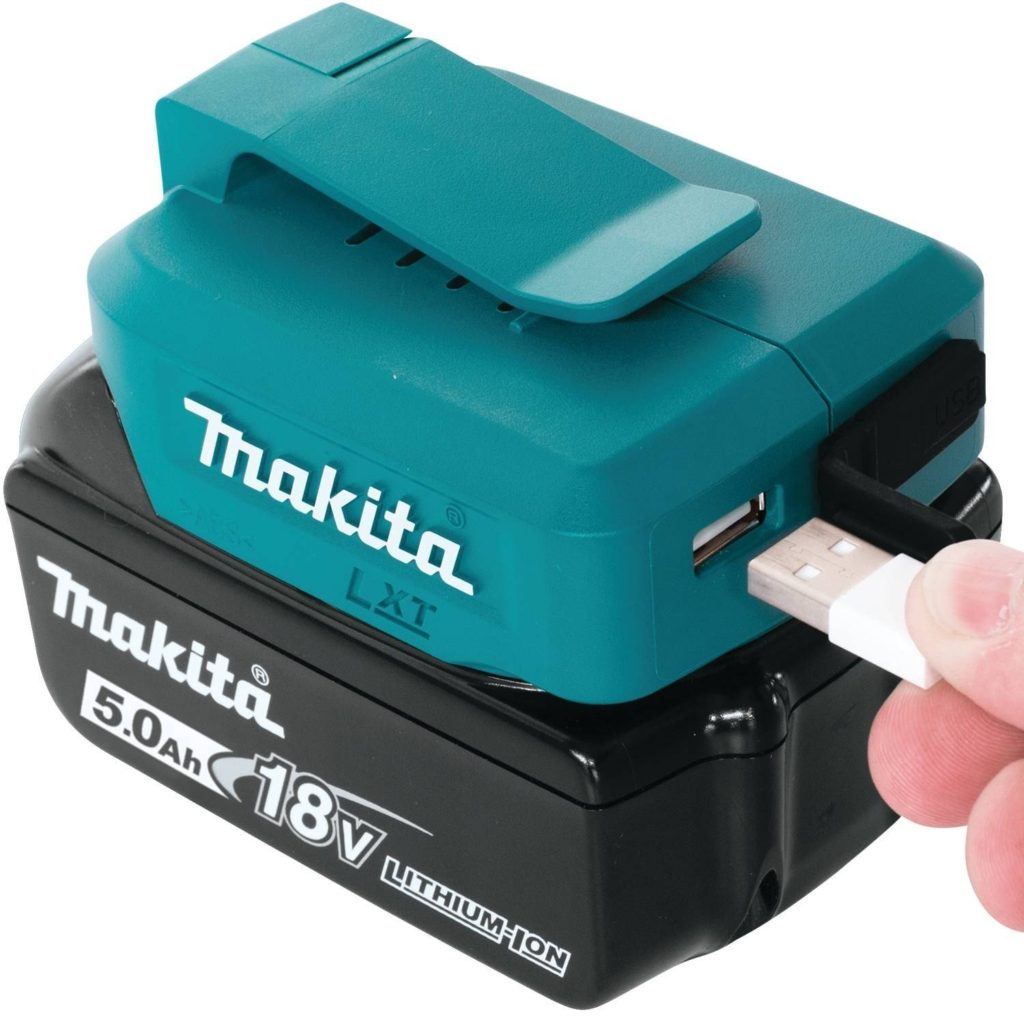 At this point this isn't huge news as just about most power tool companies offer some sort of power source to charge mobile devices using power tool batteries. However if you're a Makita user this might be a pretty big deal as this hasn't been an option until recently.
The Makita 18V Power Source attaches over your existing Makita 18V lithium ion slide pack batteries and provides hours of juice to charge your mobile devices on the go via a couple of onboard USB charging ports. What's sweet about the Makita 18V Power Source is that it offers 2.1 amps of output to charge your devices rather quickly AND it offers the same 2.1 amps for EACH USB port! This is a big deal as you can charge 2 mobile devices on the go just as fast as if you were charging only one device because other battery powered power sources split the total output in half if there are 2 available USB ports and both are being used at the same time. Not all do but some such as the Dewalt 20V power source split the total amp output between both USB ports reducing the charge speed per port if both are used at the same time.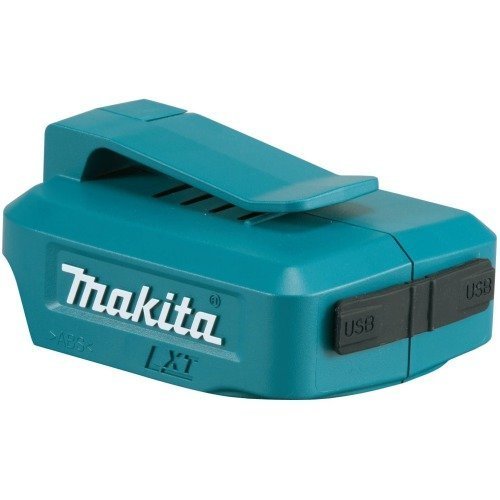 Next on the features list is a handy dandy belt clip so you can conveniently carry tthe power source hands free on your belt while on the go. One thing to keep in mind is that the built in clip is made of plastic instead of metal, so it might not last as long as a metal belt clip but I give them credit for adding one at all when other power sources don't offer one. A couple of features missing is a built in fuel gauge such as the one on Dewalt's 20V power source. One might argue that because Makita now has 18V batteries, a fuel gauge is not necessary on the power source accessory. Well the problem with that is that the new Makita 18V batteries are so new, that not everyone has one, and there is a huge amount of non-fuel gauge Makita 18V batteries still in circulation. To the general Makita 18V user base, this will be a missed feature by many for the time being. It's also not mentioned as being able to use the new Makita CXT 12V Max slide pack batteries for added functionality like the Dewalt power source which is able to run on Dewalt 20V and 12V max batteries.
Overall, this is a great accessory to add to anyone's list if they already use Makita 18V power tools so you can charge your mobile devices on the go. This power source is already out for sale and is priced anywhere between $20-30 making it a relatively inexpensive add-on.

Charges up to 2 USB compatible electronic devices where AC power is not available

2 USB ports provide quick and easy charging

2.1A output from each USB port, 4.2A total output when both USB ports are connected

Built-in belt clip attaches to belt or holster

Designed for job site durability