I spotted a new Makita 18V X2 Backpack vacuum over at the Makita UK website. (EDIT I have also found it on the Amazon USA website click here for the link) Out of all the cordless power tool brands, I can't think of one brand more focused on cordless vacuums than Makita and they have plenty of them from 18V to 12V stick vacuums and recently have come out with full size wet dry models that run on corded and cordless power, but here we have a new'ish vacuum concept in the cordless power tool world with a backpack vacuum. Backpack vacuums are nothing new but this is the first time I've seen it done cordless with power tool batteries with their new Makita 18V X2 36V Backpack Vacuum model.
Full disclosure: This is not a review, this is tool news. Tool Craze cannot guarantee the accuracy of the information/specifications/features of any tool listed in this article. Manufacturer marketing claims may not always meet expectations. Tool Craze is not responsible if products do not live up to claimed expectations. Please do your full research before buying any products. Tool Craze is an Amazon Associate and places paid links including those from other retailers that Tool Craze is an affiliate partner with. If you purchase something through a link on the Tool Craze site, Tool Craze may get a small share of the sale.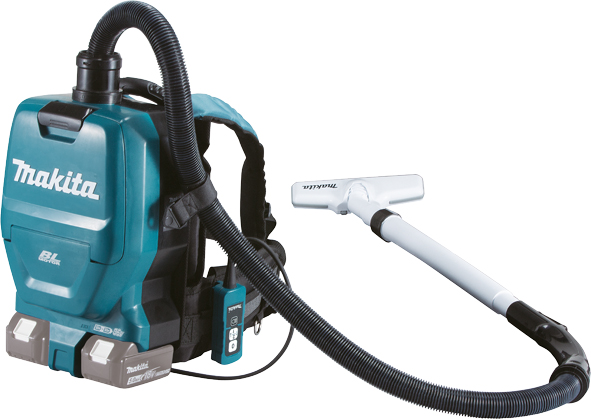 The new Makita 18V X2 36V Backpack Vacuum is part of Makita's 18V LXT line as it uses Makita 18V lithium ion LXT batteries to power it but it's also a 36V vacuum. How you ask? Makita uses two 18V batteries at a time to double their voltage to 36 volts and is part of the X2 line of Makita power tools that also use double 18V batteries to pump out 36V. This is great news because it gives users 36 volt power without having to purchase tool specific 36V batteries and chargers and is a perfect fit for those already invested in the Makita 18V LXT line.
Notable features and specs are a brushless motor to help out with runtime, and is powered on/off and speed settings are controlled via a connected wired controller. I like this idea as you can hold the controller with one hand to power on/off and switch speeds while your other hand operates the hose. This way you wont have to reach behind or remove the backpack to change settings. You get a high and a low speed setting and the vacuum comes with a HEPA filter for fine dust particles. One thing I don't find mentioned is the ability for wet vacuuming so it seems this is a dry mess only vacuum so don't expect this to pick up spills and wet messes. As for runtime, we can expect up to 90 minutes on low and 60 minutes on high when paired with two Makita 18V 5.0ah batteries so the runtime is extremely good in my opinion giving users an hour of runtime on high speed.

Makita 18V X2 36V Backpack Vacuum USA model XCV05Z / UK model DVC260
Features
Powered by two 18V Li-ion batteries in series to supply energy to the powerful 36V DC motor drive system.
Brushless motor
High/Low power selection via controller
LED job light
Lightweight 28mm diameter hose
Comfortable backpack harness
HEPA filter with high filtration capacity for clean exhaust air.
Telescopic straight pipe with adjustment range of 500-850mm
Flexible rubber nozzle ideal for cleaning uneven surfaces.
Specifications
Continuous Run Time (2 x 5.0Ah) Lo: 90mins / Hi: 60mins
Battery Type Lithium-ion
Voltage 36V (18V x2)
Max Airflow 1.5 m³/min
Dust Bag Capacity 2.0 litres
Max Sealed Suction 7.1 kPa
Noise sound pressure 70 dB(A)
Noise K factor 2.5 dB(A)
Powerful motor generates 53 CFM of suction power and 28.5″ of water Lif
Suction Power Low / High 25 / 45 W
Vibration K factor 1.5 m/sec²
Vibration no load 2.5 m/sec²
Net weight 4.3 kg
weighs only 9.4 lbs. With batteries
Includes
Floor nozzle
Flexible rubber nozzle
Telescopic pipe assembly
Hose
Bent pipe
Hose band
Filter bag