Makita has announced a new cordless concrete saw with the launch of the 18V X2 36V LXT Brushless 9" Power Cutter XEC01PT1 XEC01Z.
Full disclosure:  Tool Craze cannot guarantee the accuracy of the information/specifications/features of any tool listed in this article. Please do your full research before buying any products.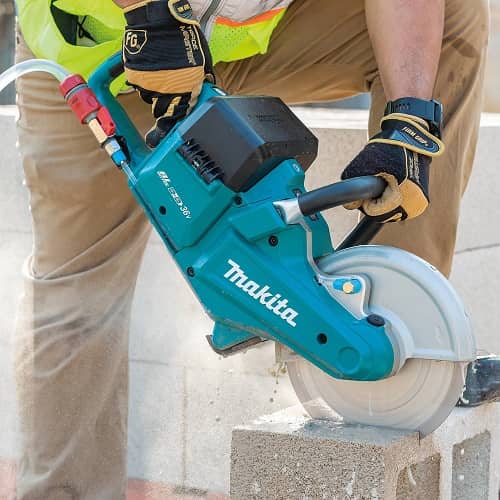 The Makita X2 power cutter uses a 9 inch blade and comes included with a diamond blade for cutting concrete and a cut off wheel for cutting metals making this not just good as a concrete saw but also for metal cutting as well. It has a very good cut capacity at 3-1/2″ inches in depth and also includes a hose adapter for wet cutting which is very useful when cutting things like concrete and helps keep the diamond blade cool and dust under control. The water delivery has OSHA Table 1 compliance.
The XEC01 has a maximum cutting depth of 3-1/2", which allows for single-pass cuts in many common materials, including standard residential 4" concrete slabs (actual 3-1/2"), common 3-1/2" paver/blocks, 3" SCH40 pipe (3-1/2" OD), and 3" conduit (3-1/2" OD). It is an ideal cordless solution for masons, roofers, plumbers, remodelers, construction workers, landscape and hardscape workers, metal fabricators, commercial framers, pipe fitters, vehicle mechanics, firefighters, and more.
The Makita X2 power cutter is an X2 cordless power tool meaning it uses two 18 volt batteries together to produce 36 volts making it both a 36 volt tool and also part of the Makita 18 volt family of cordless tools since it uses their 18V batteries. It has a covered dual battery port on top which is no doubt in place to keep water away from the batteries when wet cutting.
It's also a brushless power tool which no doubt is needed to run a 9 inch blade and for greater efficiency. Also since it's a battery powered tool and not a gasoline powered, you have easy push button starting and don't have the hassle of gas fumes or pull string starting or routine gas engine maintenance.
Other features include AFT (active feedback technology) which automatically turns off the motor if the blade binds and stops to protect the motor and electronics, has a soft start and electric brake, and LED light to illuminate the cutting area which helps in low light situations. It also features a large spindle lock for easier wheel changes, dual battery fuel gauge, lock off power switch and integrated overload indicator.
According to Makita, they say this cordless power cutter will be released in September 2020.
Eliminates the hassles of gas with lower weight, reduced maintenance, and zero emissions allowing use in indoor environments
The BL™ Brushless Motor powered by two 18V LXT® Lithium-Ion batteries eliminate the hassle of engine pull starts allowing immediate starts-up
The BL™ Brushless Motor eliminates carbon brushes, enabling the BL™ Motor to run cooler and more efficiently for longer life; delivers 6,600 RPM
Integrated water delivery system with water flow adjustment knob continuously feeds water for OSHA Table 1 Compliance in concrete cutting applications
Active Feedback-sensing Technology (AFT®) turns the motor off if rotation of the wheel is suddenly forced to stop
Electric brake stops the wheel in 4 seconds or less allowing for faster re-positioning
Built-in L.E.D. light with an independent on/off switch illuminates the cutting area for increased visibility
Makes single pass cuts up to a 3-1/2″ depth in various masonry and metal materials
Integrated overload indicator alerts of excessive battery power draw during heavy loads
Overload protection is designed to protect the motor from burnout in abnormally high torque situations
Soft start suppresses start-up reaction for smoother start-ups and longer gear life
Protective battery compartment helps prevent dust and slurry contamination
Extreme Protection Technology (XPT™) is engineered for improved dust and water resistance for operation in harsh conditions
Rubberized front handle can be held in multiple positions for increased comfort at various cutting orientations
Belt-drive design provides smoother operation with lower vibration
Lock-off power switch requires two actions to start power
Large spindle lock button for easier wheel changes while wearing gloves
Lower noise at 114 dB(A) and smoother operation for continuous use over longer periods
Weighs only 13.9 lbs. with batteries for reduced operator fatigue
Integrated battery charge light indicator allows user to monitor battery charge level for each of the two batteries




Free 2 day shipping – Try Amazon Prime 30-Day Free Trial

DISCLOSURE:
Tool Craze does not sell this product or any product on the Tool Craze website. Tool Craze does not handle the sale of any item in any way. If you purchase something through a link on the Tool Craze site, Tool Craze may get a small share of the sale. Please refer to the About section for more info. Tool Craze cannot guarantee the accuracy of the information/specifications/features of any tool listed in this article. Please do your full research before buying any products.