In this review we will take a look at Makita's 18V X2 (36V) LXT Brushless Cordless String Trimmer XRU09PT. This will be a series of Makita X2 OPE reviews starting with this string trimmer and following with the X2 Brushless Blower XBU02Z, and X2 Brushless 14″ Chainsaw XCU03PT.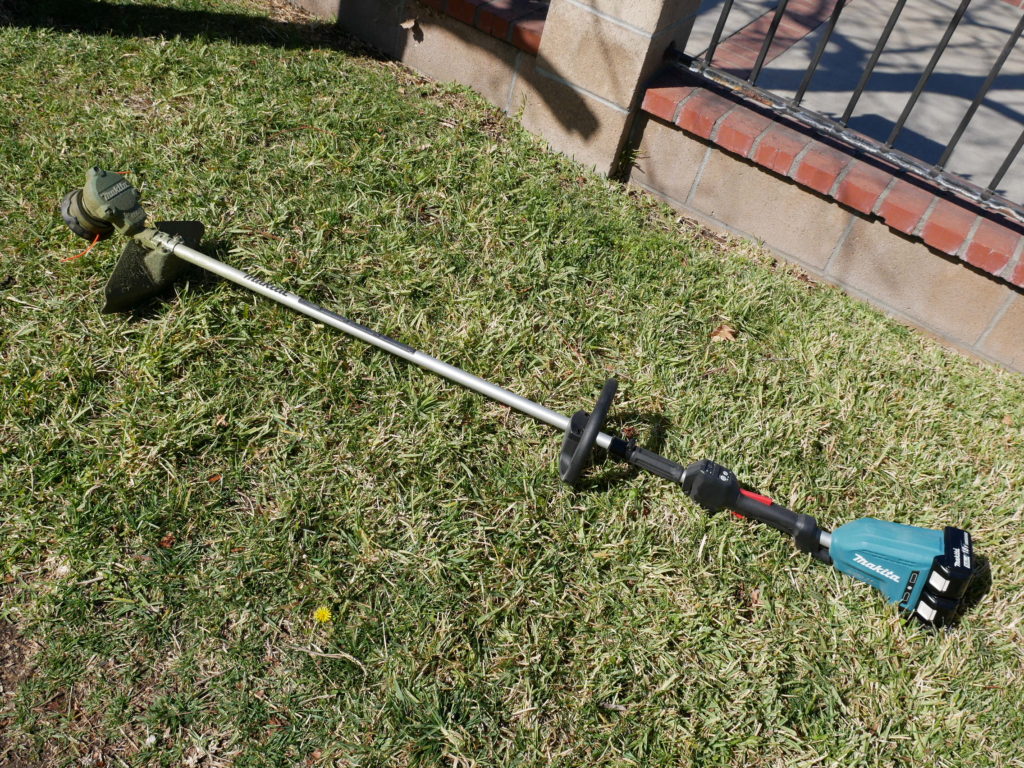 Makita is no stranger to outdoor power equipment with extensive coverage in gasoline, electric and battery powered lawn tools. Battery powered OPE has been very popular in recent years and this trend will continue to grow as users move away from gas powered units to battery powered units. Earlier battery powered OPE from several years ago were low on power and runtime but with many improvements in battery capacity and brushless motors many battery powered tools can now compete head to head with gasoline tools. Makita also pioneered the use of using two battery packs together to double voltage with their X2 line which gives 18V users the opportunity to tap into 36 volt performance. Yes all Makita X2 power tools are actually 36 volt machines but while giving you the flexibility of using their popular 18V batteries. This means users can get more performance without having to switch to a different battery platform. As with all Makita X2 power tools, even though they are actually 36 volt tools, they are still part of the 18 volt family since they use 18V batteries but two at a time to achieve the extra performance.
Battery Powered OPE Pros and Cons
What's great about battery powered OPE (from any brand) is that unlike gasoline engine equipment you don't need to buy and refill gasoline, you don't have to mix oil, no tune ups, no fumes, no priming and no pulling strings. Battery powered tools are ready to go at all times with a freshly charged battery and have push button starting and are generally quieter than their gasoline engine counterparts. The downsides of battery powered tools are that they are generally more expensive than gas powered tools however their prices have come down a lot over the years and are more affordable than ever. Replacement batteries can be expensive but they have long lifespan. When a battery runs out of juice it means the work is over even if the job is not done until the battery charges fully again unless you have extra batteries on hand.
Ethic's Disclosure:
Makita was kind enough to provide the X2 Brushless String Trimmer XRU09, X2 Brushless Blower XBU02Z, and X2 Brushless 14″ Chainsaw XCU03PT at no cost for review. However as with all my reviews, I am not paid, sponsored, or obligated to give a positive review. This review is my opinion of the product based on my usage and knowledge and my review will reflect what I like and dislike about the said product. I will do my best to provide you with an unbiased review.
Features and Specs:
Before we get into the hands on review, lets first take a look at the Makita XRU09PT 18V X2 (36V) LXT Brushless Cordless String Trimmer's features and specifications list.
Delivers up to 60 minutes of run time under load on the low speed setting using two 18V LXT® 5.0Ah BL1850 batteries
2-speed options (Low: 5,000 RPM, High: 6,500 RPM) allows the operator to match speed to application
Bump and Feed trimmer head rotates the same counterclockwise direction as professional grade trimmers
Makita-built Outer Rotor BL™ Brushless Motor direct-drive system provides high power and increased torque
Accepts industry standard spindles M10x1.25 LH for more convenience
Zero emissions and reduced maintenance; no need for gas or oil
Reverse (clockwise) rotation system allows operator to quickly clear trimmer head of entangled grass and weeds
Constant Speed Control minimizes reduction in rotation speed under load
Direct-drive motor mounted directly on the trimmer head for increased efficiency and improved tool balance
Efficient BL™ Brushless motor is electronically controlled to optimize battery energy use for up to 50% longer run time per charge
The BL™ Brushless Motor eliminates carbon brushes, enabling the BL™ Motor to run cooler and more efficiently for longer life
13-3/4″ cutting swath for user convenience
Weighs only 9.9 lbs. with batteries for reduced operator fatigue
BL™ Brushless motor delivers up to 6,500 RPM for faster cutting
Extreme Protection Technology (XPT™) is engineered for improved dust and water resistance for operation in harsh job site conditions
Electric brake for maximum productivity
3-stage L.E.D. gauge indicates battery charge level
18V LXT® Lithium-Ion 5.0Ah battery BL1850B features an integrated L.E.D. battery charge level indicator
18V LXT® Lithium-Ion 5.0Ah battery BL1850B provides up to 65% more run time per charge compared to 3.0Ah battery BL1830
Rapid Optimum Charger has a built-in fan to cool the battery for faster, more efficient charging
18V LXT® Lithium-Ion 5.0Ah battery BL1850B reaches a full charge in 45 minutes or less
Dual Port Charger charges two (2) 18V LXT® Lithium-Ion 5.0Ah batteries in only 45 minutes
Dual Port Charger features a built-in USB port for charging portable electronic devices
Equipped with Star Protection Computer Controls™ to protect against overloading, over-discharging and over-heating
Compatible with Makita 18V Lithium-Ion batteries with a Star symbol
3-year limited warranty on tool, battery and charger
Only use genuine Makita batteries and chargers
*Under Load: 13-3/4" cutting swath with .080″ nylon line, approximate run time will vary according to grass conditions

Being a 36 volt tool this Makita X2 string trimmer gets a performance bump from their regular 18V string trimmers. The added power gives this string trimmer the ability to have a 13-3/4 inch cutting swath and the power to run double 0.080″ lines. The line is easy to replace and I did have to replace the included line very quickly because they didn't include much line so I ran out very quickly. I replaced it with Echo 0.095″ cross fire line which is what I have in stock and it worked just fine even though this string trimmer is rated for use with thinner 0.080″ line. I'll go into more detail in the performance section of the review further below regarding the use of the thicker line. The head is a bump feed head and was very responsive and never had an issue with bump feeding new line, something I couldn't say with the Milwaukee M18 Fuel string trimmer I recently reviewed. Attached to the head is a rear facing guard to protect the user from debris flying back at you. The guard is not the largest I've seen but larger than the one found on Dewalt's 20V and Milwakee's 18V string trimmers, which gives you added protection than those models do.
The shaft of the Makita X2 string trimmer is light and one piece which means that you won't have to assemble the shaft when you unbox it. You still have to install the guard as is the case with most string trimmers but what was strange on this model is that you must also assemble the part of the trimmer that holds the line and bump feed system onto the head itself. It sounds complicated but isn't and the instructions make this part very simple to install.
The top portion of the head has the BL initials which stands for brushless motor. At first I thought the motor was head mounted as the head itself is large enough you would believe there is a motor inside but I believe the motor itself is at the other end of the tool near the batteries. I believe this is true because there are vents near the battery holder section where you can clearly hear the motor revving when running and you can feel the the shaft transferring power to the head itself.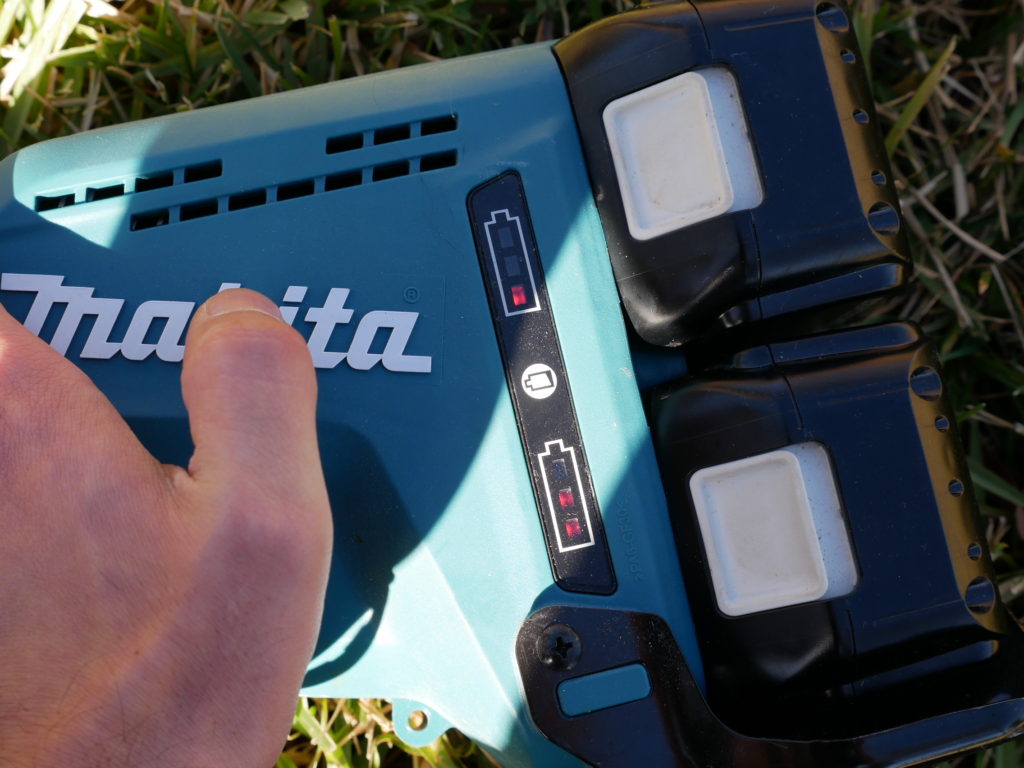 For the longest time Makita was stubborn to update their batteries with built in fuel gauges and even though all their new batteries now include fuel gauges built in, this tool has a built in double fuel gauge to check remaining battery charge for each battery which is good for those still running old packs without fuel gauges. And like all string trimmers, this one also comes equipped with a second handle to be able to hold with both hands. The second handle also requires installation before use. The second handle material is plastic with a texture on it to give you a better grip although not as comfy as a foam or rubber coated handle like it's competition.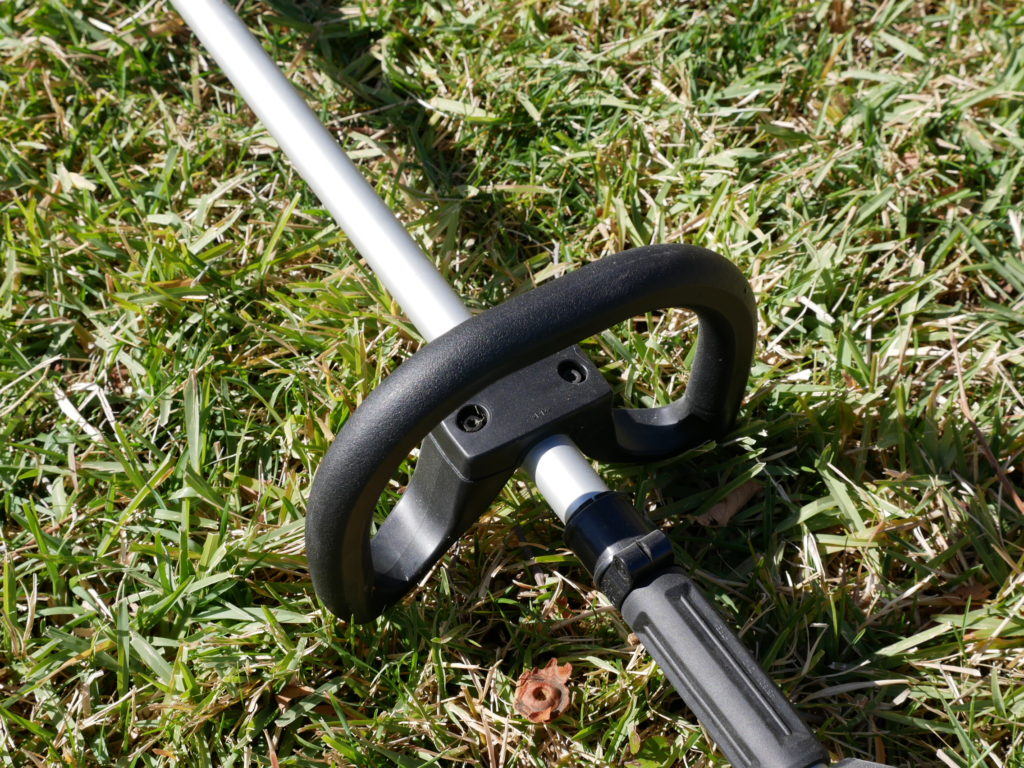 Makita's competitors Dewalt and Milwaukee both have dual speeds on their string trimmers and Makita also does the same with this string trimmer but they go above and beyond with their onboard controls. This machine has a display panel with a button to power on/off the unit and select from the two speeds with visual confirmation of what speed setting you are on. With a rabbit icon for high speed and turtle icon for speed low speed. It also has a reverse mode with it's own separate button and LED light.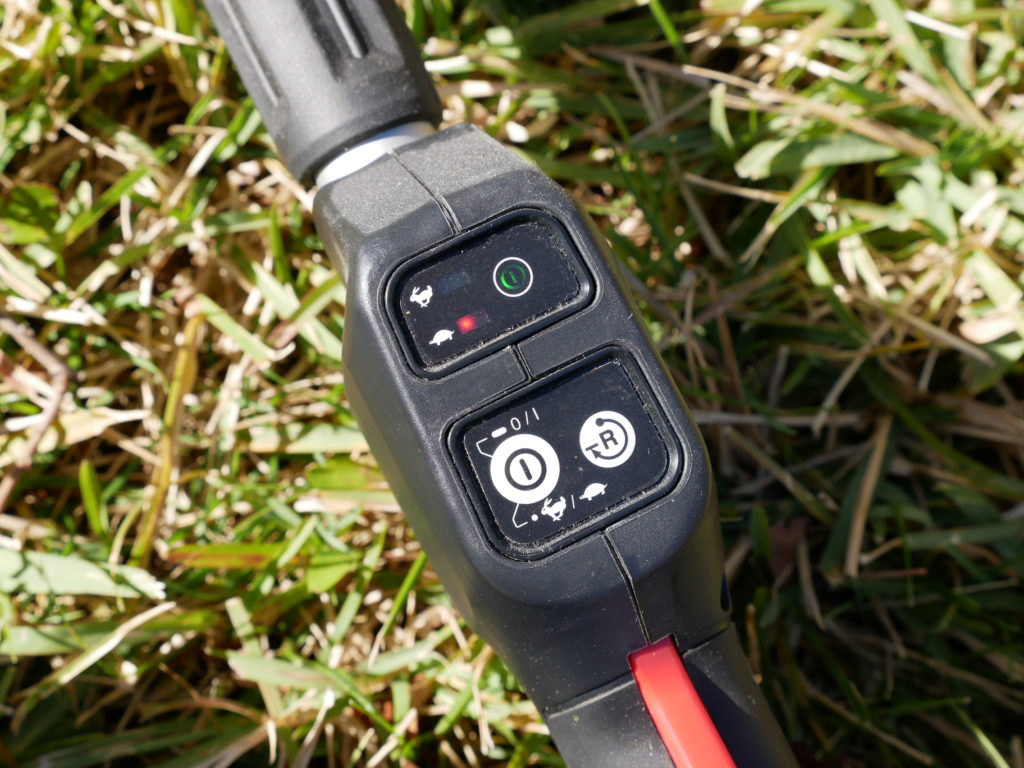 I'm accustomed to string trimmers that run clockwise and when I tried this unit out of the box and found out it's running the string counter-clockwise I was happy to learn that I could reverse the direction of the line but boy was I disappointed after trying out the reverse feature at first. I was disappointed because after selecting the reverse mode the trimmer only ran in reverse for about 2-3 seconds and cuts out automatically, even if you hold the trigger longer than that it still cut's out. I thought this was strange and basically a useless feature, that is until I learned that the reverse mode is not to cut grass in a clockwise direction but instead this reverse feature is to loosen and remove anything that could get wound up in the cutting head like vines and such. After testing this out on a vine that got caught in the head I was immediately mind blown as it works just as advertised! Why haven't other brands included this feature before?
While all the gizmos, features and tech would excite a gadget geek like myself, I was disappointed in the fact that the trigger is not a variable speed trigger like all the other string trimmers I've tried in the past. This means that a trigger press means it runs at full speed all the time, for it's given speed setting of course. Sure it's nice that it has two speeds to choose between full performance or battery savings but I still like to run my string trimmers at less than peak performance because you don't need full blast all the time. I adjust the speed of my string trimmers to suit the cutting needs but I just can't do that with this Makita model as it's either on or off, full blast or inactive.
I also don't understand why Makita decided to add a power on/off function into this machine. I get that it was done for safety reasons and I'm all for that but at the same time this string trimmer already has a safety button you must press before the trigger engages – just like all other cordless string trimmers I've tried. Basically you have two safety features and it's more of an annoyance than anything as you wont understand why the string trimmer isn't running when you press the trigger until you realize you have to turn it on before you use it. Luckily when you power the unit on, it stays on for several minutes so you can just pick it up and use it without having to press a power button each time you use it besides the safety button and the trigger. You can then turn it off when you're done or it will power off on it's own after several minutes of inactivity.
Since this tool uses two 18V batteries together to operate, and yes they must both be installed to run, it would become a hassle to have to charge two batteries separately. It would but if you buy this string trimmer as a kit it comes with a dual charger that charges both batteries at a time so you wont have to hassle with charging them separately. The dual charger is just as fast as all other Makita chargers and it charges both 5.0 ah batteries in 45 minutes which is pretty fast.
Before I move on to it's performance I wanted to talk about pricing as pricing is equally as important as specs and features. If you guys read my recent Milwaukee M18 Fuel outdoor equipment reviews you know those were more expensive than their competition – even more than higher voltage higher performing tools. Makita follows this trend but beats Milwaukee with an even more expensive string trimmer. This Makita X2 string trimmer is priced at $249 as a baretool and if you want it as a kit it will run you nearly four bills at $394.78. Makita treats the pricing of this string trimmer as if it was another power tool and that would be fine but when you factor in the fact and reality that better spec'd and higher voltage string trimmers from other brands can be had for less than this string trimmers price as a baretool, it just doesn't make sense from a budget standpoint. For example, you can get an Ego 56V string trimmer kit with 2.5 ah battery and charger for $199. The Ego being a higher voltage tool, you get a larger 15 inch cutting swath and it's designed to run dual 0.095 inch line so on paper it has slightly better specs than Makita's X2 string trimmer but for half the price. You might think to yourself: "well the Ego is cheaper because it comes with one smaller 2.5 ah battery while the Makita comes with two larger 5.0 ah batteries. That's why the Makita is more expensive because it comes bundled with more batteries." That might make sense but 56V batteries use more cells than 18V batteries and can actually be larger in capacity than 18V batteries. To figure this out we have to look at watt hours which is the universal way to compare batteries of any given voltage and amp hour rating. The watt hour formula is simple, you simply multiply the voltage by the amp hours to get watt hours (V x Ah = wh). So an Ego 56 volt 2.5 ah battery is 140 wh while a single Makita 18v 5.0 ah battery is 90 wh. This means that one Makita 18V 5.0 is in fact smaller than a 56V 2.5 ah battery by 50 less watt hours. But since Makita's X2 string trimmer comes with two batteries, it makes the total combined watt hours 180 wh. Having more watt hours than it's competition would justify a price increase yes but having only 40 wh more doesn't justify double the price in my opinion.
Performance
I've tried out Makita's original X2 circular saw before and boy was it impressive because of the added power you get from 36V tools. Just like the original X2 circular saw had better performance than 18 volt saws at the time, this Makita X2 string trimmer also has better performance than typical 18V string trimmers. In fact it's performance is on par with the higher voltage 56V string trimmer from Ego that I reviewed before. That's saying a lot considering this Makita X2 has less volts being a 36 volt tool so I was easily impressed by it's top end performance. Running full speed on the Makita X2 was seemingly similar in power as the Ego 56V model when I installed the larger 0.095″ line on the Makita – more on that below.
Out of the box the Makita is fitted with 0.080 line, nothing fancy at all and it worked pretty good and strong but as soon as I replaced it with the larger Echo 0.095″ line it had a slight performance bump which made it on par with the Ego. I know the Makita is said to use thinner 0.080″ line but so far to this day it has no issues using the slightly thicker line, if anything it seems to cut better. Even the runtime remains good at a total combined runtime of 46 minutes and 37 seconds. Makita claims you can get up to 60 minutes of runtime and I got nearly that with mostly slow speed cutting and a few minutes of high speed cutting. I'll break down the total in a bullet list below.
Going back to it's performance, at full speed it can shred thick and tall grass in a speedy manner and even thick weeds too. This is exactly what I would expect from a high performance Makita tool.
Slow speed performance is capable and is strong enough for 70 percent of your yard maintenance needs. Sure it's not as strong as full speed (DUH) as it's intended for battery savings but it can take care of most of your needs. I included a video that demonstrates cutting at fast and slow speeds and even the slow speed is effective at cutting tall grass as long as it's not thick sections of grass. If you do get into thick sections of grass the slow speed will easily slow down and if pushed further will bog down to a halt. That's because the slow speed does not hold torque very well. Compared to the Milwaukee M18 Fuel string trimmer at slow speeds, you can easily tell the difference between the two models at slow speed. While Makita's model sounds like it's spinning much faster than the Milwaukee at slow speed, it doesn't hold up torque like the Milwaukee. This means that on the slow speed on the Makita you have to go slowly as to not bog down the motor while on the other hand you don't have to go that slow on the Milwaukee because it's motor has plenty of torque at it's slower speed to keep up with you. Compared to the Milwaukee M18 Fuel string trimmer at high speed, the two are about the same.
Even though I already mentioned it in the features section, I felt it necessary to repeat myself for those of you that skipped the features section and jumped straight here to the performance section. What I'm talking about is the fact that this string trimmer does not have a variable speed trigger. You either have full power or the unit is off. There is no in between speeds. Sure the 2 speed selector gives you two speed options but even then you still have full speed cutting in turtle mode or full speed cutting in rabbit mode. My point is that you don't always need full speed in either speed setting and a variable speed trigger would allow you to get even more runtime out of your use by using only the speed necessary to cut. You simply don't need full speed to maintain your grass on a weekly, or every other week basis. A variable speed trigger is something I use and take advantage of on all the other string trimmers I've tried out and was upset this model doesn't have this feature.
Since the motor is placed near the battery holder, this string trimmer is not heavy in the front. This makes it easy to hold and wield during edging and in my experience it tires your arms less while edging than with front motor string trimmer designs. This is a feature I really appreciate as my arms don't get tired as quick while edging.
Runtime
39 minutes 33 seconds – Slow speed Turtle mode
7 minutes 4 seconds – high speed rabbit mode
46 minutes 37 seconds combined total
As you can see in the breakdown above most of the runtime figure was done in the slow speed mode. Slow speed was what I needed most of the time and for the times I needed more power I switched to high speed mode for an additional 7 minutes. I'm sure I could have reached very close to 60 minutes had I ran slow speed all the time but I feel my testing shows more of a real life example. You can of course expect longer runtime if you dont go full blast and get lower runtimes if you use full blast more than I did. I also want to mention that I only count time while the tool is running and not the breaks in between use so as to give you the most accurate runtime figures possible.
Conclusion
Pros
Very strong performance in high speed rabbit mode
High speed performance on par with Ego's 56V string trimmer
2 speeds for full power or battery savings
reverse mode for unwinding vines that get stuck in the cutting head
great runtime at a tested 46 minutes 37 seconds runtime
slow speed capable for 70% of most needs
rear mounted motor makes edging less tiring
on board double battery fuel gauge for checking battery charge
easy push button start, no more having to pull strings to start
no fumes or routine maintenance associated with gas motors
Cons
Premium/High price tag is roughly double the price of the competition
power on/off function is unnecessary and annoying considering it already comes equipped with a safety button
low torque in slow speed means it's prone to bogging down in slow speed in medium thick grass
no variable speed trigger means full speed all the time and wasted energy


Free 2 day shipping – Try Amazon Prime 30-Day Free Trial

DISCLOSURE:
Tool Craze does not sell this product or any product on the Tool Craze website. Tool Craze does not handle the sale of any item in any way. If you purchase something through a post on the Tool Craze site, Tool Craze may get a small share of the sale. Please refer to the About section for more info.