Over at instagram a user by the name of tpro_by posted images of a new Makita DLM533 battery powered lawn mower from a Makita event. Makita is no stranger to battery powered lawn mowers but what's very interesting about the new cordless mower is that it accepts four 18V batteries!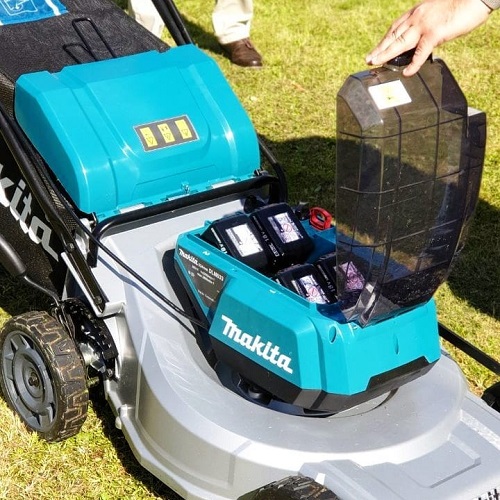 When you open the battery compartment, you'll notice the picture shows 4 batteries installed. We've seen plenty of Makita X2 power tools including their mowers that use two 18V batteries to pump out 36 volts however this is the first time I've seen a cordless power tool use 4 batteries. The question remains – are they using all four batteries in series to achieve 72 volts? If so this means that Makita is headed in a new direction and opens the possibility of additional X4 high voltage cordless power tools. Unfortunately we don't have any info to confirm if this is really a 72 volt mower. There are other possibilities that might explain why it has 4 batteries. It could be that the mower is using two sets of batteries to maintain 36 volts but increase amp hour (runtime capacity) or another possibility is that only two batteries are in use while the other two are storage slots for keeping the two extra batteries on hand to swap out manually when the two in use run out of juice. The advantage of the first is longer runtime per charge, the advantage of the latter is that you can hotswap batteries in the field without the need to go back to the garage and get another set of batteries.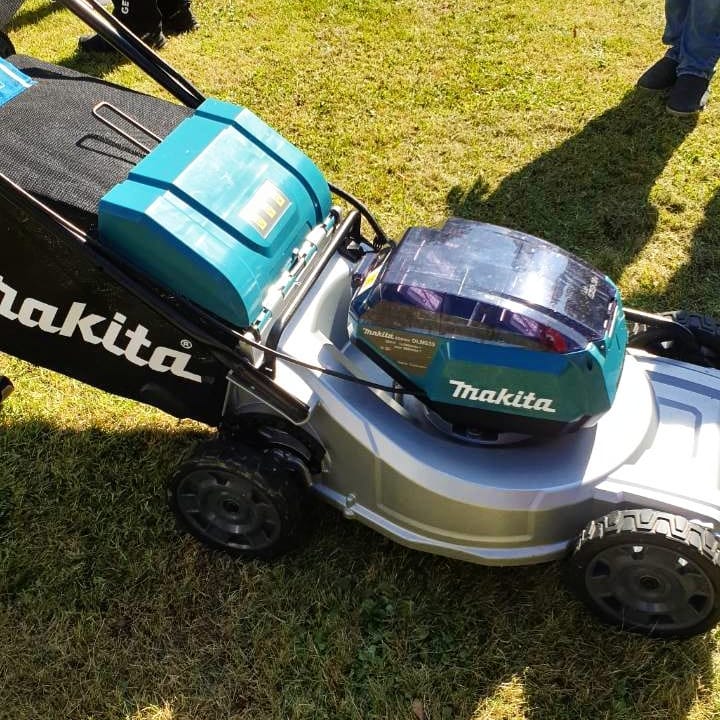 Other than that we don't know too much as no specs are listed. However we can see a few things from the pictures alone. The new DLM533 mower is self propelled and has what appears to be a metal deck. A closer look at the battery compartment shows what appears to be a red key – oh boy here we go again with these annoying lawn mower keys. I also see a knob that can select between 1 and 2 and each set of batteries is labeled 1 and 2 so it's most likely a 36 volt mower. My guess is that once set one of batteries runs out of juice, you can select the other set, set two by turning the knob.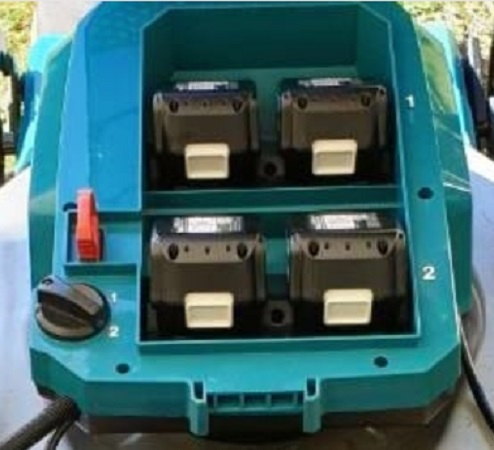 After a closer look, I'm 99% certain this is a 36 volt mower. What do you guys think? Should Makita have made it a 72 volt mower by using all 4 batteries in series or do you like the idea of a 36V mower and manually selecting between sets of batteries?
All the credit for the source and images go to instagram user tpro_by and a big thanks to Cody Robertson for spotting his post!


Free 2 day shipping – Try Amazon Prime 30-Day Free Trial

DISCLOSURE:
Tool Craze does not sell this product or any product on the Tool Craze website. Tool Craze does not handle the sale of any item in any way. If you purchase something through a post on the Tool Craze site, Tool Craze may get a small share of the sale. Please refer to the About section for more info.