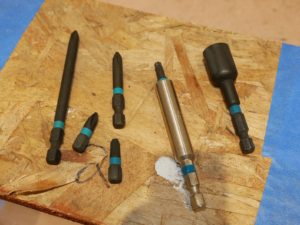 Several years ago Makita released their gold line of impact rated fastening bits and accessories and now they've come out with another line of impact rated bits which they call ImpactX.
Just like the gold bits, these are impact rated ready for use with today's high torque power tools such as impact drivers and have the same excellent fitment (trust me I tested them) like the gold bits however unlike the gold bits, they do not have a torsion "flex" zone however they use high quality S2 modified steel that flexes slightly under load to take pressure off the bit tip for extended life with high torque tools.
Makita positions the gold line as their "premium" line while this new ImpactX line sits between the gold line and inexpensive bulk bits. I did a quick comparison and found the new ImpactX bit sets to be lower priced than similar Makita gold bit sets however the price difference wasn't huge. If anything only a few bucks less.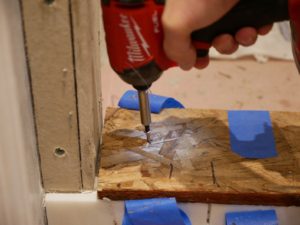 Makita sent me over several ImpactX bits and accessories to try out and while I could not test every single facet of their quality, I used them over the weekend driving and removing screws on a bathroom project I'm working on. All I can say is that these bits are so far so good. The fitment is excellent on phillips #2 bits just as was the case with their gold bits and I was even able to do the same crazy fitment test successfully as I did with the gold bits where I drove a screw at a 45 degree angle and the bit gripped the screw so well that it held the entire weight of the impact driver in place without falling out and crashing on the floor.
I didn't test for longevity but being impact rated bits, these should last you a good while compared to standard non-impact rated bits. I have a feeling the Makita gold bits might last longer due to their torque torsion zones that allow for flex under high torque but I don't feel at all worried about the longevity of the Makita ImpactX bits.
The machining and overall quality of the bits is good. I like how the ImpactX bit holders have great bit retention strength while still be able to release bits with a firm pull, without the need of pliers. Overall I think the Makita ImpactX are about as good as their gold impact bits from a usability standpoint and the Dewalt Flextorq bits – both of which I consider my go to favorites.


Free 2 day shipping – Try Amazon Prime 30-Day Free Trial

DISCLOSURE:
Tool Craze does not sell this product or any product on the Tool Craze website. Tool Craze does not handle the sale of any item in any way. If you purchase something through a post on the Tool Craze site, Tool Craze may get a small share of the sale. Please refer to the About section for more info.