Makita has launched a new backpack power supply similar to Ego's professional series with the Makita PDC01 LXT 18V & X2 36V Portable Backpack Power Supply.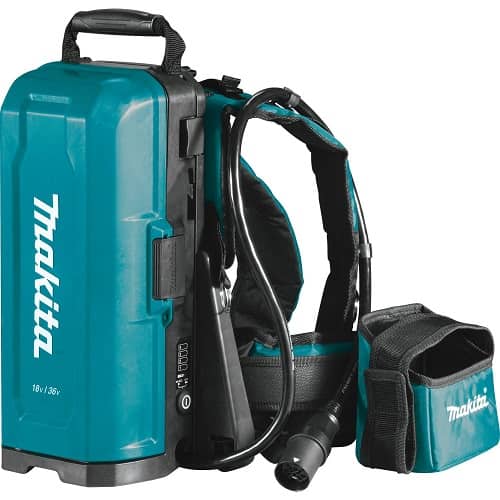 The Makita PDC01 LXT 18V & X2 36V Portable Backpack Power Supply is basically a backpack style battery bay that holds four 18V battery packs to give up to 4 times the runtime on Makita 18V power tools and up to 2 times the runtime on X2 36 volt tools.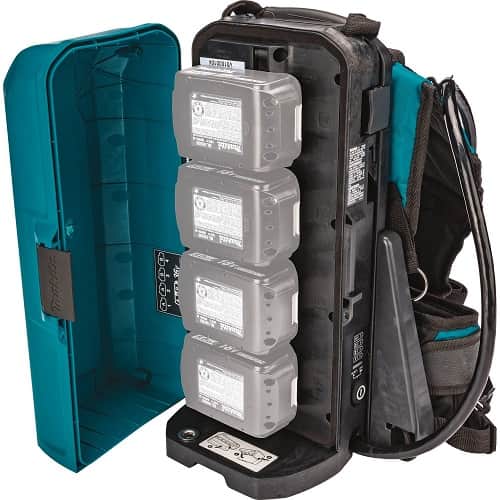 In order to use the backpack power supply, you must use 4 batteries at a time as it won't accept less. Makes sense considering 3 or 1 batteries just wouldn't work for X2 power tools and using only 2 for X2 tools would defeat the purpose of the backpack. Though it would be nice if you could use 2-4 for regular old 18V. In order to use with your Makita LXT X2 36V tools, an adapter is included and you will need to buy the optional 18V adapter for use with 18V tools ( 191J50-7 sold separately). The adapter has either one or two dummy battery packs and a cord that connects to the backpack power supply.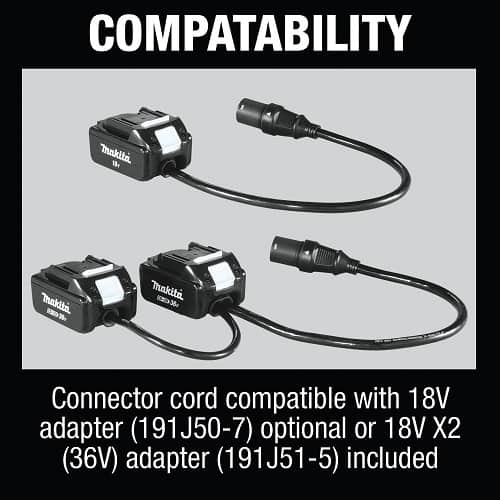 To check the battery charge of the battery set, there are 4 fuel gauges to show you the remaining charge of each battery.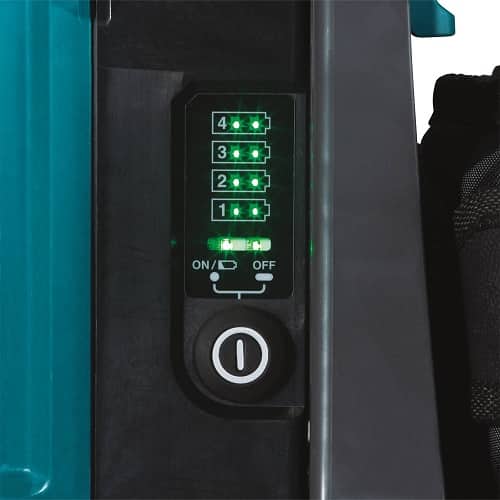 The backpack power supply also includes a little pouch to store the dummy battery pack(s) when not in use.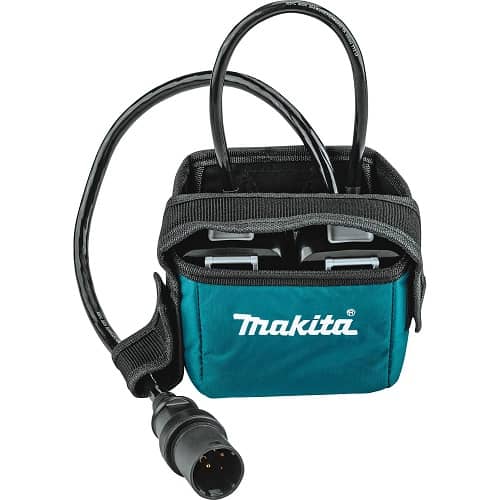 It's available March 2020 (just a few days away on the 20th) and available for pre-order. It will retail for $539.50 at time of writing for the backpack power source which is pretty pricey considering no battery packs are included.
 Backpack utilizes four Lithium-Ion batteries to provide longer run time for LXT® and LXT® X2 (36V) tools
 Integrated carry handle for operator convenience
 Pouch holds the adapter when not in use
 Extreme protection technology (XPT™) is engineered for improved dust and water resistance for operation in harsh job site conditions
 Equipped with Star Protection Computer Controls™ to protect against overloading, over-discharging and over-heating
 Compatible with Makita 18V Lithium-Ion batteries with a Star symbol
 3-year limited warranty
 Only use genuine Makita batteries and chargers
 Provides up to 4X the run time when used with Makita LXT® 18V products
 Provides up to 2X the run time when used with Makita LXT® 18V X2 (36V) products
 Includes 18V X2 (36V) adapter
 Connector cord compatible with 18V adapter or 18V X2 (36V) adapter (18V adapter sold separately)
 Adjustable ergonomic harness for operator comfort
 Battery box can be detached from the harness for use as a stationary power supply
 Integrated L.E.D. battery charge level indicator allows monitoring of battery charge on all four batteries individually
 Durable housing with base allows product to stand upright




Free 2 day shipping – Try Amazon Prime 30-Day Free Trial

DISCLOSURE:
Tool Craze does not sell this product or any product on the Tool Craze website. Tool Craze does not handle the sale of any item in any way. If you purchase something through a post on the Tool Craze site, Tool Craze may get a small share of the sale. Please refer to the About section for more info.