Makita is committed full force with their latest 12V power tool platform named CXT and is flooding the market with several new CXT 12V power tools. They will be soon be adding 5 new Makita 12V CXT tools that will include a new 12V oscillating multitool TM30DZ, a new Bluetooth Cordless Jobsite Speaker DMR200, a 12V tile cutter (tile saw) CC301DSYE, a new 12V Jigsaw JV101DZ, and a brushless 12V screwdriver DF032DSYE.
Most of these "new" tools are existing 12V tools that have been reincarnated to accept the new slide pack CXT 12V battery packs such as the Jigsaw, the tile cutter, and the cordless screwdriver. So in essence those are not new Makita 12V power tools at all, just new to the Makita CXT platform. Although the new cordless 12V screwdriver does sport a brushless motor, it is still a model previously offered in the past Makita 12V generation as a brushed motor model. However the other two tools on the list are completely new tools the the Makita 12V family. The jobsite bluetooth speaker is an all new model and can accept both the new 12V CXT slide pack batteries and also Makita's existing 18V LXT batteries making this a dual voltage jobsite speaker. One tool I'm super excited about is the new Makita 12V oscillating multitool which has been absent from previous Makita 12V generations.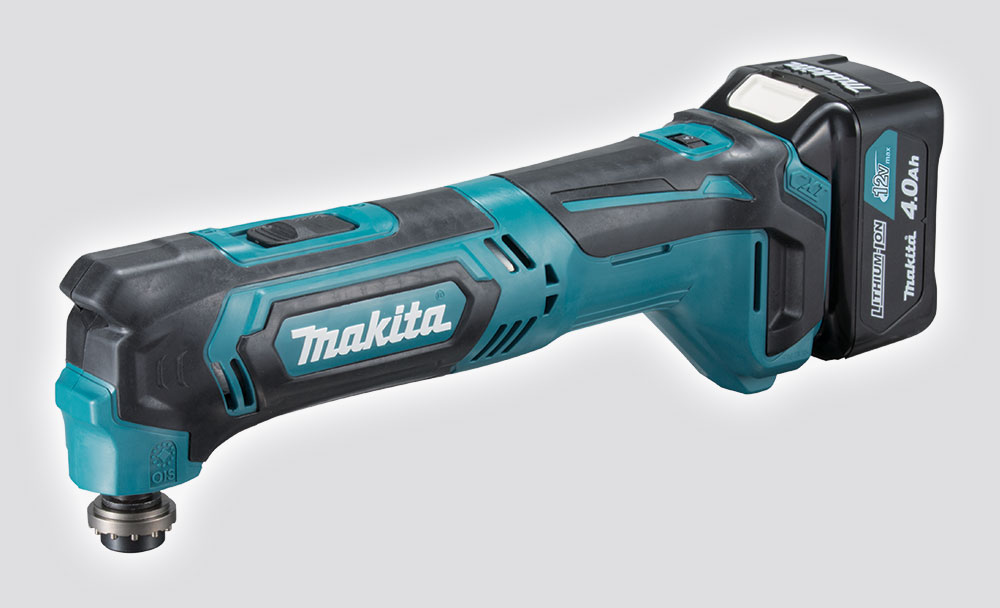 TM30D

12V max CXT Cordless Multi Tool

Looking very similar to Makita's own 18V LXT models is an all new to Makita 12V cordless multitool. When I first seen it, I actually thought it was their existing 18V model until I seen the 12V slide pack battery. It has the common slide on/off switch and variable speed dial up to 20,000 oscillations per minute. One thing I do want to mention is that this is not tool-less to change blades and accessories. You still have to use the cave man hex key and bolt to change blades. Blade changing on this model is definitely behind the times but on the bright side, Makita 12V users now have an oscillating multitool to call their own.
Voltage 12V max (10.8V)
6,000-20,000 OPM
3.2° oscillation angle
length 277mm (10.9 inch)
weight 1.1kg (2.4 lbs)
Soft start and variable speed via dial
Dust extractable
Accepts OIS – Makita, Bosch & Fein accessories
includes Hex Wrench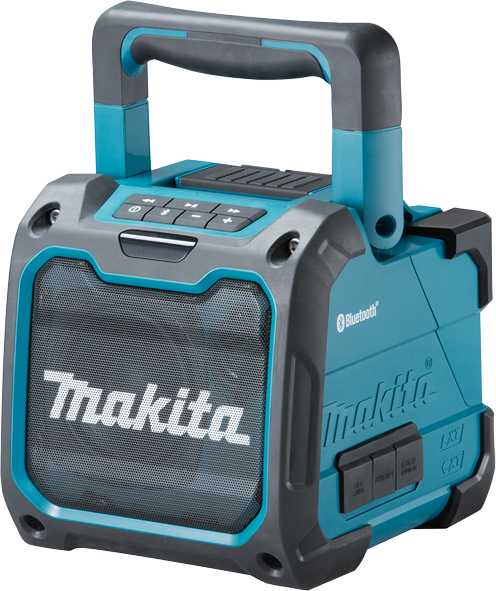 18V LXT/12V CXT Jobsite Speaker DMR200
I was hoping we'd see a cordless 12V jobsite bluetooth speaker on Makita's previous generation 12V lithium pod style line and it's good to see it made it to the new CXT line. This speaker can be paired to any bluetooth enabled device wirelessly via bluetooth and can also be plugged in via auxiliary cable for plugging in devices that don't have bluetooth. I like that when paired via bluetooth, this speaker can change tracks unlike the Milwaukee M12 speaker. This jobsite speaker is a cordless jobsite speaker and can be ran off both Makita 12V CXT batteries and Makita 18V LXT batteries and is also a corded speaker that can be plugged into an outlet via the included ac adaptor. Just like Dewalt's and Milwaukee's bluetooth jobsite speakers, this Makita model can also charge your mobile devices such as smartphones and tablets while on the go with a built in USB charging port. Keep in mind that this is a jobsite speaker only, in other words, this is not a radio. You can only play music while this is connected to other sources. Just like Makita's 18V jobsite radios, this 12V/18V speaker has a battery compartment that keeps your batteries enclosed and protected from the elements.
Voltage 18V LXT / 12V (10.8V) CXT
AC/DC operation, Cordless via battery or Corded via AC adaptor
Equipped with Bluetooth class 2 to wirelessly connect your mobile device for playing music with a range up to 10m.
AUX-IN jack
AC adaptor jack
USB port allows for charging mobile device.
Storage compartment for mobile device: Charging of mobile device still possible when stored.
Flat anti-slip top surface
2-way speaker system
IP64 rated dust and shower-proof construction
LED indicators for condition of tool and Bluetooth connection.
Run time with BL1850: AUX-IN = 65hrs / Bluetooth + USB = 11hrs
Dimensions: 211 x 199 x 203 mm (8.3 x 7.8 x 7.99 inches)
weight 2.8kg (6.1 lbs)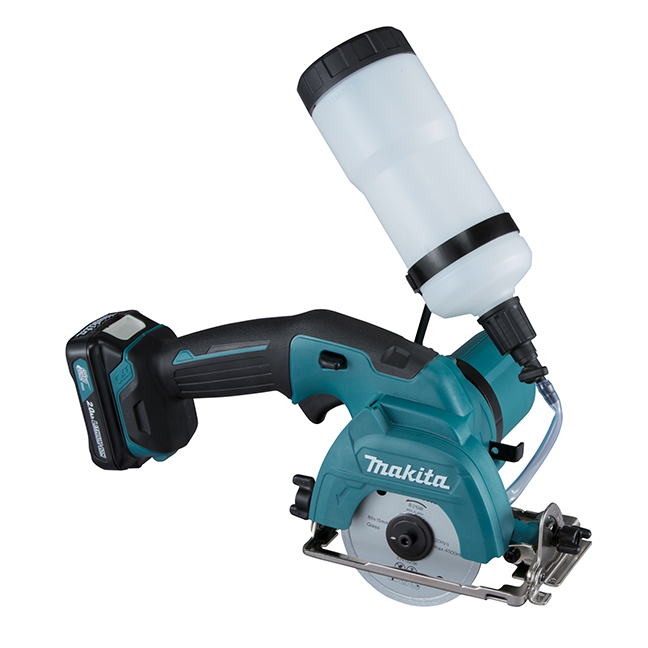 12V CXT 3-3/8″ Cordless Glass & Tile Circular Saw CC02R1 / CC02Z
This tile cutter has been seen on many previous Makita 12V generations and is mostly the same as previous models with the exception of being outfitted to operate on the new Makita 12V CXT slide pack batteries. It offers the same 3-3/8″ blade and is designed specifically for cutting tile. It can be used as a dry tile cutting saw or as a wet tile cutting saw and includes a reservoir tank for holding and dispensing water to water cool the tile cutting blade as it cuts. To the best of my knowledge, 12V tile cutting saws are exclusive to Makita as I have yet to see another cordless tile cutting saw on a 12V platform.
Blade Diameter 3-3/8" (85 mm)
arbor 9/16" (15 mm)
Maximum Cutting Depth: @ 0° – 1" (25.5 mm), @ 45° – 5/8" (16.5 mm)
no load speed 1,600 RPM
length 12-3/8" (313 mm)
weight 4.0 lbs (1.8 kg)
Left and right hand lock-off lever for maximum operator safety
Water supply tank (500ml) features large cap for quick and easy refilling
Nickel-plated base plate prevents staining and corrosion
Battery protection system shuts tool off when overloaded or when battery capacity is low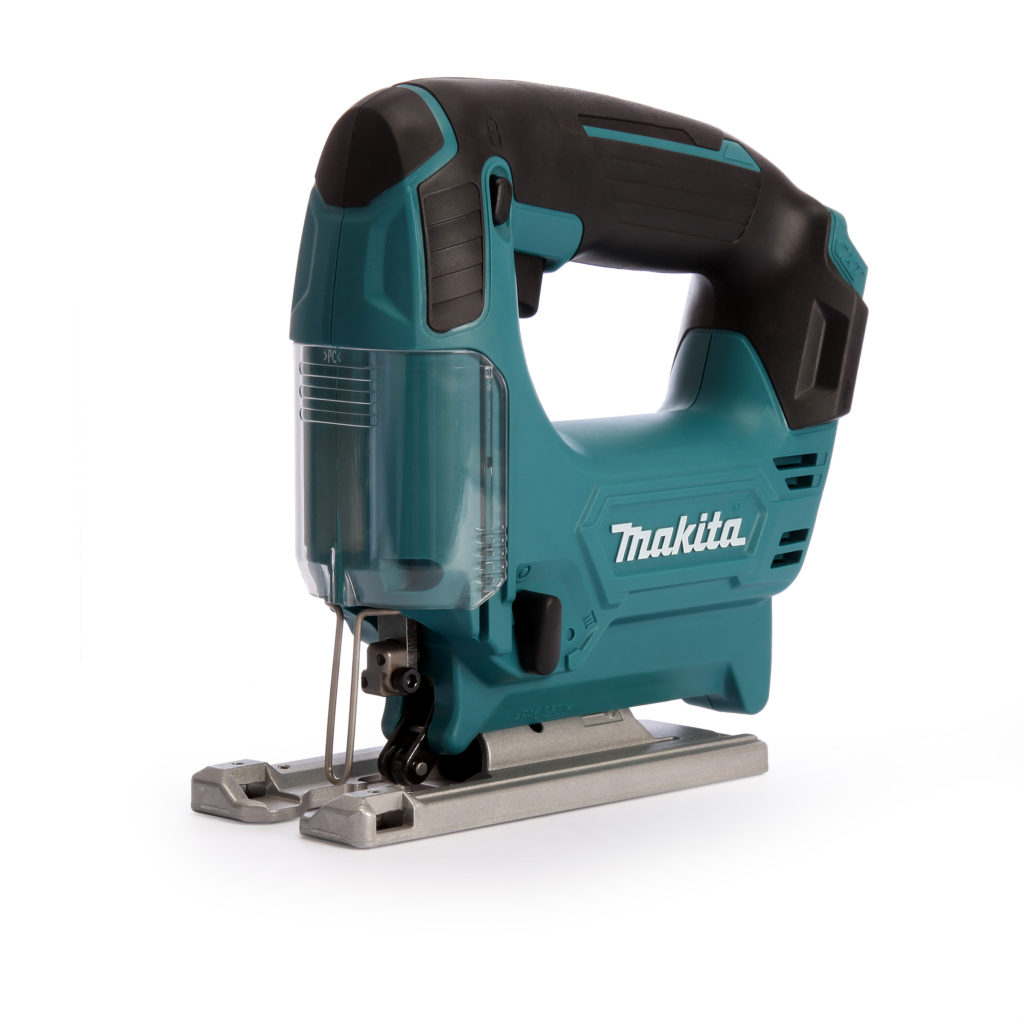 Makita 12V CXT VJ04R1 / VJ04Z Jigsaw
Here is another example of a Makita 12V power tool that has made its appearance through many 12V generations. Before Milwaukee and Bosch made 12V jigsaws, Makita already had the lead on both of them for many years. Notable features on this model are built in orbital settings which the Milwaukee M12 lacks, and a variable speed trigger. It also features a front blower to clear the cutting line as the jigsaw cuts. It comes with a non marring removable plate on the bottom of the metal shoe. If you're worried about dust management, you can purchase an optional dust extraction accessory to pair with this jigsaw to vacuum your mess as it cuts.
Slide type Li-ion battery
variable speed 0-2900 SPM
Stroke Length: 18 mm (0.7 inch)
Capacity in Aluminium: 4 mm
Capacity in Mild Steel: 2 mm
Capacity in Wood: 65 mm
3 orbital settings plus straight cutting
Electric brake
Variable speed trigger control.
Ergonomically designed handle
Blower function – blows sawdust off the line cut
Rigid aluminium base bevels 0 to 45 degrees left and right.
Connectable to dust extractor with correct attachment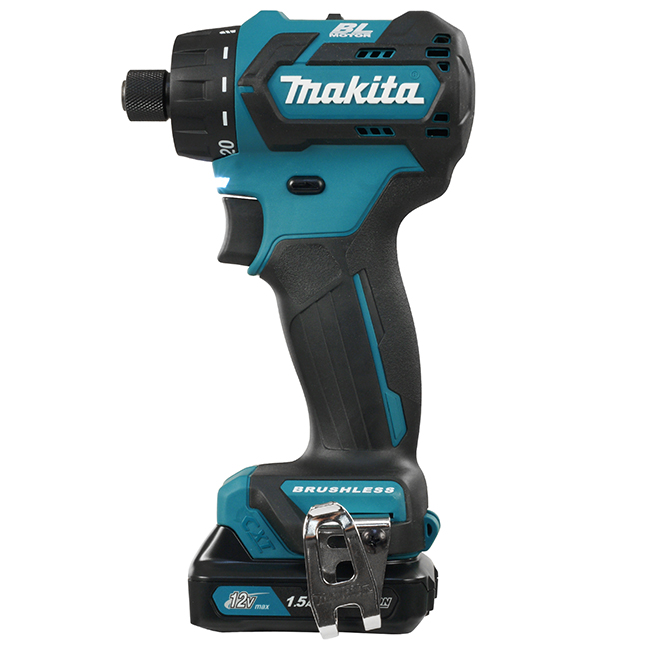 1/4″ Hex Cordless Drill / Driver with Brushless Motor DF032DSYE
With the news of the new brushless Makita CXT 3/8″ drill and hammer, it was only a natural progression that we would have a brushless screwdrvier model built from those other two. This brushless screwdriver features all the same stats and features of the brushless Makita 12V CXT drill and hammer drill such as the same 280 in-lbs max torque and the same 2 speed transmission with a 1,500 max RPM no load speed. I wouldn't be surprised if it were based on the same brushless motor that the other two feature as this is quite common for similar power tools to use the same motor and transmission. Of course this screwdriver is much more compact than the other two drills by the removal of a traditional drill chuck and replaced with a 1/4″ hex chuck, making for a much more compact power tool. Don't let the screwdriver title fool you, as this is every bit as powerful as Makita's brushless 12V 3/8″ drill and hammer drill but with a convenient 1/4″ hex chuck for fast bit changes. The added compactness and convenience comes at the cost of not being able to use this with regular round shank drill bits, but no need to worry since there are plenty of drill bits with 1/4″ hex shanks. You'll still be able to do just about everything a drill driver can do including drilling as long as they are hex shanked bits.
brushless motor
hex shank 1/4″ (6.35 mm)
2 speed 0 – 450 RPM / 0 – 1,500 RPM
Max torque 280 in. lbs (32 Nm)
length 4-7/8" (124 mm)
weight 1.9 lbs (0.88 kg)
20 clutch settings + drill mode
LED job light with pre-glow and after-glow feature illuminates work area
So it's good to see several new tools to the brand new CXT 12v line. Although most are not entirely new, it was a natural progression that we would see many previous 12V tools be carried over to the new 12V CXT line. I am happy to see that 2 tools on my Makita 12V CXT wish list make their way to the new CXT platform such as the 12V tile saw and an all new 12V bluetooth speaker. I'm still hoping we will one day see the Makita 12v chain saw make it's appearance again as a CXT 12V power tool.