Makita has a new cordless chainsaw with the XCU06Z 18V LXT Brushless Cordless 10″ Top Handle Chain Saw. This new chainsaw is an addition to their 18 volt line up and unlike many of their newer x2 chainsaws, it only requires one battery.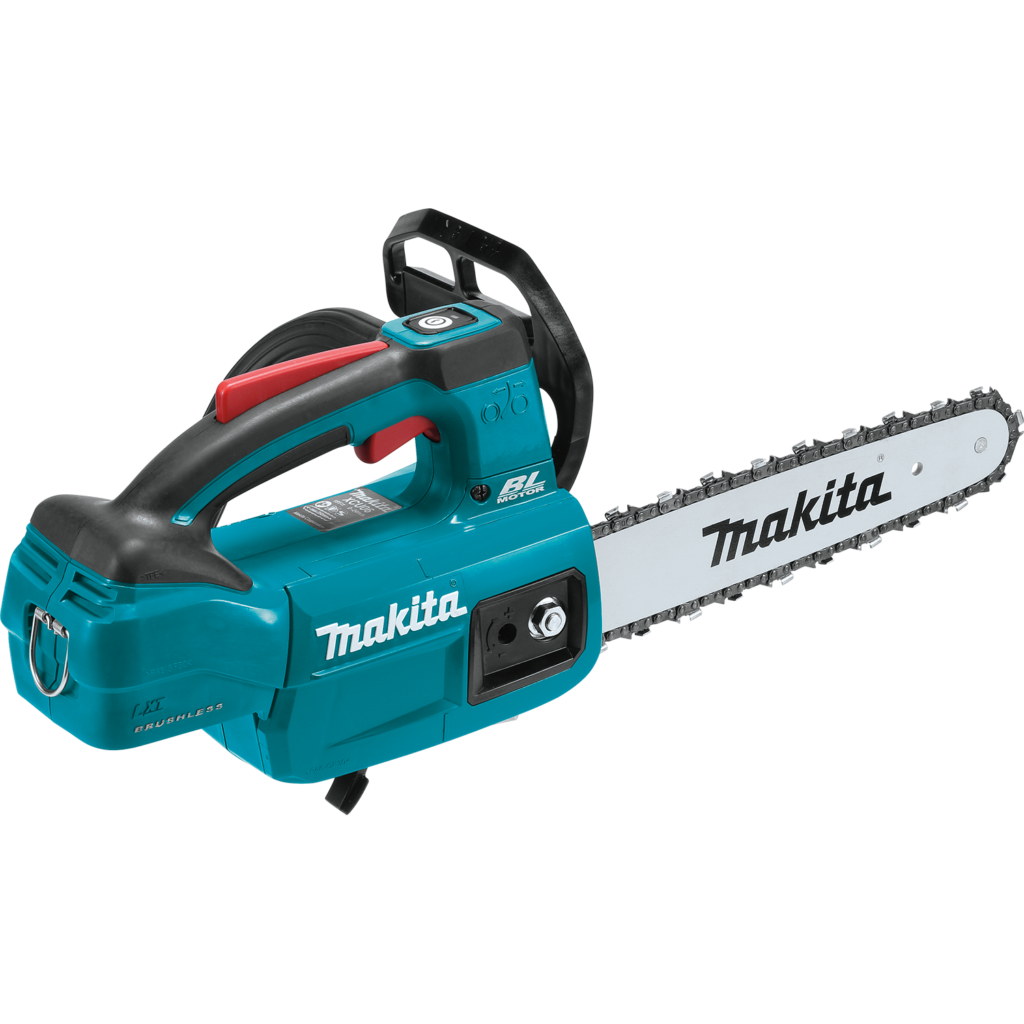 Being a single battery tool makes this a standard 18V tool and as such doesn't have the size bar & chain of the more powerful 36 volt saws in Makita's cordless line up. However this new 18V model is no slouch as it has a brushless motor to help out to power a 10 inch bar and chain.
10 inches is a big step up from their previous 18v chainsaw that has a puny 4-1/2″ bar and chain, however today an 18V chainsaw with a 10 inch bar and chain is nothing to brag about. DIY budget brand Ryobi has had a 10 inch 18v chainsaw for years now and recently upgraded to a brushless 10 inch model. Dewalt also recently introduced a 20V model (20V is the same as 18V) featuring a brushless motor and 12 inch bar and chain making Makita's 10 incher behind the times at launch.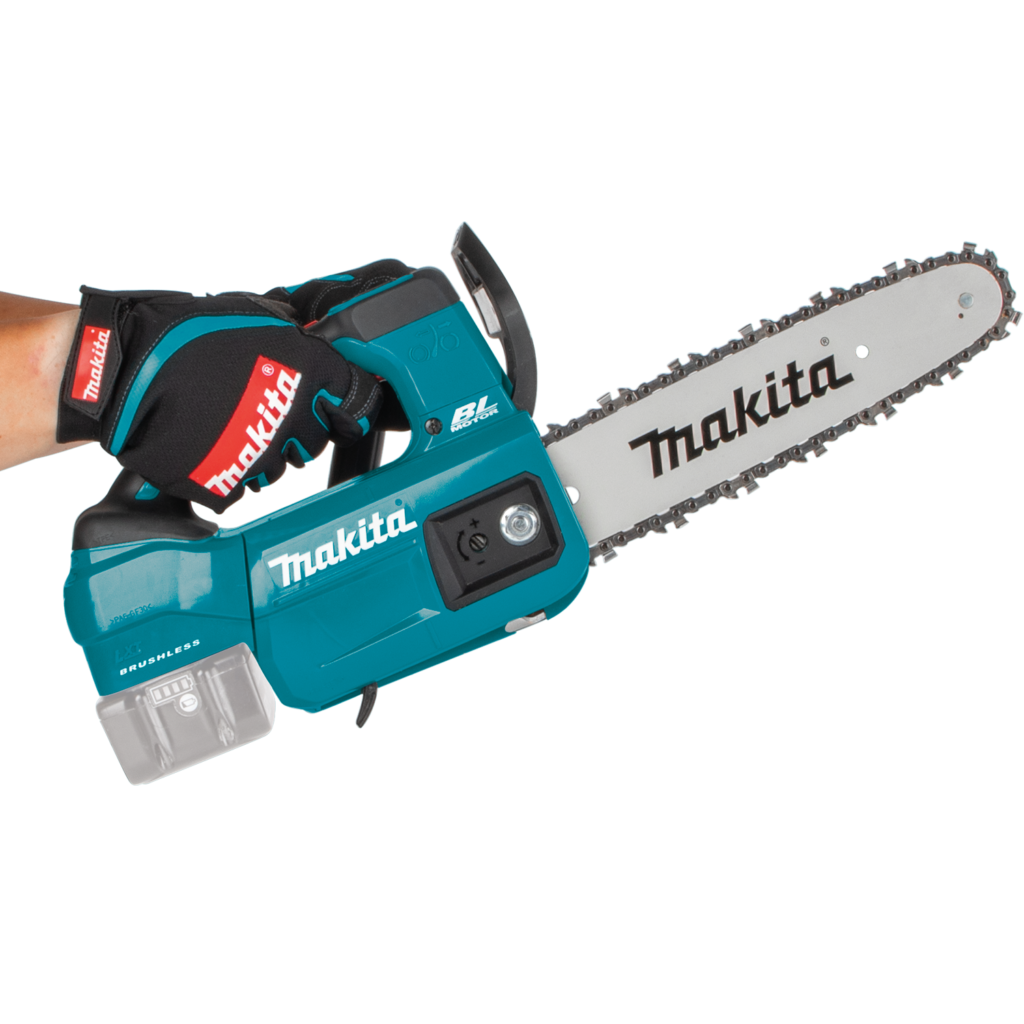 Makita's 18V brushless chainsaw looks to be aimed at users wanting a small compact chainsaw that's lightweight and this one is light at 7.2 lbs. Features include a large oil tank with a viewing window to let you know roughly how much is left. It lubricates the chain automatically and you can adjust how much. Makita included a much needed battery fuel gauge built into the machine to check battery status of older batteries that don't have built in fuel gauges – good move Makita. The brushless motor also has an automatic torque boost mode for cutting dense material. A not so good move on Makita's part is requiring the user to use an included tool to adjust chain tension and replace the chain. I expect this out of a Ryobi tool but not a Makita tool. The tool-less chain tension and chain removal was one of the features that makes their X2 brushless chainsaw so great, too bad this feature isn't found on this 10 inch model.
The new Makita XCU06Z 18V LXT Brushless Cordless 10″ Top Handle Chain Saw will retail for $245.99 through $282.15 based on my google results at time of writing and this is for the bare tool only making the price quite high. For a price comparison Dewalt's 20V chainsaw kit retails for $229 with battery and charger.
A big thanks to Cody Robertson for spotting this new cordless chainsaw!


Free 2 day shipping – Try Amazon Prime 30-Day Free Trial
Makita-built Outer Rotor BL™ Brushless Motor direct-drive system provides high power efficiency
Variable speed trigger and high chain speed (0-4,720 FPM) for improved cutting performance
Torque boost mode for cutting dense material
Guide bar nut chain tensioning with captured nut
Adjustable automatic chain lubrication with large oil reservoir
Large oil filling port with view window allows operator to easily add and check bar oil level
Weighs only 7.2 lbs. with battery for operator comfort (battery not included)
Built-in L.E.D. on/off switch with auto power-off function; automatically shuts the saw off after 60 seconds for extended battery life
Built-in lock-off lever helps prevent the chain from accidentally engaging
Front hand guard engineered to actuate chain brake when engaged
Electric brake for maximum productivity
Low noise level and zero emissions for operator comfort
Rubberized soft grip top handle is engineered for the user to more easily apply even cutting pressure
Equipped with Star Protection Computer Controls™ to protect against overloading, over-discharging and over-heating
Features Extreme Protection Technology (XPT™) which is engineered to provide increased dust and water resistance in harsh job site conditions
Batteries and charger not included
3-year limited warranty
DISCLOSURE:
Tool Craze does not sell this product or any product on the Tool Craze website. Tool Craze does not handle the sale of any item in any way. If you purchase something through a post on the Tool Craze site, Tool Craze may get a small share of the sale. Please refer to the About section for more info.